President Donald Trump has congratulated Boris Johnson on his victory in the U.K. general election yesterday, saying his win presented the opportunity for a "massive" trade deal.
Trump tweeted that any post-Brexit trade deal between the countries would be "more lucrative than any deal that could be made" with the European Union.
He also described the U.K. prime minister's win as "great" in his tweet, posted in the early hours of Friday.
After five weeks of campaigning, Johnson was declared winner of the U.K. election Thursday when the BBC's exit poll results were broadcast at 10 p.m.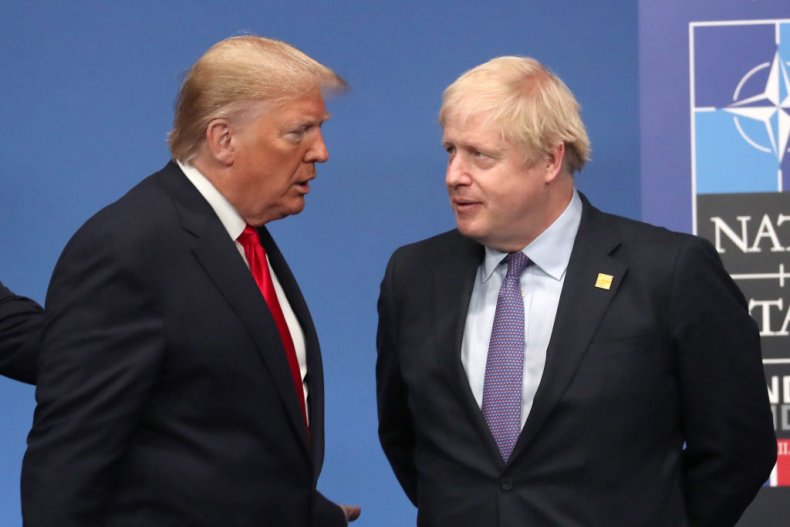 Johnson's Conservative party has won 365 seats in the House of Commons from a total of 650.
By comparison, the Labour Party had only won 203 seats while the Scottish National Party and Liberal Democrats picked up 48 and 11 seats respectively.
This gives Johnson an 80-seat majority and greater power to push through legislation on Brexit, trade and other policies.
Responding to his win last night, Trump tweeted: "Congratulations to Boris Johnson on his great WIN! Britain and the United States will now be free to strike a massive new Trade Deal after BREXIT.
"This deal has the potential to be far bigger and more lucrative than any deal that could be made with the E.U. Celebrate Boris."
President Trump has previously given his backing to Johnson, telling reporters in November this year that he was the "right man for the time" and a "great gentleman." He also tweeted in August that the Tory party boss was "exactly what the U.K. has been looking for."
Newsweek has contacted the Conservative Party for comment on Trump's latest tweet about Johnson and the prospects of a U.S.-U.K. trade deal, but did not receive an immediate response.
Speaking to BBC News on Friday afternoon, U.S. Ambassador to the U.K. Woody Johnson also congratulated Johnson on his election victory.
When asked if Britain would be at the "front of the queue" for trade deals, Johnson said: "Well, as far as this president is concerned, they've never been anything but the front of the queue."
He later added: "He [Trump] wants to do a free trade deal. A free, fair and balanced deal... and he wants to get it done quickly."
The prospect of a U.S.-U.K. trade deal was a focal point of the five-week election campaign, which began shortly after MPs voted on 29 October to trigger an early general election.
Labour Party leader Jeremy Corbyn held a press conference where he revealed unredacted official documents with details of trade talks between U.S. and British officials, warning that the U.K.'s public National Health Service (NHS) would be "on the table."
The Guardian reported that the documents confirmed the NHS, drug pricing and the pharmaceutical sector had been raised in discussions, but no specific decisions were made on what would be opened up to the market in any trade deal.
Prime Minister Johnson repeatedly denied that the NHS was "on the table" in any trade discussions with the United States.
President Trump's talk of a "massive" prospective trade deal with the U.K. came just days after Democrats announced their support for his United States-Mexico-Canada Agreement (USMCA) revision of the NAFTA trade deal.
"Looking like very good Democrat support for USMCA," Trump said after the announcement. "That would be great for our Country!"
Update 12/13/19 10:26 a.m. ET: This article was update to clarify the final number of seats won by Boris Johnson and add comments made by Ambassador Woody Johnson.