Donald Trump Broke His Presidential Tweeting Record As House Democrats Made Their Opening Impeachment Arguments
President Donald Trump set a new record on Twitter on Wednesday, posting more than 140 times in 24 hours as the second day of his impeachment trial got underway.
The commander-in-chief posted a total of 142 tweets and retweets yesterday, according to the Trump Twitter Archive website, beating his previous presidential record of 123 tweets in a day.
Trump began sharing posts by other Twitter users 50 seconds after midnight, or 6 a.m. in Switzerland, where he was attending the World Economic Forum in the town of Davos.
The president had already tweeted 41 times by 1 a.m. ET, and a further seven times by 2 a.m., when he set his feed aside for a few hours before retweeting en-masse again at around 7:30 a.m.
His final post of the day came at 6:18 p.m. when he retweeted criticism of House Intelligence Committee Chairman Adam Schiff by Rep. Doug Collins of Georgia.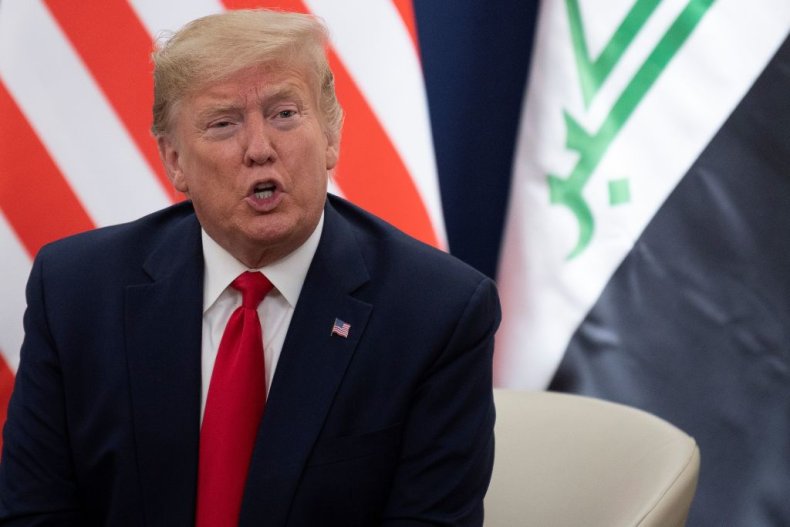 Many of the posts shared by President Trump were centered on attacking the impeachment process and hitting out at leading Democratic lawmakers, with Rep. Schiff being a regular target.
"Just how weak is the Democrats' impeachment case against President Trump?" the GOP said in a post retweeted by the commander-in-chief. "Adam Schiff is relitigating RUSSIA and MUELLER."
Sharing a tweet by Sen. Rand Paul that claimed GOP lawmakers were becoming more "unified against this partisan charade" the more they heard from Schiff, President Trump tweeted: "True!"
The jabs at the Intelligence Committee chairman came as he set out the prosecution's opening arguments with other House impeachment managers in the case against President Trump, quoting Alexander Hamilton in the process.
Moving away from the ongoing Senate impeachment trial, Trump also tweeted about the U.S.-China trade deal and his appearance at Davos.
"One of the many great things about our just signed giant Trade Deal with China is that it will bring both the USA & China closer together in so many other ways," the president tweeted. "Terrific working with President Xi, a man who truly loves his country. Much more to come!"
He also posted: "Heading back to Washington from @Davos, Switzerland. Very successful (for USA) trip!"
President Trump did not break his all-time Twitter record yesterday, despite his 142 tweets breaking his presidential best.
He set his all-time record when he posted more than 160 tweets and retweets over 24 hours over January 4 and 5 in 2015, according to Trump Twitter Archive data. Most of his tweets in that time frame were plugs for his TV show The Apprentice on NBC.
The graphic below, preovided by Statista, illustrates how Donald Trump's Twitter activity has increased over 2019.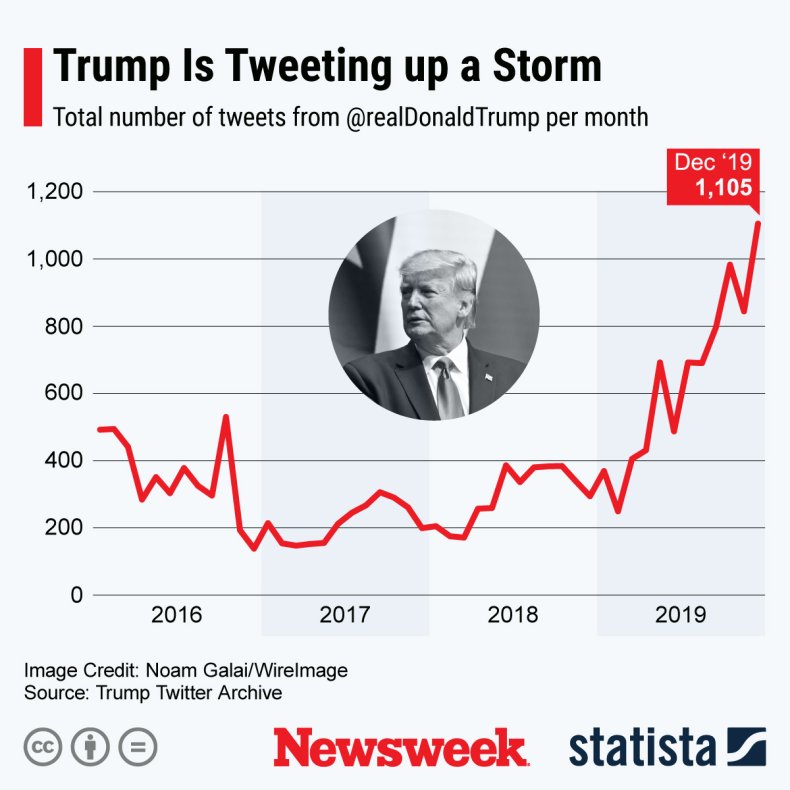 This article was updated to include an infographic.