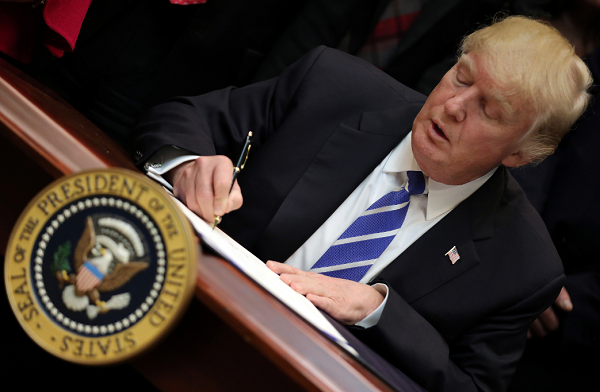 A majority of California voters don't approve of President Donald Trump's job performance in the White House so far, but that isn't enough to persuade Golden State residents to secede from the United States. In fact, many of the state's voters would rather see lawmakers working with the new president than face a drawn out fight with Trump and other Washington, D.C. Republicans, according to a new poll.
The poll from the University of California, Berkeley's Institute of Governmental Studies found neither registered Democrats nor Republicans living in California would strongly support a statewide secession from the U.S. Just 44 percent of Democrats and 15 percent of Republicans said they would vote in favor of a succession. Overall, 68 percent of voters said they would not support a ballot measure calling for California's independence from the U.S., while only 32 percent said they would.
Despite Californians willingness to remain in the U.S., many voters weren't satisfied with the way Trump was running the country, and a majority of voters said his presidency would inevitably have a negative impact on the state.
Roughly 61 percent of Californians disapprove of Trump's overall job performance compared to 39 percent of those who supported Trump's actions so far. About 53 percent of California voters said Trump's proposed federal laws and policies would have a negative effect on citizens living in the state. Only 30 percent of voters said Trump would have a positive effect on the state.
The majority of California's Republican voters–92 percent–wanted to see lawmakers working with Trump. Only 32 percent of Democrats said state leaders should work with the president and compromise on proposed laws and policies. The poll released Tuesday was based on a survey of 1,000 California voters with a margin of error of 3.6 percent.
California's disapproval of Trump appears to be in line with the entire country. A recent Gallup poll found 54 percent of Americans weren't satisfied with Trump's job performance so far while only 40 percent supported him.