Former President Donald Trump issued a statement on Friday bemoaning the situation in Afghanistan, adding to criticism of the Joe Biden administration's handling of Taliban advances in the country.
Trump spokesperson Liz Harrington issued the statement via Twitter as the administration is pushing ahead with a planned withdrawal of troops from Afghanistan due to end on August 31.
"Tragic mess in Afghanistan, a completely open and broken Border, Crime at record levels, oil prices through the roof, inflation rising, and taken advantage of by the entire world," Trump's statement said.
"DO YOU MISS ME YET?" the former president asked.
His statement comes as the Taliban have seized many major cities in the country, including Kandahar and Herat, which are the two largest cities after the capital of Kabul.
Though they have not yet taken Kabul, there are concerns that the city will fall to Taliban fighters and the Pentagon announced on Thursday that reinforcements will be sent to Kabul to assist with the evacuation of U.S. personnel and Afghans who assisted coalition forces.
Trump's statement follows Senate Minority Leader Mitch McConnell's criticism of President Joe Biden's handling of the situation in Afghanistan. On Thursday, McConnell urged the Biden administration to do more to assist Afghan government forces.
In a statement, McConnell said: "Afghanistan is careening toward a massive, predictable, and preventable disaster. And the Administration's surreal efforts to defend President Biden's reckless policy are frankly humiliating."
"Unless President Biden adjusts course quickly, the Taliban is on track to secure a significant military victory," he said.
The graphic below, provided by Statista, shows the Taliban's advancement in Afghanistan based on data from the Foundation for Defense of Democracies' (FDD) Long War Journal.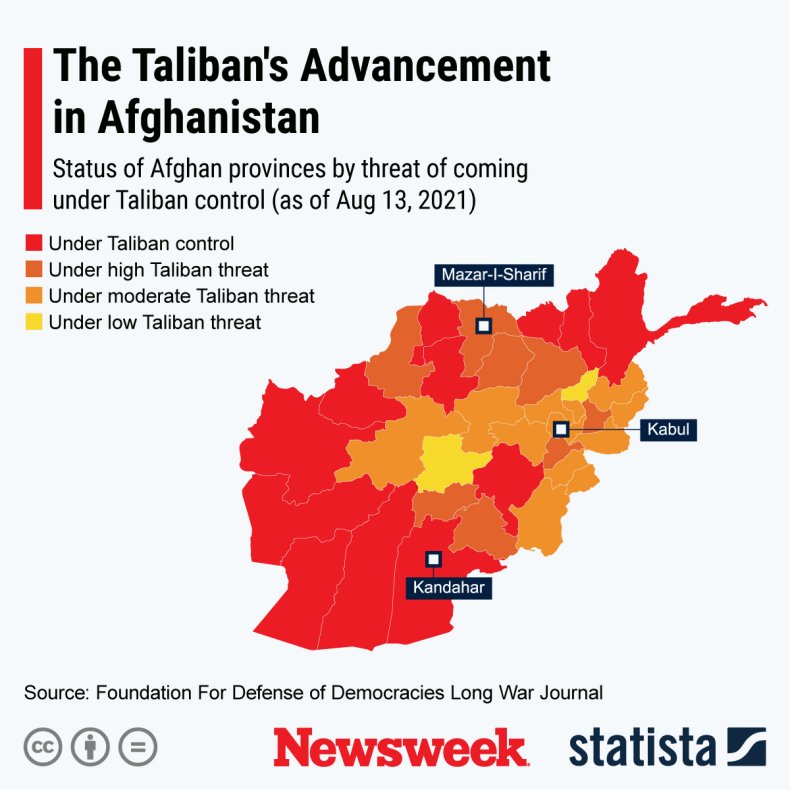 McConnell's statement went on to compare the potential fall of Kabul to the Taliban to the infamous scenes in Saigon, Vietnam, in 1975 when personnel were evacuated from the roof of the U.S. Embassy by helicopter.
"The latest news of a further drawdown at our Embassy and a hasty deployment of military forces seem like preparations for the fall of Kabul. President Biden's decisions have us hurtling toward an even worse sequel to the humiliating fall of Saigon in 1975," McConnell said.
However, President Biden has defended the decision to press ahead with the withdrawal of troops. U.S. and coalition forces have been in the country since the 2001 invasion following the 9/11 terror attacks.
The president told journalists on Tuesday: "I do not regret my decision."
"Afghan leaders have to come together," Biden said. "They've got to fight for themselves, fight for their nation."
Newsweek has asked former President Trump's office for comment.
UPDATE 8/13/21 9:26 a.m. ET: This article was updated to include more information and a graphic.