Donald Trump Calls on Allies to Leave Iran Nuclear Deal, But They Still Want to Save It
President Donald Trump has called on allies and other parties in the 2015 nuclear deal with Iran to join the United States in abandoning the agreement and pursuing a new arrangement. However, his call has gone unheeded as Europe, along with China and Russia, instead strived to save a historic understanding they felt was vital to maintaining global stability.
Iran's missile strike against Iraqi bases housing U.S. and allied military personnel Tuesday was only the latest shot fired in a series of escalations between Washington and Tehran since the White House left the nuclear deal in 2018 and began imposing strict sanctions on the Islamic Republic. The deal, officially known as the Joint Comprehensive Plan of Action (JCPOA), is on the verge of collapse as Europe struggled to circumvent U.S. sanctions, and further, Tehran reduced its own commitments by enriching uranium at higher levels.
"The time has come for the United Kingdom, Germany, France, Russia, and China to recognize this reality," Trump said Wednesday as he announced even tighter restrictions against the Iranian economy in response to the recent salvo.
"They must now break away from the remnants of the Iran deal—or JCPOA—and we must all work together toward making a deal with Iran that makes the world a safer and more peaceful place," he added. "We must also make a deal that allows Iran to thrive and prosper, and take advantage of its enormous untapped potential. Iran can be a great country."
No nation has yet withdrawn, but in the wake of further tensions ravaging the nuclear agreement, European Union foreign ministers held a rare emergency meeting Friday in the Belgian capital of Brussels. After four hours of talks, top European diplomat Joseph Borell said the ministers "strongly believe that it is in our interest to preserve the Joint Comprehensive Plan of Action as far as we can."
The question remained, however, just how much further along the EU could go on shouldering the embattled agreement.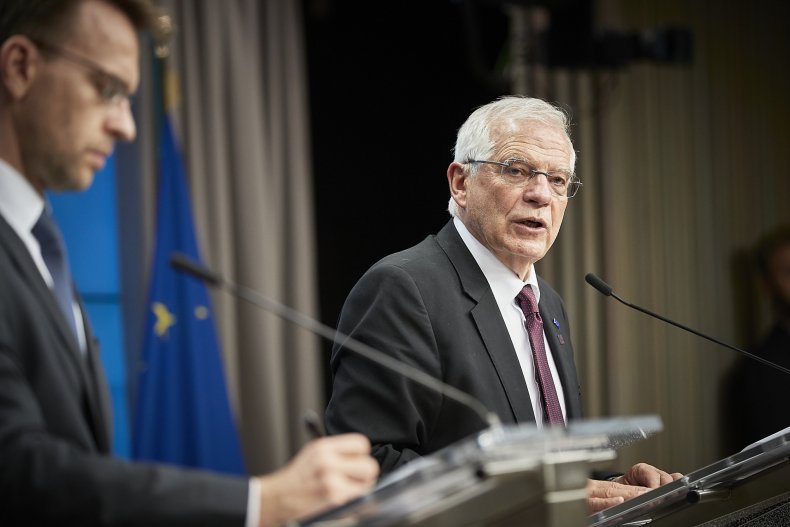 "Time is running out in confidence in the Europeans' ability to do something, to take some action that has a meaningful impact is increasingly getting slow," Fabian Hinz, a research associate at the Middlebury Institute of International Studies' James Martin Center for Nonproliferation Studies and a member of the European Leadership Network's Iran "Tiger Team," said Friday during a press call.
"It's very, very important to get going to salvage whatever trust in the Europeans is left in Tehran," he added.
Iranian officials have repeatedly expressed a sense of betrayal at Europe's willingness to bow to unilateral U.S. foreign policy. While the EU and its top three powers, France, Germany and the U.K., scrambled to save the nuclear agreement as foreign investors and potential trade partners shied away from Iran under threats of the Trump administration's economic wrath, progress has been exceptionally slow.
What they have done is establish INSTEX, officially called the Instrument in Support of Trade Exchanges. INSTEX is a special-purpose trade vehicle designed to facilitate international transactions with Iran without triggering U.S. punishment. It was announced almost exactly a year ago but has yet to yield any promising results.
Richard Dalton, an associate at the Chatham House and a former U.K. ambassador to Libya and Iran, pointed out during Friday's press call that INSTEX "has been devilled by two problems, which weren't anticipated adequately."
First, he blamed the "slow pace of the Iranians in setting up their counterpart," known as the Special Trade and Finance Institute (STFI), and secondly, he pointed to major "staffing difficulties" that have left the mechanism largely inoperational up until four months ago. Still, he expected "there is a good chance the first INSTEX deals will be going through soon" and felt it was a viable option in getting some transactions flowing.
"'Don't bury INSTEX,' would be my bottom line," Dalton said.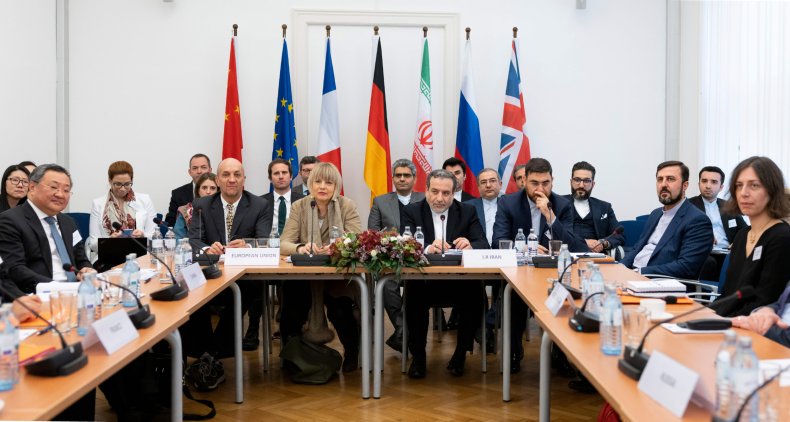 But worsening tensions between the U.S. and Iran have only led the rivals to harden their opposing stances against one another, making it difficult to imagine any near-future understanding. The dispute has grown particularly violent in past weeks, with tit-for-tat actions playing out in Iraq, a country that considers both Washington and Tehran partners but has grown increasingly frustrated with both.
In a significant escalation last week, the U.S. assassinated one of Iran's top military figures, Revolutionary Guard Quds Force commander Major General Qassem Soleimani and top Iraqi militia figures near Baghdad International Airport. Even before lobbing missiles against the U.S. military presence in neighboring Iraq, Iran reacted by taking its furthest step away from the nuclear deal.
China and Russia have outright blamed the U.S. for instigating the nuclear deal dispute along with regional unrest. The two powers have continued to back the JCPOA and have fallen short of criticizing Iran even as it neared the precipice of the agreement's very survival.
Still, Tehran has said even after its last move that it would continue to allow the International Atomic Energy Agency (IAEA) to monitor its nuclear facilities and made no mention of enriching uranium at a weapons-grade 20 percent, signaling a continued willingness to work with the international community. Sahil Shah, a policy fellow and Iran Programme lead at the European Leadership Network, said high stakes made getting INSTEX working an even greater priority.
"I think that now more than ever especially when the risk of conflict has gone up—which inherently increases the risk of humanitarian crises—that we definitely need to keep INSTEX at the forefront of our minds and help push policymakers at the highest level realize that this will not get off the ground and operationalize to the extent that the Iranians want or need unless there is more political capital put behind it," Shah said during the press call Friday.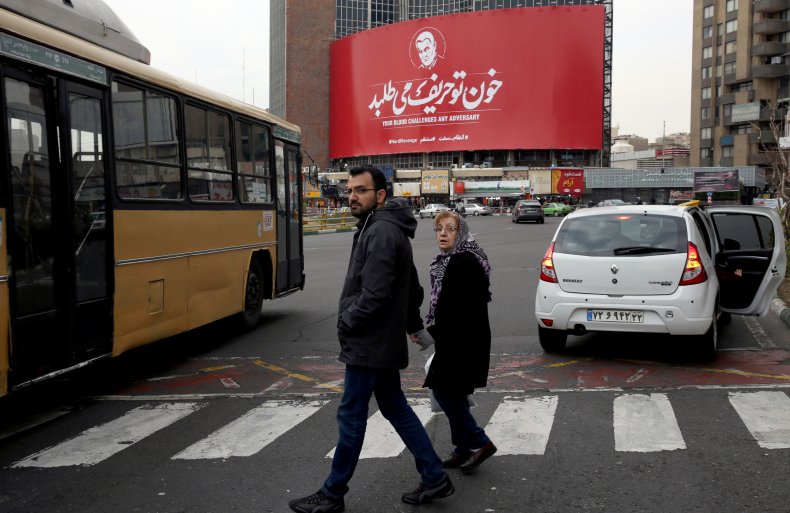 As the technical difficulties associated with establishing INSTEX and more broadly getting nuclear deal back on track increasingly get muddled with the geopolitical situation in the Middle East, however, it was ultimately up to the EU to stand up for itself. Rome-based Istituto Affari Internazionali Director Nathalie Tocci said Europeans need "to demonstrate we are willing to pay a cost in defense of the JCPOA, and so far we have not been doing this.
"Yes, we vocally speak in favor of the JCPOA," she added, "but we've actually done very little practically in order to support it over the last few months."
Tocci, who also served as a special adviser to former EU top diplomat Federica Mogherini, recommended "concrete transactions through INSTEX" as a solid step forward. Even INSTEX, however, was so far only limited to humanitarian trade, potentially opening a lifeline for Iranians suffering and dying due to lack of access to crucial medical supplies but presenting little in the way of any actual trade.
The Trump administration's "maximum pressure" would, in any case, continue to present a major obstacle to any and all European efforts to keep the nuclear deal alive. This is worth remembering, Tocci said, because the current crisis "has a clear origin."
"This is not a chicken and egg situation," she added. "The cause is very clear and that cause is the violation of the United States of the JCPOA."