Trump Orders US Drone Strike, Killing Iranian General Who Had 'Plans to Attack' Americans
President Donald Trump ordered a U.S. drone strike that killed the head of Iran's Revolutionary Guards Quds Force. The operation, which Trump approved Thursday morning, escalated tensions that had been simmering in Iraq during a week of unrest and bloodshed, and raised the risk of war with Iran. The strike, at Baghdad's International Airport, also killed two Iraq militia officials.
Hours after Newsweek reported the drone attack, Trump tweeted the image of the American flag.
The Defense Department then released a statement saying, "At the direction of the president, the U.S. military has taken decisive defensive action to protect U.S. personnel abroad by killing Qassem Soleimani, the head of the Iranian Revolutionary Guard Corps-Quds Force, a U.S.-designated Foreign Terrorist Organization.
"General Soleimani was actively developing plans to attack American diplomats and service members in Iraq and throughout the region. General Soleimani and his Quds Force were responsible for the deaths of hundreds of American and coalition service members and the wounding of thousands more."
Leading Trump administration officials including Secretary of State Mike Pompeo and Secretary of Defense Mark Esper had warned Iran that the U.S. would respond to any attacks on American interests.
It's unclear whether the drone strike was authorized under the Authorization for Use of Military Force that has been in effect since 2002, or under U.S. code 127e which permits special operations to combat terrorism or to support "identifiable foreign policy objectives."
On Friday U.S. military Patriot anti-missile batteries were on alert in Bahrain; security around the Green Zone in Baghdad was tightened and U.S. military aircraft carrying combat troops took off from bases on the East Coast, military sources told Newsweek.
The U.S. and Iran both supported Iraq in the battle against the Islamic State militant group (ISIS), but relations between the longstanding rivals have again fallen out as the jihadis were defeated and President Trump pulled out of a 2015 nuclear deal with Iran and major world powers. The White House has since the 2018 exit imposed increasingly strict sanctions on the Islamic Republic, accusing it of funding militant groups and pursuing destabilizing missile development.
The so-called "maximum pressure" strategy, however, has also seen additional U.S. troops deployed to the region as Washington blamed Tehran for attacks on oil tankers in the Persian Gulf, Saudi oil facilities and bases associated with the Pentagon's presence in Iraq. Iran has denied its role in these events, as well as the New Year's demonstrations in front of the U.S. embassy.
Mohammed Redha al-Jabri, head of protocol of Iraq's state-sponsored Popular Mobilization Forces, was killed Thursday "along with three guests accompanying him," Al-Hashed Al-Shaabi, also known as the Popular Mobilization Forces, told Newsweek. The group initially denied rumors that Popular Mobilization Forces deputy commander Abu Mahdi al-Muhandis was also killed or injured, saying he was "well and currently in his residence in Baghdad."
A senior Pentagon official then confirmed to Newsweek that Muhandis was indeed killed, along with Quds Force commander Qasem Soleimani, pending DNA results that had a "high probability" of identifying the two men as the targets.
Shortly after, the Popular Mobilization Forces confirmed to Newsweek "the martyrdom of deputy head of Al-Hashed, Haj Abu Mahdi al-Muhandis and Quds Force commander Qassem Soleimani in an American strike that targeted their vehicles on the road of Baghdad International Airport."
Earlier Thursday, the Iraqi military's Security Media Cell reported that "three Katyusha rockets fell on Baghdad International Airport, near the air cargo terminal, destroying two vehicles and wounding a number of civilians."
The cell then released four photos appearing to show destroyed cars in flames.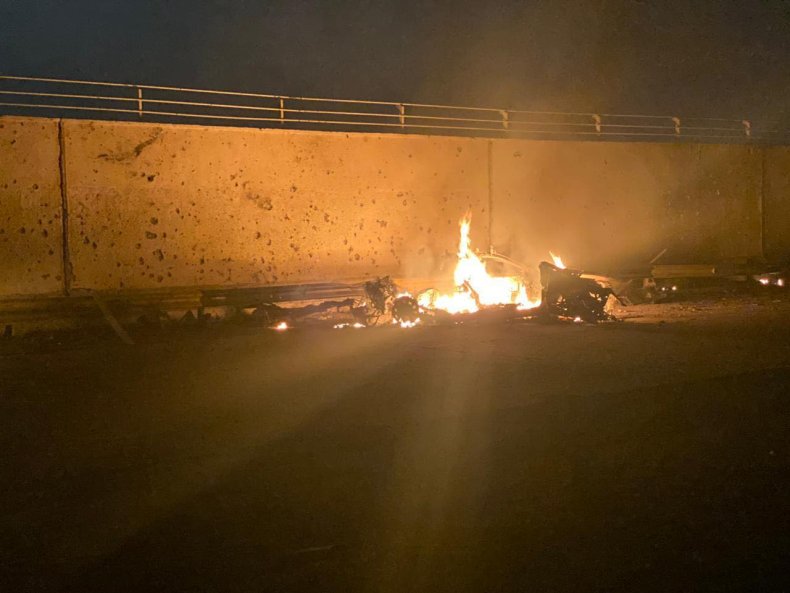 The incident comes just a day after an angry crowd ended a two-day siege of Washington's embassy in Baghdad, where a group of mostly young men burned and vandalized structures in protest of the Pentagon's targeting Sunday of positions of Kataib Hezbollah, an Iran-backed Shiite Muslim militia that was part of the Popular Mobilization Forces, killing up to 27 fighters.
The U.S. strikes came in response to an unclaimed Katyusha rocket attack Friday that killed a U.S. defense contractor and injured U.S. and Iraqi personnel at the K-1 Air Base in Kirkuk, northern Iraq.
The U.S. has blamed Iran for Friday's rocket attack and considers Kataib Hezbollah and a number of other Popular Mobilization Forces units to be under Iranian command. The Iraqi government, however, deeply condemned the U.S. strikes as they were not done in coordination with Baghdad, which considers itself a partner of both Washington and Tehran.
This article has been updated to include confirmations from both the Popular Mobilization Forces and a senior Pentagon official of the deaths of Popular Mobilization Forces head of protocol Mohammed Redha al-Jabri, deputy chairman Abu Mahdi al-Muhandis and Iranian Quds Force commander Qassem Soleimani.