The New Year's Eve storming of Washington's embassy in Baghdad marked an escalation of the feud between the United States and Iran, bringing their international spat from rival desert bases to one of the largest, most expensive and heavily-fortified diplomatic compounds in the Middle East.
The demonstrations targeting the building may have subsided for now, but their intensity and ties to national and international events leave many with major questions.
What happened at the U.S. embassy in Iraq?
Demonstrators stormed the gates of Washington's embassy in Baghdad on Tuesday. For two days, a crowd of mostly young men shouting anti-U.S. slogans and waving flags of Iraq's state-sponsored Popular Mobilization Forces paramilitary collective and its affiliated militias defaced the compound's exterior and set fire to some structures.
The embassy itself was never breached and the U.S. sent additional Marines and aircraft to bolster security onsite. On Tuesday, the protests subsided after organizers heeded the calls of the Iraqi government and Popular Mobilization Forces to withdraw from the building's premises, which are located within the so-called Green Zone of Baghdad.
Why did it happen?
The incident followed a deadly series of events. The U.S. blamed Friday's death of a Pentagon contractor in a rocket attack on the Iran-backed, Shiite Muslim Kataib Hezbollah militia, and the U.S. retaliated Sunday with strikes on positions near the Syrian border, killing up to 27 fighters and stirring national outrage. Members and supporters of the Popular Mobilization Forces, which includes Kataib Hezbollah, took to the streets in protest.
Iraqi Prime Minister Adel Abdul-Mahdi, along with leading figures such as Ali al-Sistani, Muqtada al-Sadr, Amir al-Amiri, Qais al-Khazali and Falih al-Fayyadh all condemned the Pentagon's strikes because they were not coordinated with Baghdad. The embassy protests came after a funeral rally for the slain fighters, and Amiri, Khazali and Fayyadh, along with other top Popular Mobilization Forces militia leaders, were among those in attendance.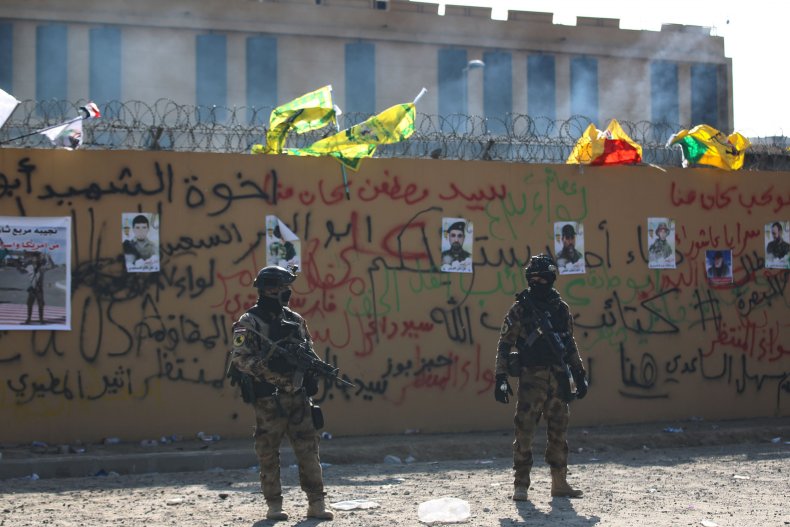 What was the U.S. response?
President Donald Trump insisted on Twitter that the embassy was always "SAFE" because of the presence of U.S. forces there. He warned, however, that "Iran will be held fully responsible for lives lost, or damage incurred, at any of our facilities"—threatening that they "will pay a very BIG PRICE!"
Other U.S. officials condemned the incident, which they also attributed to Iran. In a readout of his call Wednesday with Abdul-Mahdi, Secretary of State Mike Pompeo referred to the protests as an "Iran-backed terrorist attack." Defense Secretary Mark Esper described them as "violent rallies" that came at "the instigation" of "Iranian-backed Shia militias." Both men also warned that the Trump administration would respond to further attacks on U.S. interests.
How did Iran respond?
Iranian Foreign Ministry spokesperson Abbas Mousavi denied any role in orchestrating the riots, asserting in a statement Tuesday that such allegations "amount to an insult to the people of Iraq," who he said regard U.S. personnel as "occupiers." In a rare move, Iranian supreme leader Ayatollah Ali Khamenei's replied directly to Trump's earlier social media threat through his official Twitter account.
"That guy has tweeted that we see Iran responsible for the events in Baghdad & we will respond to Iran.
1st: You can't do anything.
2nd: If you were logical —which you're not— you'd see that your crimes in Iraq, Afghanistan... have made nations hate you," the statement said Wednesday, attaching Trump's tweet.
Why are the U.S. and Iran at odds?
The toxic relationship between the U.S. and Iran began with another incident at one of Washington's embassy four decades ago. In 1979, an Islamic Revolution ousted a West-backed monarchy in Tehran after supporters of Khamenei's predecessor, Ayatollah Ruhollah Khomeini, seized the U.S. embassy and held diplomats hostage for more than 14 months. The U.S. then supported Iraqi President Saddam Hussein's war against Iran the following year.
The relationship deteriorated into the 21st century, and by 2003, a U.S.-led invasion of Iraq toppled Hussein. After that, U.S. troops continued to face off with many of the Iran-aligned militias that would later go on to become part of the Popular Mobilization Forces. Washington also began accusing Tehran of seeking nuclear weapons in 2003 and helped to push forward international resolutions to sanction Iran in 2006.
These sanctions were lifted a decade later with the implementation of a multilateral nuclear deal, but the Trump administration left the agreement last year in 2018, arguing it did not go far enough to contain Iran's "malign activities." Iran refuses to reopen negotiations unless the U.S. lives up to its commitments and lifts intense economic restrictions it has steadily imposed on the Islamic Republic.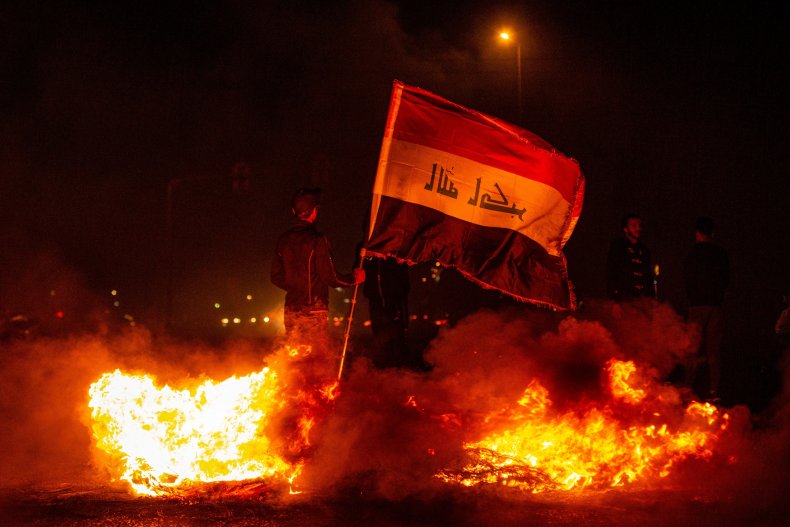 How does ISIS factor in?
The U.S. and Iran both contributed extensively to the battle against the Islamic State militant group (ISIS), helping Iraqi troops and militias, along with Kurdish fighters, defeat the ultraconservative jihadi group from 2014 on. The fall of ISIS in 2017 and the renewal of U.S.-Iran tensions, however, have eroded the fragile truce between Washington and what it perceives to be forces acting under Tehran's orders in Iraq.
The Iraqi government, the Popular Mobilization Forces and their supporters have argued that Sunday's U.S. airstrikes against Kataib Hezbollah positions damaged the country's ongoing anti-ISIS efforts. A number of Iraqi officials have also sought to accelerate existing efforts to establish a timeline for the withdrawal of U.S. troops, who were redeployed to the country with the sole mission of defeating ISIS.
What do Iraqis think?
Iraqis' frustration with foreign forces and the corruption and lack of progress in rebuilding the country's beleaguered economy, infrastructure and civil society has fueled violent demonstrations that have increased since October. Protestors have torched Iran's diplomatic buildings several times out of contempt for the Islamic Republic's growing influence. Security forces and militias are believed to have killed hundreds of people as they tried to quell the uprisings.
Facing considerable popular pressure, Abdul-Mahdi resigned in late November, although he remains in power as a caretaker and still officially retains the support of both Washington and Tehran. Last week, Iraqi President Barham Salih offered to step down, as well. Rival parliamentary blocs have struggled to nominate a new leader satisfactory to politicians and protesters alike.
What can be expected next?
While the U.S. and Iran may have very different visions of Iraq's political future, neither have an interest in seeing the government collapse, a move that could again permit the rise of disaffected Sunni Muslim militant groups such as ISIS and Al-Qaeda. Despite Washington and Tehran's incessant bickering, neither wants war.
"I want to have peace. I like peace," Trump told reporters Wednesday when asked if he wanted a conflict with Iran. "And Iran should want to have peace more than anybody."
Although many argue that the U.S. and Iran's international quarrel could be addressed by a return to talks, which members of the international community have tried to facilitate, Iraq has already begun to incur casualties from this fight between foreign powers. Abdul-Mahdi has repeatedly pledged not to permit Iraq to become a battleground between the U.S. and Iran, but whether it was up to him or his embattled government remains to be seen.
Iraqi security forces reported Thursday that "three Katyusha rockets fell at Baghdad International Airport near the air cargo hall, burning two wheels and injuring a number of civilians."
The Popular Mobilization Forces and a senior Pentagon official later confirmed to Newsweek the death of Mohammed Redha al-Jabari, the collective's head of protocol, and its deputy chairman Abu Mahdi al-Muhandis along with Iranian Revolution Guard Quds Force Commander Major General Qassem Soleimani, in a U.S. drone strike that signaled a major escalation in the conflict between Washington and Tehran.
This article has been updated to include the assassinations later Thursday of Popular Mobilization Forces head of protocol Mohammed Redha al-Jabari, deputy head Abu Mahdi al-Muhandis and Iranian Revolutionary Guard Quds Force commander Qassem Soleimani in a U.S. drone strike at Baghdad International Airport.