One American Dead, Others Wounded in Iraq Rocket Attack, Iranian-Backed Militias Suspected
An American contractor working for the Defense Department is dead and several others were wounded when a base housing the troops was struck by multiple rockets in northern Iraq. U.S. intelligence officials believe Iranian-backed militias to be the culprit.
The K-1 Base in Kirkuk was targeted Friday by a barrage of rocket artillery killing a Pentagon contractor and wounding several U.S. service members and Iraqi personnel on-site, Defense Department officials told Newsweek.
Shortly after the attack, a Katyusha multiple launch rocket system was found abandoned not far from the base, said a senior Pentagon official speaking on condition of anonymity. Roughly 11 to 14 struck the base, according to an early estimate. One rocket impacted a storage facility igniting munitions housed inside.
The Combined Joint Task Force - Operation Inherent Resolve later confirmed the news in a statement sent to Newsweek.
"One U.S. civilian contractor was killed and several U.S. service members and Iraqi personnel were wounded in a rocket attack on an Iraqi military base in Kirkuk hosting Coalition troops, on Dec. 27 at 7:20 p.m. (Iraqi time)," the U.S.-led coalition said. "Iraqi Security Forces are leading the response and investigation. Further information will be released as it becomes available."
The Pentagon has yet to officially assign blame for the incident, nor has any group claimed responsibility, though a number of armed non-state actors remain active throughout Iraq. U.S. intelligence officials believe Iranian-backed militia groups are responsible.
In addition to the scores of mostly Shiite Muslim militias, the Islamic State militant group (ISIS), which is also hostile to the longstanding U.S. military presence in Iraq, continues to stage attacks.
The United States has a deadly history of battling both factions, but Washington has blamed Tehran directly for a recent wave of rocket attacks targeting military installations associated with the United States.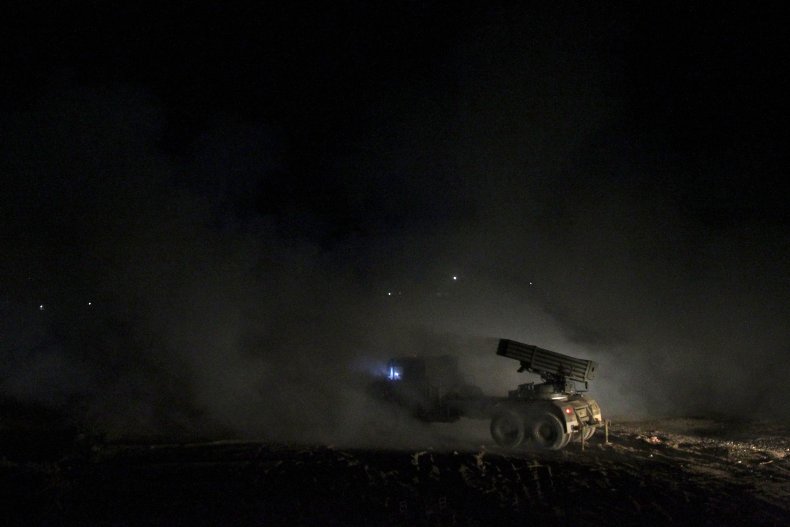 Though much of the fighting the United States has conducted in Iraq since the 2003 invasion that overthrew longtime leader Saddam Hussein has been directed at Sunni Muslim militants like Al-Qaeda and ISIS, the Pentagon has faced off with Iraqi militias sponsored by Iran as well. The State Department claimed earlier this year that Iran itself was responsible for the deaths of more than 600 U.S. personnel.
Tensions eased as both the United States and Iran focused on fighting ISIS and Washington and Tehran got together for a nuclear deal in 2015, but the jihadis' defeat and President Donald Trump's decision to walk away from the multilateral agreement has led to renewed international tensions—along with an increase in incidents on the ground. Rocket attacks, in particular, have become a semi-frequent occurrence, targeting sites such as Ayn al-Asad Air Base and near Baghdad's international airport this month alone.
After the latest strike, which occurred on December 11, Secretary of State Mike Pompeo issued a direct warning to Iran.
"We must also use this opportunity to remind Iran's leaders that any attacks by them, or their proxies of any identity, that harm Americans, our allies, or our interests will be answered with a decisive U.S. response," the statement read. "Iran must respect the sovereignty of its neighbors and immediately cease its provision of lethal aid and support to third parties in Iraq and throughout the region."
Pompeo has said the United States will hold Iran responsible if its partners target U.S. forces in Iraq.
Also earlier this month, Newsweek cited U.S. military and intelligence officials expressing concern at Iraqi militias operating unmanned aerial devices, including "suicide drones," on behalf of the Quds Force, the expeditionary wing of Iran's Revolutionary Guard.
In June, the Revolutionary Guard shot down an advanced U.S. Navy Global RQ-4 over the Strait of Hormuz, the world's most maritime oil chokepoint and a flashpoint in tensions between the U.S. and Iran. Tehran argued that the device breached its airspace, something disputed by Washington, where Trump ordered strikes against Iranian military installations, only to call them off at the last minute, as Newsweek reported at the time.
On Wednesday, Israeli military chief of staff Lieutenant General Kochavi acknowledged for the first time that his forces have conducted operations in Iraq, where a series of unclaimed strikes on Iraqi militia positions were widely attributed to Israel. Iran and Israel's feud has played out in Lebanon and Syria, as well further raising the risk of a regional conflict as Iran looks more toward Russia and China for international support.
This article has been updated to include a statement sent to Newsweek by the U.S.-led coalition against ISIS.