Iran and Israel May Never Get Along, But Both Learn to Live With Russia in Syria
Russia has managed to weigh ties between sworn enemies Iran and Israel, developing strategic relations to both as it ultimately pursued its own goals in war-torn Syria. As recent Israeli strikes against Syrian and suspected Iranian positions in Damascus proved, however, this delicate balancing act could fail at any point.
Now each of these players look to Moscow to prevent such a catastrophic result.
Rather than choose a side in Israel and Iran's conflict, Russia has elected to engage with both nations in hopes of deconflicting tensions and restabilizing Syria under President Bashar al-Assad. Still, government-controlled territory is regularly subjected to airstrikes from Israel as it strives to prevent the establishment of any forward bases by Iran, Assad's other major ally and an influential regional force deeply hostile to Israel.
As for why Russia's state-of-the-art air defenses stay silent when Israel attacks, Moscow-based PIR Center President Evgeny Buzhinskiy, a retired Russian lieutenant-general who is also vice president of the Russian International Affairs Council, told Newsweek: "It seems to me they have a kind of bargain between Russia, Israel and Syria, as far as those strikes."
"First of all, they're not detrimental; second, they inflict no major damage on Syrian positions, to say nothing of the Russian positions in Syria," he said.
Russia listens to Iran's grievances too, though, and Buzhinskiy said he believes Tehran "takes into account as well" that Israeli raids most often target Hezbollah assets rather than Iranian. With Moscow in the middle, both sides appear to have tempered their aggressions despite deep-seated grievances.
"That's the key element of Russian diplomatic success," Buzhinskiy said. "Yes, we can have relations with Israel, we can have relations with Turkey, we can have relations with Iran, and we nevertheless support the government of Syria."
Nonetheless, the risk of miscalculation is high.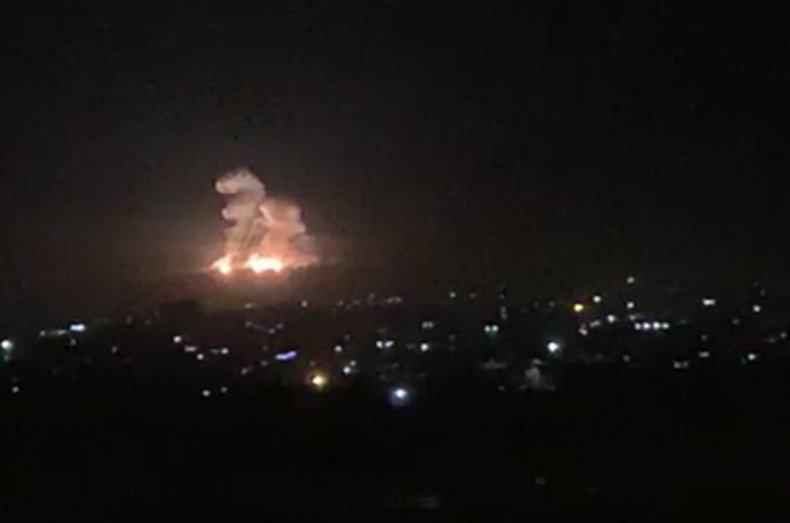 Syria's eight-year conflict has almost always been as much about the aims of international powers as local players on the ground. For the United States, these aims shifted repeatedly, concerning first support for the anti-government insurgency; then mostly Kurdish fighters battling the Islamic State militant group (ISIS); and now staying there "only for the oil," as President Donald Trump made clear last week.
Russia's experience has been far more consistent. Since entering the war in September 2015, Moscow has managed to revitalize Assad's reign, helping the beleaguered Syrian military to restore its presence across most of the country once lost to a mix of Islamist-dominated opposition fighters and ISIS.
Both Iran and Israel's involvement in Syria predate that of Russia, as does their bitter feud. The same 1979 Islamic Revolution that overthrew a West-sponsored monarchy and went on to overtake the U.S. embassy in Tehran also cast out the Israeli embassy there, denying the country's legitimacy as a state in a show of solidarity with Palestinians locked in decades-long territorial dispute with Israelis.
Virtually unwavering U.S. support has helped allow Israel to develop one of the most modern militaries in the world, while Iran has managed to assemble what even the U.S. has termed "the largest and most diverse ballistic missile arsenal in the Middle East." Iran has additionally sought to compensate for what it lacked in modern conventional capabilities by mobilizing an array of mostly Shiite Muslim militias across the Middle East, among the oldest and most powerful of which was the Lebanese Hezbollah movement that has twice clashed with Israel in major conflicts that both ended in Israeli withdrawals.
Today, the primary front between Israel and Iran is in Syria. Despite the unspoken arrangement among powers there, both sides have engaged in escalations, often under obscured circumstances.
Wednesday's strikes followed a series of events even more confusing than usual. Official Syrian media reported explosions a day earlier near Damascus International Airport—a recurring target of Israeli attacks on alleged Iranian and Hezbollah positions—as Israel around the same time said it intercepted four rockets headed toward the Golan Heights, Syrian territory seized by Israel in 1967 and officially annexed without international recognition in 1981.
Israeli forces then said on Wednesday they "carried out wide-scale strikes of Iranian Quds Force & Syrian Armed Forces targets in Syria in response to the rockets fired at Israel by an Iranian force in Syria last night." The Israeli military warned: "Syrian air defense missile was fired despite clear warnings to refrain from such fire. As a result, a number of Syrian aerial defense batteries were destroyed.
"We hold the Syrian regime responsible for the actions that take place in Syrian territory and warn them against allowing further attacks against Israel," the statement added. "We will continue operating firmly and for as long as necessary against the Iranian entrenchment in Syria."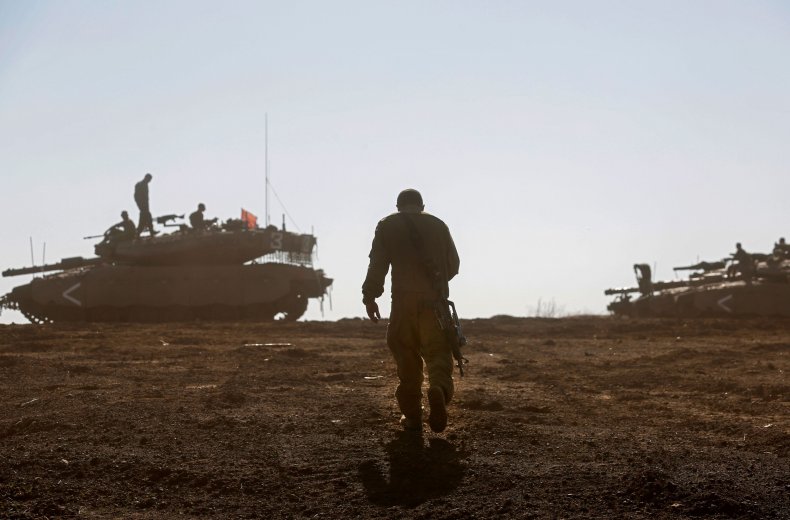 Syria's state-run media reported that anti-air systems took out several "hostile targets," but others damaged homes, killed two civilians and wounded others. The Syrian Observatory for Human Rights, a U.K.-based monitor with ties to Syria's exiled opposition, placed the toll at some 21 dead, including five Syrian troops, alongside members Iran's elite Revolutionary Guard's Quds Force and partnered militias, of whom most casualties were said to be foreigners.
One Syrian observer with knowledge of the situation confirmed the deaths of six Syrian soldiers—one of whom succumbed to injuries Friday—and two civilians, sharing with Newsweek names and pictures of the victims. The source said that Iranian positions had been evacuated ahead of the attacks, but one Hezbollah fighter was among the injured.
The assault came about a week after another Israeli operation in Damascus that killed Palestinian Islamic Jihad commander Akram al-Ajuri's son and only days after another unclaimed strike in the Al-Bukamal border region near Iraq, another country where Israel has reportedly stepped up attacks on Iran-backed militias. The intensity of these incidents stirred Russia.
"Such a development of events causes the most serious concern and rejection in Moscow. We consider it unconditionally important to respect the sovereignty and territorial integrity of the Syrian Arab Republic and other states of the region," the Russian Foreign Ministry wrote in a statement issued Thursday. "In the meantime, Israeli actions add tension and strengthen the conflict potential of the situation around Syria, contradict efforts to normalize the situation and achieve stability in Syria and a political settlement in this country."
Moscow has issued harsh statements in the past, and some Israeli officials have previously gone so far as to even warn Russians, too, could die if present at positions responding to strikes conducted by Israel. Yair Golan, a retired Israeli major general who served as deputy chief of the general staff and head of the Home Front Command and Northern Command, told Newsweek that "we need to be very delicate, very cautious, because you use force, but in a way that doesn't deteriorate the regional situation. It's very hard not to make mistakes."
Golan discussed Israel's semi-covert strategy and how its objective was to "delay any chance for a major conflict" by being "effective in low-level utility of force in order to delay the chance for major utility force." He said, in most cases, "the more you're quiet, the better you are, there—minimum visibility."
Though Israel and Iran have both flirted with all-out war, continually threatening one another through statements and provocations, neither has expressed any real desire to spark it. Such a brawl, Golan said, would have "all the characteristics of modern warfare," meaning a high civilian death toll and widespread destruction for both parties.
"It's not just about Syria, it's about Lebanon, it's about Iraq. The fact is, it's the Iranian challenge to Israel," he added. "I think people do not understand around the globe the severity of this threat. We are talking about large quantities of missiles, drones UAVs that could affect precisely the most crucial targets inside Israel and, although we enjoy the best offensive defense in the world, it is probably not enough."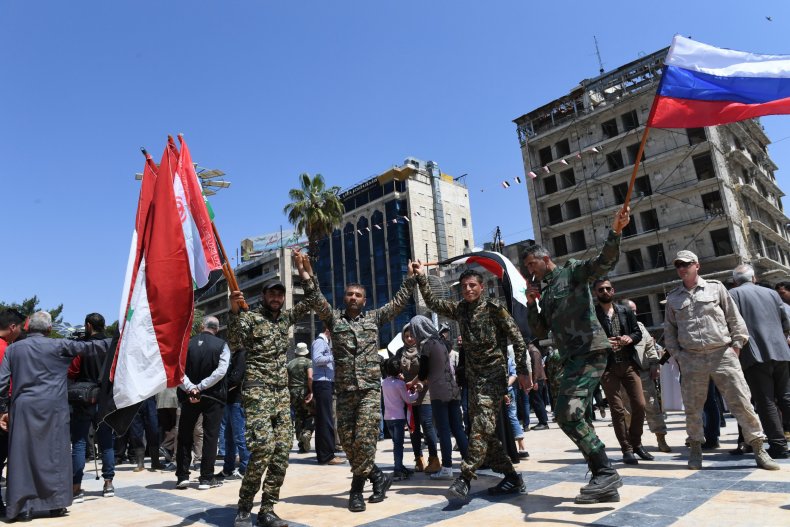 Meanwhile, Washington has remained largely on the sidelines of this bout. The U.S. has rhetorically and financially sided firmly with Israel, rolling out strict sanctions against foes and constantly decrying Iran and its allies' so-called "malign activities" across the Middle East, even striking Syrian government targets in response to suspected chemical weapons attacks and retaliating to alleged militia incursions against territory held by the Pentagon's local partners. Fleeting U.S. goals, however, have left even these mostly Kurdish forces to seek security from Damascus and Moscow, which increasingly saw its main goals realized.
"Four years ago, when the Russian militarily intervened in the conflict it was to save Bashar Assad and his government, which were on the verge of defeat," Buzhinskiy told Newsweek. "Russia could not allow the radicals, ISIS and all the related organizations to have the upper hand in Syria, or else it will just be a terrorist entity in the Middle East."
Golan gave a similar assessment of Russian motives, recounting numerous meetings with his Moscow counterparts. He said that, at the end of day, "the Russians are pro-Russia, they have no sentiments—not to the Syrians, not to the Iranians, not to the Israelis—they will do always what they conceive is the best opportunity for Russia, they have made a strategic decision to support, to save the Assad regime."
"This is the Russian project, they have no intention to endanger this project. So they have no problem with Iran, they have no problem with Israel, they have no problem with allowing each one of them to promote its interests in the region, so long as it doesn't endanger the Russian interests," Golan continued, listing these interests as "to block any radical Islam elements in the region in order to fight it far away from Russian soil...to regain influence in the region...and to again be an important player in the international arena."
"The Russian project could endanger Israeli interests and could live together with Israeli interests. It depends on the subject, it depends on all kinds of influential considerations, and there is no basic rule for all incidents. So what we need in Israel is well-calculated policy to handle and a coordination mechanism," he added, but, in any case, "Russia is here to stay."
Iran's not going anywhere, either. As Massachusetts Institute of Technology historian Pouya Alimagham puts it: "For the Iranian government, Damascus is as important as Tehran—and the history of the Iran-Iraq War informs this worldview."
The threat of ISIS was not the only reason Iran was among the first entities to mobilize in support of Iraq and Syria, history was at play well. In the 1980s, Syria broke with most of the Arab world—and much of the international community, including the U.S. and the Soviet Union—to support Iran during its war with Iraq, which has since become a friendly nation to both following the region-rocking 2003 U.S. invasion. Tehran returning the favor today fulfilled national needs as well, as Mohsen Milani, executive director for the University of South Florida's Center for Strategic and Diplomatic Studies, explained.
"The strategic logic behind Iran's support for Syria is based on two interests. First, to use Syria as a safe conduit to provide multifaceted support to the Lebanese Hezbollah—Tehran's vital strategic asset. Second, to strengthen Iran's strategic depth in Syria against Israel," Milani told Newsweek. "Tehran believes supporting Hezbollah and Assad is vital to maintaining what it calls the Axis of Resistance against the U.S. and Israel, which would provide Iran with retaliatory capability from two fronts in Lebanon and Syria against Israel, should Israel or the U.S. attack Iran or its nuclear facilities."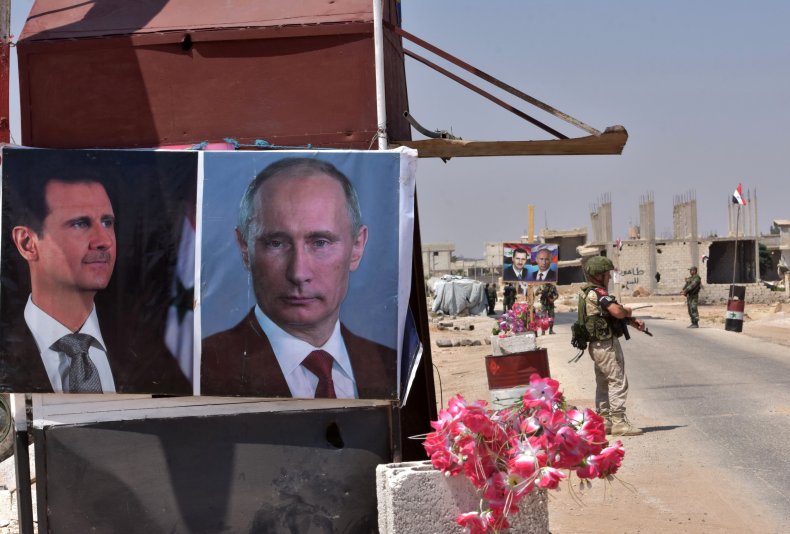 Milani noted Iran's foreign campaign has, however, become "very expensive, both in blood and treasure," inflicting casualties, draining finances and jeopardizing ties with Western and Arab countries, many of whom poured their own resources into toppling Assad. With the Syrian leader coming out on top, there was also some degree of divergence between his two international supporters.
Noting that Russia's ties to Israel have complicated relations with Iran "in a profound way," Milani pointed out that "it does not appear that Russia is supportive of Iran's plan to establish a military presence in Syria," nor is it "interested in the Axis of Resistance Iran supports." At the same time, he noted that "Iran's relationship with Russia significantly improved, as the cold war between the United States and Iran intensified during the Syrian civil war."
Alimagham, too, noted the fact "that Russia and Iran are fighting on the same side in Syria only ensures that growing proximity." Though Moscow and Tehran may not see eye-to-eye on all things, their joint Syria effort—Russia in the skies and Iran and its allies in the neighborhood—has taught them to work together against common foes. The opposite may be said for Iran and Israel, however, whose experiences have only exacerbated their mutual animosity, leaving them increasingly dependent on Moscow to avoid a wider regional war.
"In terms of Israel and Iran's presence in Syria, the Syrian war has changed things permanently," Alimagham told Newsweek. "When the war finally ends, it will not be as before. The destruction of the country and the Iranian-backed militiamen from abroad that rescued the Syrian state will not be leaving anytime soon, because of the fear that conflict could erupt again.
"Thus, the only way these forces can co-exist if the Israeli, Syrian, and Iranian governments do not approach their security as a zero-sum game," he added. Recalling the so-called maximum pressure campaign waged by Trump against Tehran, Alimagham said: "Naturally, the only party that can mediate between these states is the one that has a good relationship with all three, and that's Russia—not the U.S."