China has launched military drills alongside Saudi Arabia, and the United States believes it will soon sell weapons to Iran as well—signaling Beijing's strengthening ties to two sides of a tense rivalry in the Persian Gulf.
The Chinese military announced Wednesday that it held the opening ceremony of the Blue Sword 2019 joint naval special forces exercise with Saudi Arabia Sunday, and the maneuvers would run three weeks at the King Faisal Naval Base. China's armed forces said that "the joint training aims to enhance the mutual trust and friendly relations between the two navies, strengthen the maritime combat capability of the participants, exchange experiences and improve the training level."
Saudi Colonel Abdullah Mohammed al-Omari echoed the message in a separate statement issued by the Saudi Defense Ministry. He added that the exercise "comes within the framework of facing all challenges, and maintaining peace and stability in the region."
Beijing has for decades fostered defense ties with Riyadh, selling the kingdom intermediate-range ballistic missiles such as the Dongfeng DF-3A and DF-21 over the years. However, with a United Nations Security Council embargo on arms set to expire next year for Saudi Arabia's top foe, Iran, a new Defense Intelligence Agency report suggests that China was likely to enter into business with a country the U.S. said already has "the largest and most diverse ballistic missile arsenal in the Middle East."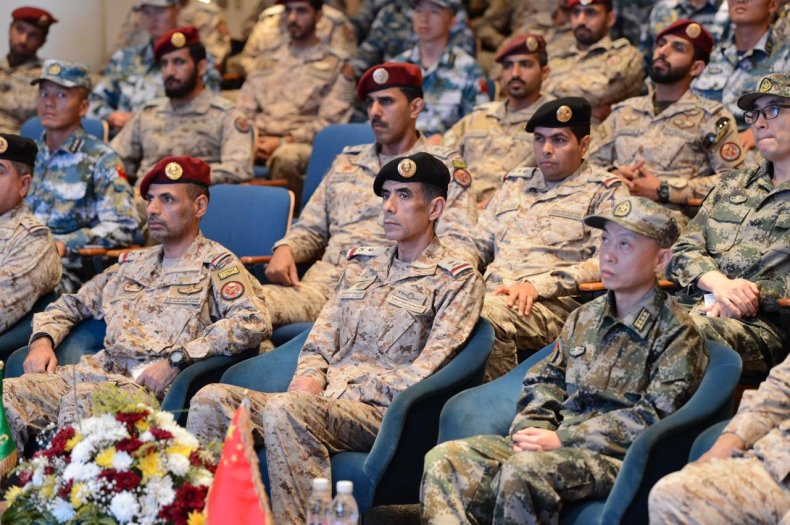 As President Donald Trump's administration wages its self-styled "maximum pressure" campaign, U.S. officials have urged international powers to renew restrictions imposed in 2010 on the sale of weapons to Iran, a measure that came in response to the country's nuclear program. These restrictions are set to expire next October, according to the 2015 nuclear deal. Trump unilaterally pulled out of the agreement last year, but China, the European Union, France, Germany, Russia and the United Kingdom have continued to endorse the accord, meaning the weapons ban was still on course to be lifted.
The DIA's new Iran Military Power report argued that such a development would allow "Iran to purchase new advanced weapon systems from foreign suppliers to modernize its armed forces, including equipment it has largely been unable to acquire for decades."
"Iran will be permitted to purchase conventional systems it is unable to produce domestically, such as advanced fighter aircraft and main battle tanks," the report said. "Iran is already evaluating and discussing military hardware for purchase primarily from Russia and, to a lesser extent, China."
China also has a long history of supplying Iran with military equipment, including fighter jets, surface-to-air missile systems, anti-ship missiles, missile boats and attack submarines. Much of Iran's arsenal consisted of outdated Western, Russia and Chinese systems, although Iran has based some of its more modern weapons, like the Chinese C-704 anti-ship cruise missile clone Nasr-1, on systems from these countries.
Iranian officials, too, have hinted they were looking into selling arms to and buying arms from both Russia and China as the sanctions were set to end. At August's International Aviation and Space Salon (MAKS) near Moscow, Iran Aviation Industries Organization Director Brigadier General Abdolkarim Banitarafi said that "the Russians and the Chinese have given us proposals, of course, we have our own proposals, but all of this is in the discussions stage."
Today, Tehran continues to count on Beijing as its top trade partner, an economic lifeline in the face of Washington's intense sanctions. China has also offered Iran political support in hold the U.S. nuclear deal exit responsible for Iran reducing its nuclear deal commitments, and for the bouts of unrest that have erupted since in the Persian Gulf region, where the Trump administration has blamed the Islamic Republic for attacks on oil tankers and Saudi oil facilities.
With tensions worsening near the Strait of Hormuz—the world's busiest maritime oil chokepoint—Iran has sought to boost its cooperation with China, along with Russia, in the military sphere, as well.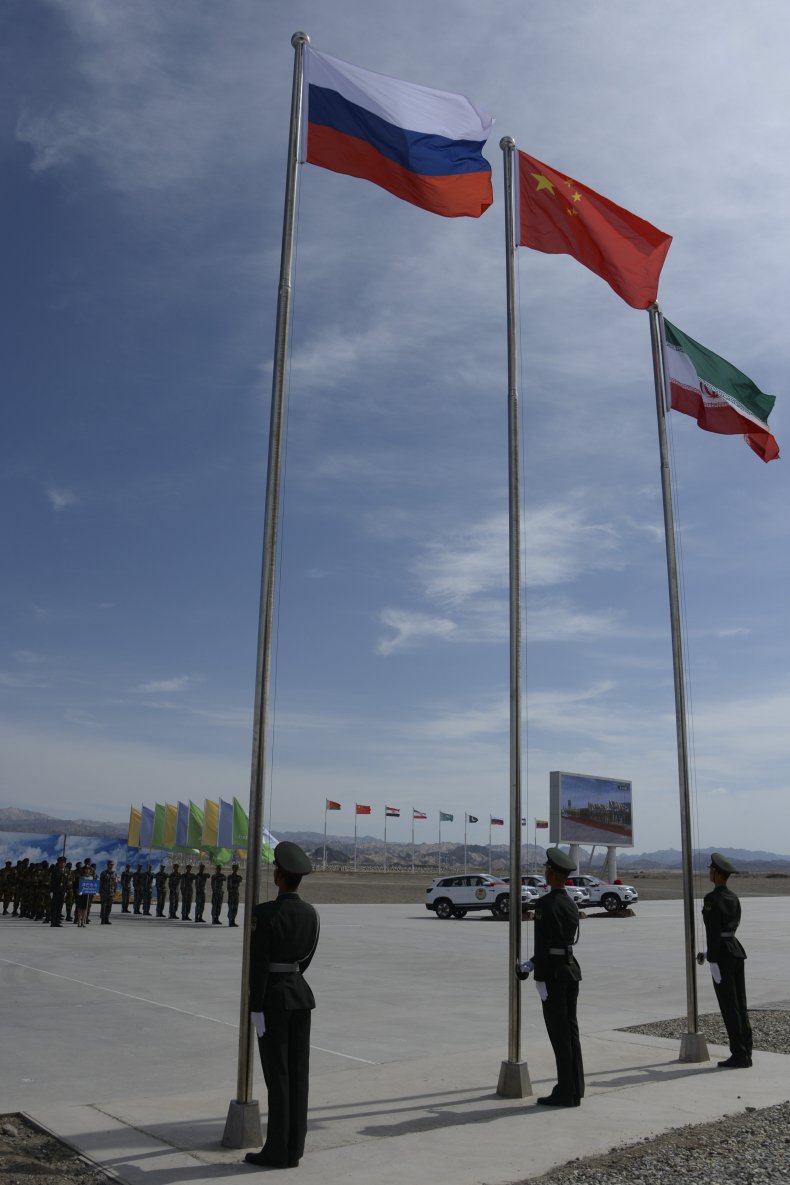 Despite Riyadh's growing ties to both Beijing and Moscow, the kingdom had an unparalleled military relationship with Washington, which was set to maintain some 3,000 troops there in order to deter a perceived threat from Tehran. On top of this, Saudi Arabia has joined a U.S.-led naval coalition, known as the International Maritime Security Construct and backed by Australia, Bahrain, the United Arab Emirates and the U.K. to patrol the Persian Gulf waters.
Iran has counterproposed a Coalition for HOPE, or Hormuz Peace Endeavor, that envisions a regional pact of non-aggression and non-interference with Saudi Arabia, the UAE and other nations of the Arabian Peninsula, as well as Iraq—a nation that has straddled ties with the U.S., Iran and Saudi Arabia since the U.S. invasion of 2003.
Russia has offered support for this idea while pushing its own framework called the Security Concept for the Persian Gulf region that would see cooperation and international involvement with China, the U.S., the EU and India. Beijing has backed both ideas, calling for stability above all else.
China and Russia have both participated in multilateral drills with Iran in the past, but whether they would join in any direct, major exercises with the nation remained to be seen. In July, Iranian navy commander Rear Admiral Hossein Khanzadi revealed plans for joint Iran-Russia naval drills in the northern Indian Ocean and the plans were confirmed in September by Foreign Minister Mohammed Javad Zarif, who hinted that "maybe other countries will also be interested in joining these drills."
Weeks later, General Ghadir Nezami Pour, chief of international affairs and defense diplomacy for the Iranian military's general staff, told Iran's Mosalas magazine that "for the first time since the Islamic Revolution, we will hold joint naval exercises with Russia and China as the two major powers in the northern Indian Ocean and the Oman Sea." As of publication, however, neither Moscow nor Beijing has confirmed the news.