Iran Says Russia and China Are Offering Fighter Jets in Show of Support Against US
The head of Iran's aerospace sector has announced new offers to purchase fighter jets from Russia and China, two countries supporting the Islamic republic as the United States tried to sever its international ties.
Iran Aviation Industries Organization Director Brigadier General Abdolkarim Banitarafi was one of a number of international defense officials to attend Russia's 2019 International Aviation and Space Salon (MAKS). More than 180 foreign companies from nearly 30 nations have reportedly gathered in Zhukovskiy since the event began on August 27. As a United Nations arms embargo on Tehran nears its final year, Banitarafi said Thursday that he was already receiving potential foreign bids to buy and sell weapons.
The general spoke directly of nations looking into Iran's own drones and its Kowsar-88 training jet, saying "different countries are offering us and discussing it, but it all depends on the date that the arms sanctions end," according to the semi-official Tasnim News Agency. He also said Iran may look to purchase new equipment abroad from two major powers.
"The Russians and the Chinese have given us proposals, of course, we have our own proposals, but all of this is in the discussions stage," Banitarafi added.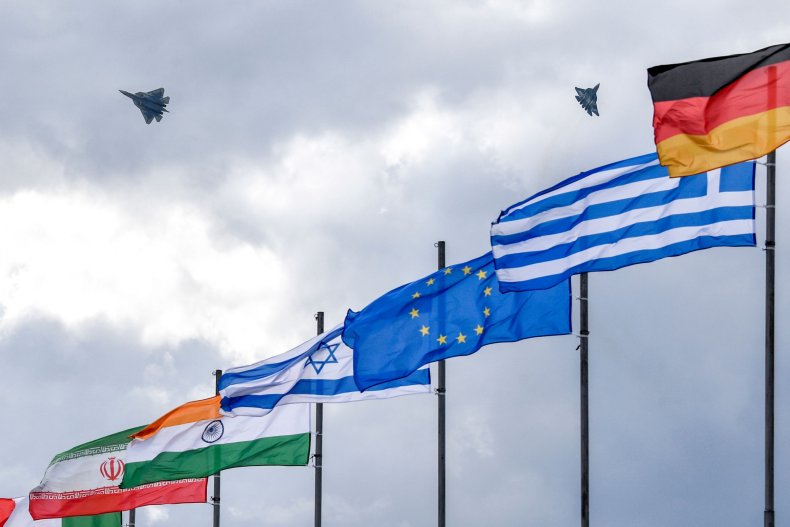 The U.N. Security Council began imposing arms embargos on Iran in 2006, beginning with restrictions on the transfer of technology that could be used to produce nuclear weapons—including many conventional weapons systems. The council expanded restrictions on Iran's arms exports the following year and began blocking arms shipments to Iran in 2010. A few of these bans were lifted with the signing of a 2015 deal, dubbed the Joint Comprehensive Plan of Action, in which Iran agreed not to pursue a nuclear weapons program, but many are still in place. The U.S.' withdrawal from the agreement last year has further complicated dealings for Iran's prospective business partners.
President Donald Trump abandoned the plan of action in 2018, despite fellow signatories China, the European Union, France, Germany, Russia and the United Kingdom continuing to support it. He claimed it did not go far enough and failed to address Tehran's alleged support for militant groups and its development of missile technology, imposing new unilateral sanctions designed to undermine the Iranian economy.
In October 2020, however, the U.N. arms embargo on Iran is set to expire in what Secretary of State Mike Pompeo deemed last week a "countdown to terror," as he warned Iran would be "unleashed to create new global turmoil." On Wednesday, a day ahead of Banitarafi's remarks at MAKS, the State Department announced new sanctions on "nine entities and individuals based in Iran and one entity based in Hong Kong for supporting Iranian proliferation-sensitive procurement efforts," including those linked to Iran's Aviation Industries Organization.
"The Iranian regime continues to foment regional conflicts, develop and proliferate ballistic missiles, hold foreign citizens hostage, brutalize its own people, and sponsor terrorism on an unprecedented scale. It is also expanding its uranium enrichment-related activities," the statement said, adding, "The United States will continue to increase pressure on the Iranian regime until it changes its behavior."
On the anniversary of the U.S.' exit from the nuclear deal and amid the Pentagon's decision to send additional forces to the Middle East, Iran announced it would begin enriching uranium beyond the limit set out in the 2015 nuclear deal, claiming that Europe had failed to live up to its end of the agreement because of the threat of the Trump administration's sanctions. A spat of unrest and heightened tensions in the Persian Gulf immediately followed as Washington and Tehran hardened their opposing stances.
International restrictions on doing business with Iran's defense industry has hindered the country's ability to update an aging air fleet. Iran's air force currently consists mostly of aging Soviet-era aircraft and a few remaining Western-made planes purchased before the 1979 Islamic Revolution. Western countries first imposed sanctions following the revolt and subsequent overthrow of Iran's monarchy, which was backed by the U.S. and the U.K., with its current clerical leadership. Iran has, however, begun to develop its own warplanes and other aspects of the country's defense industry have seen even greater successes.
Despite its limited air fleet, Iran has managed to develop the Middle East's largest and most advanced missile arsenal. Banitarafi's organization unveiled a new cruise missile drone called Mobin at the MAKS event on August 27, and also recently introduced two new air defense systems, the Bavar-373 and Khordad-15. Another Iranian system, the Khordad-3, shot down a state-of-the-art, high-flying U.S. drone amid a peak in frictions in the strategic waterways of the Persian Gulf in June.
This incident and others involving foreign oil tankers in the region have prompted the U.S. to form a maritime security group, rallying an alliance that so far includes Australia, Bahrain and the U.K. Iran has rejected the project and has attempted to bolster regional ties with nearby Arab states such as Iraq, Kuwait, Oman, Qatar and the United Arab Emirates in an effort to secure greater regional cooperation.
Russia and China have backed Iran's diplomatic initiatives and have resisted U.S. sanctions as they too faced economic pressure over opposing policies. As French President Emmanuel Macron attempted to broker a meeting between Trump and Iranian President Hassan Rouhani at the G-7 summit, Russian Foreign Minister Sergey Lavrov said Moscow "will be ready to help achieve" a breakthrough in the ongoing standoff.