Saudi Arabia May Be Building Its First Weapons for a 'Missile Race in the Middle East,' Experts Say
Saudi Arabia is reportedly building its first known ballistic missile factory amid a regional push for new weapons capabilities and increased efforts by the United States and Israel to counter their mutual foe Iran.
In a report published Wednesday by The Washington Post, leading experts said satellite imagery dating back to November appears to show Saudi Arabia's debut ballistic missile factory located at an existing missile base near the central town of Al-Watah. While the kingdom was already known to possess foreign-made ballistic missiles, this would reportedly be the first known instance of Riyadh manufacturing the weapons indigenously.
Jeffrey Lewis, a nuclear weapons expert at the Middlebury Institute of International Studies at Monterey and founder of the Arms Control Wonk blog, and his team discovered the photos, raising "the possibility that Saudi Arabia is going to build longer-range missiles and seek nuclear weapons," according to The Post. Lewis said that "we may be underestimating their desire and their capabilities."
The findings were further confirmed by Michael Elleman of the London-based International Institute for Strategic Studies and Joseph Bermudez of the Washington-based Center for Strategic and International Studies.
Fabian Hinz, who worked alongside Lewis and fellow researcher David Schmerler, told Newsweek that their analysis "shows we are already seeing a missile race in the Middle East" as "Saudi Arabia has had missiles since the 1980s, but originally it was a very limited capability of doubtless military utility." He added: "Then they began expanding it. And now, the fact that they build a factory and the sheer size of their missile force shows they are really strategically committed to missiles."
Media reports of a Saudi ballistic missile base in Al-Watah first surfaced in the form of an article published in July 2013 by IHS Jane's Defense Weekly. The site revealed satellite imagery that appeared to show surface-to-surface missile sites being constructed to accommodate the deployment of Chinese Dongfeng DF-3A intermediate-range ballistic missiles, purchased in the 1980s during a brutal war between regional foes Iraq and Iran.
Just two years after that conflict ended in 1988, Iraq invaded Kuwait, prompting a massive U.S. military response as an incursion into oil-rich Saudi Arabia was feared and Iraqi forces fired missiles at the kingdom. The U.S. later toppled the Iraqi government in 2003 on the pretext—later proven false—that it possessed weapons of mass destruction, a move that spurred a violent Sunni Muslim insurgency and, as the U.S. Army acknowledged in a recent report, deeply empowered Iran.
Revolutionary Shiite Muslim Iran and conservative Sunni Muslim Saudi Arabia have for decades contended for influence across the Middle East and the former has managed to build the largest missile arsenal in the region. As tensions between the two played out in various proxy wars, Saudi Arabia publicly unveiled its DF-3A arsenal for the first time during a military parade in April 2014. That same year, Newsweek reported that the CIA helped facilitate a secret deal to allow Saudi Arabia to buy improved Chinese DF-21 missiles in 2007.
By early 2015, a Zaidi Shiite Muslim group known as Ansar Allah (or the Houthis) took over the Yemeni capital of Sanaa, sparking a Saudi-led military campaign in support of the Yemeni government's attempts to retake the country from rebels suspected of receiving Iranian support. The Houthis have fired short-range ballistic missiles at Saudi Arabia on multiple occasions, potentially accelerating Riyadh's desire for its own domestically-built missile force as the war there continues to stagnate.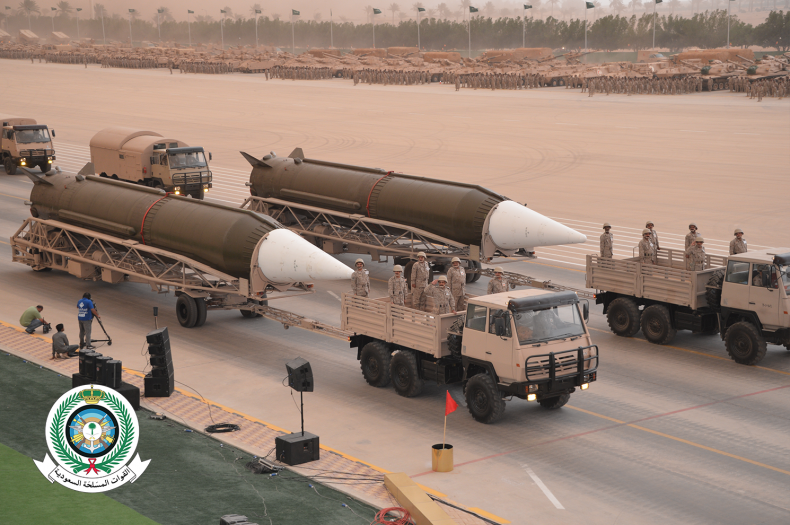 While Saudi's intervention in Yemen initially brought Riyadh and Washington together, persistent reports of the kingdom committing war crimes have begun to foster deep opposition to the Pentagon's involvement there, especially after journalist and Saudi critic Jamal Khashoggi's slaying by government agents at Istanbul's Saudi consulate in October. Though President Donald Trump and his top officials have stood by their Saudi ally, the Senate has already moved to halt military assistance to Saudi Arabia, which has already expressed its potential to graduate from conventional to strategic means of defense.
Last year, Saudi Crown Prince Mohammed bin Salman and now-former Foreign Minister Adel al-Jubeir both warned that the kingdom would seek nuclear weapons if Iran did. Tehran has long argued that its own nuclear program was never intended to be weaponized and has abided by the terms of a 2015 deal restricting its production, but this agreement was threatened last year by the Trump administration's decision to leave the accord and reinstate sanctions.
Iran has so far remained in compliance with the deal as fellow signatories China, France, Germany, Russia and the United Kingdom attempt to save the arrangement in the wake of the U.S. pullout, but Iranian officials have warned they could restart nuclear production at any point. As for Saudi Arabia, Prince Mohammed already launched the country's first nuclear project in November, which was also ostensibly only for energy purposes.
While Hinz told Newsweek that "it is difficult to tell" whether Saudi Arabia was preparing to go nuclear with its alleged new missiles because their exact model was unknown and "you have a large global trend towards conventionally armed ballistic missiles, which muddies the waters even further," he said that "if you want to have nuclear weapons, in general, you also want to have the means to domestically build the delivery systems."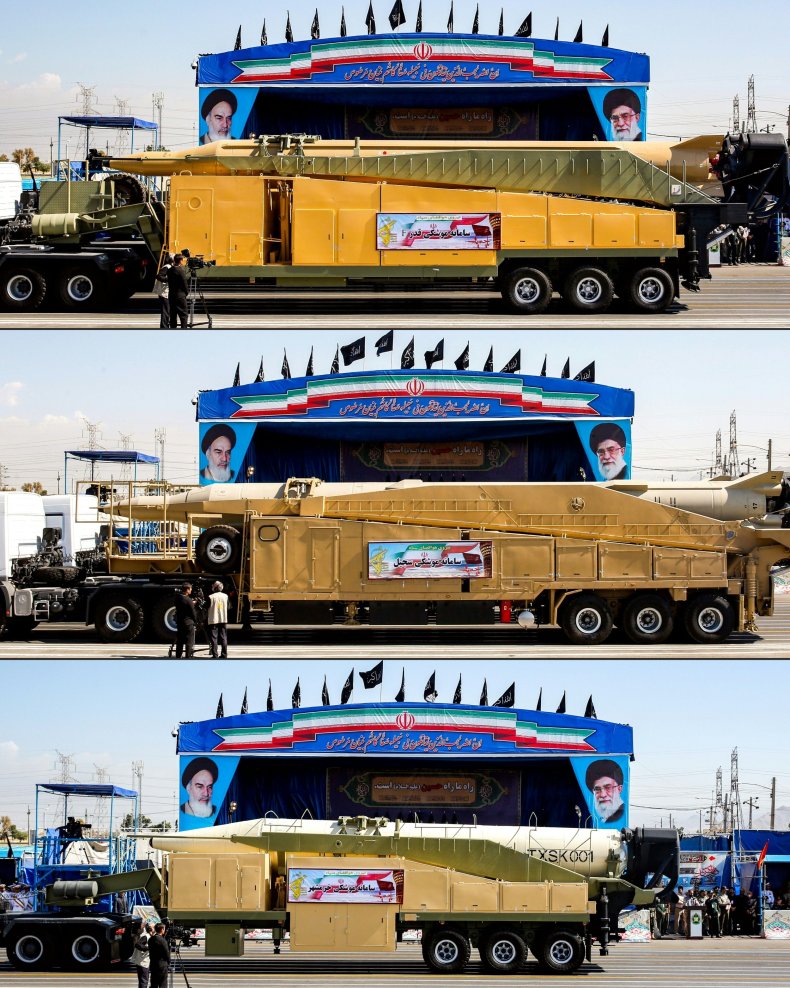 Hinz pointed out that the regional "missile race" was not limited to Iran and Saudi Arabia, but also included a scramble for new homemade capabilities among nations like Israel, Turkey and others seeking foreign assistance. A leaked State Department cable showed the United Arab Emirates purchased missile technology from North Korea in 2015 and Qatar followed in its Saudi rival's footsteps by parading Chinese-made missiles in 2017. Algeria has reportedly received Iskander short-range ballistic missile systems from Russia and Syria was allegedly building missile factories with help from Iran, who has been accused of supplying the Lebanese Hezbollah and Yemeni Houthi movements as well.
"I would say there are two trends that really merge here. One is the old quest for prestige and the idea that if your enemies have it you need it, too. The other one is an increasing popularity of conventionally-armed short-range ballistic missiles, which due to increased precision can today be effectively used as conventional weapons systems," Hinz told Newsweek. "But I would say, Iran and Saudi really stand out because of the sheer size of their missile forces. Saudi Strategic Rocket Forces are an own branch of their military, which is something very rare."
Meanwhile, Iran's other top two foes Israel and the U.S. have attempted to rally support for a campaign to politically and physically isolate Iran, whose allied militias extend through Iraq, Syria and Lebanon.
Israel has accelerated its airstrikes against alleged Iranian targets in Syria, prompting rare public rebuke from Russia—which itself has joined China in warning of a new "arms race" due to Trump's latest missile defense plan that was partially inspired by Iran's advances in weapons development. The U.S. has also set out to co-host with Poland a conference next month in Warsaw that was originally set to "focus on Iran" as Secretary of Mike Pompeo said, though European pressure has watered down this message, which followed a "counter-Iran revolution" tour of the Middle East by the top U.S. diplomat.