Saudi Arabia Says It Will Build Nuclear Bomb if Iran Does
Saudi Arabia has threatened to build a nuclear weapon if Iran pursued such a weapon of mass destruction, in the wake of a U.S. exit from a historic nuclear deal.
Saudi Arabia Foreign Minister Adel al-Jubeir welcomed President Donald Trump's decision to withdraw from the 2015 Joint Comprehensive Plan of Action (JCPOA), a landmark nuclear agreement still supported by China, France, Germany, Russia and the U.K. Trump joined Israel and Saudi Arabia in accusing the accord of being too lenient on Iran's nuclear activities, ballistic missile development and support for militias across the Middle East.
As Iran reconsiders its commitment to the deal that no longer protects it from U.S. sanctions, Jubeir told CNN, "I believe that if Iran restarts its enrichment program beyond what it has right now that should trigger the snapback provision and cause all the other P5 [U.N. Security Council's five permanent members] countries to abandon the deal and reimpose sanctions on Iran."
When asked what Saudi Arabia will do, Jubeir said, "We will do whatever it takes to protect our people. We have made it clear that if Iran acquires a nuclear capability, we will do everything we can to do the same."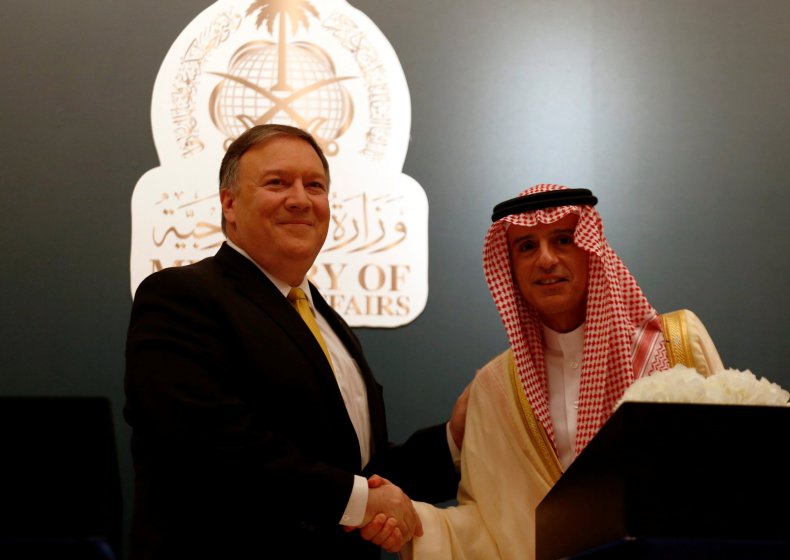 Saudi Arabian Crown Prince Mohammed bin Salman told CBS News in March, "Saudi Arabia does not want to acquire any nuclear bomb, but without a doubt, if Iran developed a nuclear bomb, we will follow suit as soon as possible."
Saudi Arabia and Iran have long contended over influence in the region. Saudi Arabia cut formal ties with Iran in early 2016 when Iranian protestors attacked Riyadh's embassy in Tehran, in response to the execution of a popular Shiite Muslim cleric in Saudi Arabia. Iran has maintained its nuclear activities were only for peaceful purposes and the International Atomic Energy Agency has verified its compliance with the 2015 nuclear agreement, but the U.S., Israel and Saudi Arabia have remained suspicious.
Related: Did Trump break the law? U.S. leaves Iran deal, violates world order and risks war, experts say
In a statement carried by the official Saudi Press Agency, the Sunni Muslim kingdom said it "supports and welcomes the steps announced by President Donald Trump regarding the United States' withdrawal from the Iran nuclear deal. The Kingdom also supports reinstating economic sanctions on the Iranian regime, which have been suspended under the nuclear deal.
"The Kingdom asserts its commitment to work with its partners in the United States and the international community to reach the goals announced by President Trump, and the necessity to address the dangers posed by the policies of Iran on international peace and security through a holistic approach, that is not limited to its nuclear program, but addresses its hostile activities, including Iran's interference in the internal affairs of countries in the region, its support of terrorism, and to prevent Iran from ever possessing weapons of mass destruction," it later added.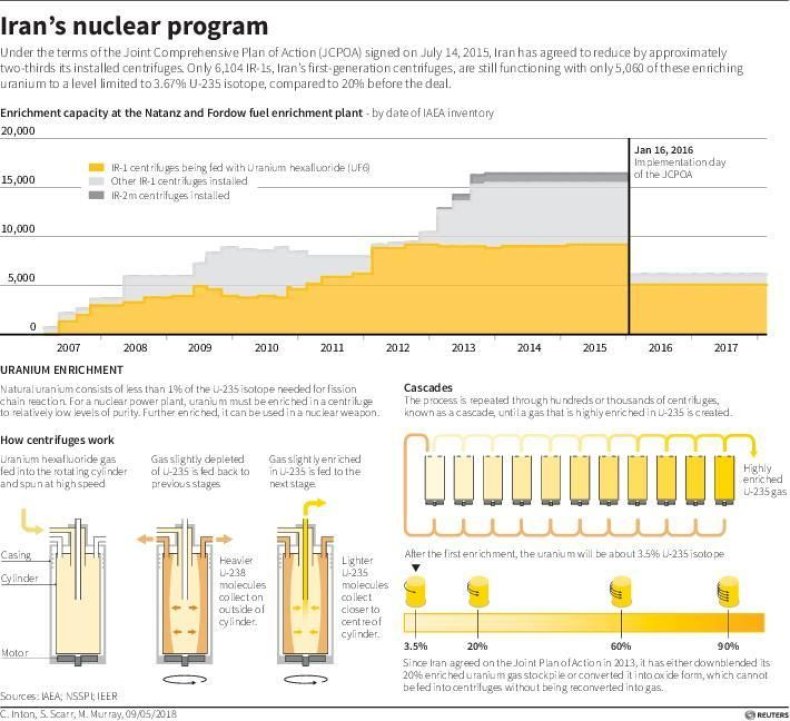 Iran's top three rivals say its development of more powerful, longer-range ballistic missiles and its backing of majority-Shiite Muslim groups abroad are destabilizing to the Middle East. Saudi Arabia is currently battling an insurgent Yemeni Zaidi Shiite Muslim group—also known as the Houthis or Ansar Allah—​who occasionally targets Riyadh with missiles that Saudi Arabia claims are Iranian in origin.
Both the Houthi movement and Iran deny any military con nection—but are politically aligned in regional affairs. Iran and its elite Revolutionary Guards do have close ties to other groups such as the Lebanese Hezbollah and various militias battling rebels and jihadis like the Islamic State militant group (ISIS) in Iraq and in Syria, where Israel considers Iran-backed groups a threat and has launched a number of strikes against them.
Currently, Israel is the only nuclear power believed to be in possession of nuclear weapons. However, it traditionally neither confirms nor denies their existence. The other nuclear states are Russia, the U.S, France, China, the U.K., Pakistan, India and North Korea.