Iran has boosted ties with allies Iraq and Syria, bringing the two war-struck Arab neighbors together at a time when the U.S. is struggling to assert its foreign policy vision in the region.
Iranian Revolutionary Guards Major General Mohammad Bagheri, head of the country's armed forces, told a conference Monday alongside Iraqi and Syrian military leaders in Damascus that "the troops who are present in Syria without coordination with the Syrian government will leave sooner or later."
The U.S. and Iran have both set out to defeat the Islamic State militant group (ISIS), which took over half of Syria and one-third of Iraq at its height of power in 2014, but the longtime rivals now seek to expel each other from the countries as the jihadis are defeated.
On Sunday, The Wall Street Journal cited U.S. officials as saying that the Pentagon was planning to leave up to 1,000 troops behind following an anticipated withdrawal from Syria—significantly more than the roughly 200-strong "peacekeeping force" cited by the White House last month.
Joint Chiefs of Staff Chairman General Joseph Dunford, however, rejected the report as "factually incorrect" in a statement published later Sunday. A number of U.S. officials have pushed back against President Donald Trump's plans to exut Syria, citing the threat of an ISIS resurgence and growing Iranian influence in Syria. On Monday, Syria condemned the U.S. as well as France and the U.K. of attempting a "new colonial project" in a foreign ministry statement.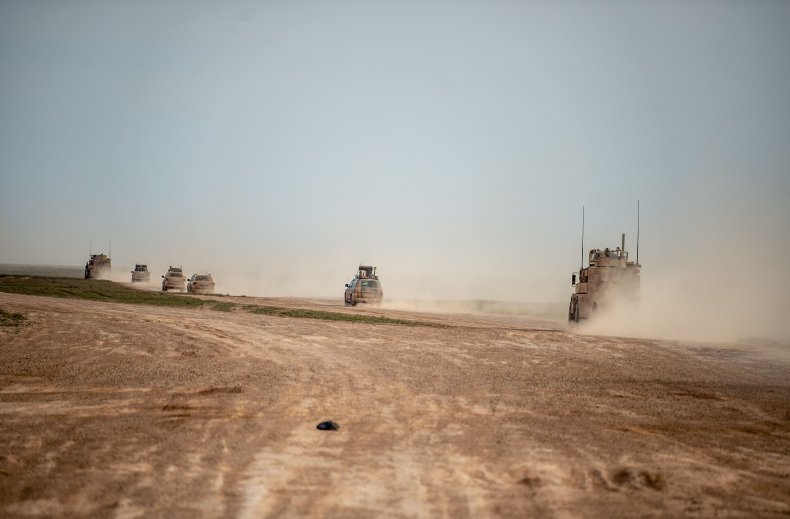 The three nations have had complex relations in the modern era, but the recent warming between them was evidenced by their participation in Monday's summit. The trio's history, along with much of the Middle East, was deeply affected by Iran's 1979 Islamic Revolution, which overthrew a West-backed absolute monarchy and brought a Shiite Muslim clerical leadership to power. This resulted in a severing of ties with the U.S. and Iraq, but it also created a newfound alliance with Syria.
When Iraqi President Saddam Hussein took power later that year and led an invasion of Iran, Syrian President Hafez al-Assad backed Iranian supreme leader Ayatollah Ruhollah Khomeini. The U.S. quietly backed both sides but would go on to wage two wars with Iraq, first in the early 1990s in response to Hussein's invasion of Kuwait, and again in 2003 to overthrow his government entirely.
The second conflict stirred a Sunni Muslim insurgency dominated initially by Al-Qaeda and later by an offshoot that became known as ISIS. Both groups spread to neighboring Syria a decade later, taking advantage of a U.S.-backed uprising against Assad's son and successor, Bashar, as Iran and Syria shored up relations with Iraq.
In 2014, the U.S. launched campaigns to defeat ISIS in both Iraq and Syria, the latter of which rejected Washington's intervention due to its support for a regime change against Assad's government. The following year, Syria successfully petitioned Russia for military assistance in defeating the jihadi group and other insurgents seeking to overthrow the government.
As of Monday, the U.S.-backed Syrian Democratic Forces—a largely Kurdish group that, unlike the opposition, sought to negotiate with the government, especially since Trump's withdrawal announcement in December 2018—has begun entering the last pocket of ISIS control in Syria's far east.
With the Syrian Democratic Forces struggling to make headway in talks with Damascus, Syrian Defense Minister General Ali Ayoub warned Monday that "we do not compromise and do not discuss our right to defend our sovereignty, and we will regain control of every inch of Syrian territory." He said this would happen either "by reconciliations or military force" at the tripartite meeting alongside Iranian chief of staff Bagheri and Iraqi counterpart Lieutenant General Othman al-Ghanmi.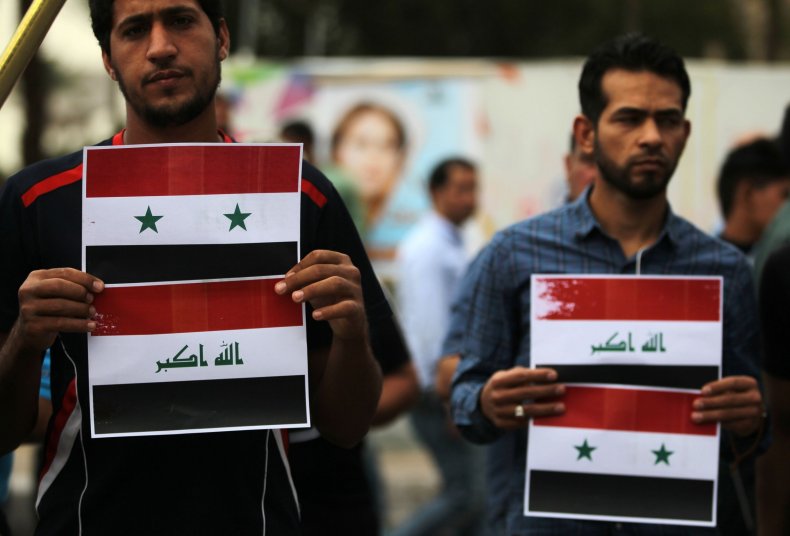 In a sign of closer ties between Damascus and Baghdad, in late 2018 the Syrian government reportedly granted the Iraqi armed forces permission to freely conduct strikes against ISIS across their restive border. The two also collaborated in retaking the Al-Bukamal and Al-Qaim border crossing from ISIS in late 2017 and have since sought to reopen the boundary.
Speaking at Monday's summit, Iraq's Ghanmi emphasized his support for closer coordination with Tehran and Damascus, especially on matters of security. He expressed his hope that "the coming days will witness the opening of the border crossing as well as the continuation of visits and bilateral trade" between Iraq and Syria.
Iran, for its part, received Assad last month and sent President Hassan Rouhani to meet Iraqi Prime Minister Adil Abdul-Mahdi in two historic developments accompanied by the signing of new trade agreements with both countries.
Iran has faced mounting U.S. sanctions since the Trump administration's exit from the 2015 nuclear deal reached by the two countries, alongside China, the EU, the U.K., France, Germany and Russia. Those other powers still support the agreement, but Washington has accused Tehran of using sanctions relief to develop ballistic missile technology and fund militant groups.
In an effort to further unite Middle Eastern allies against Iran and discourage Arab states from accepting Syria back into their fold, Secretary of State Mike Pompeo is set to leave Tuesday for a tour of Israel, Kuwait and Lebanon.