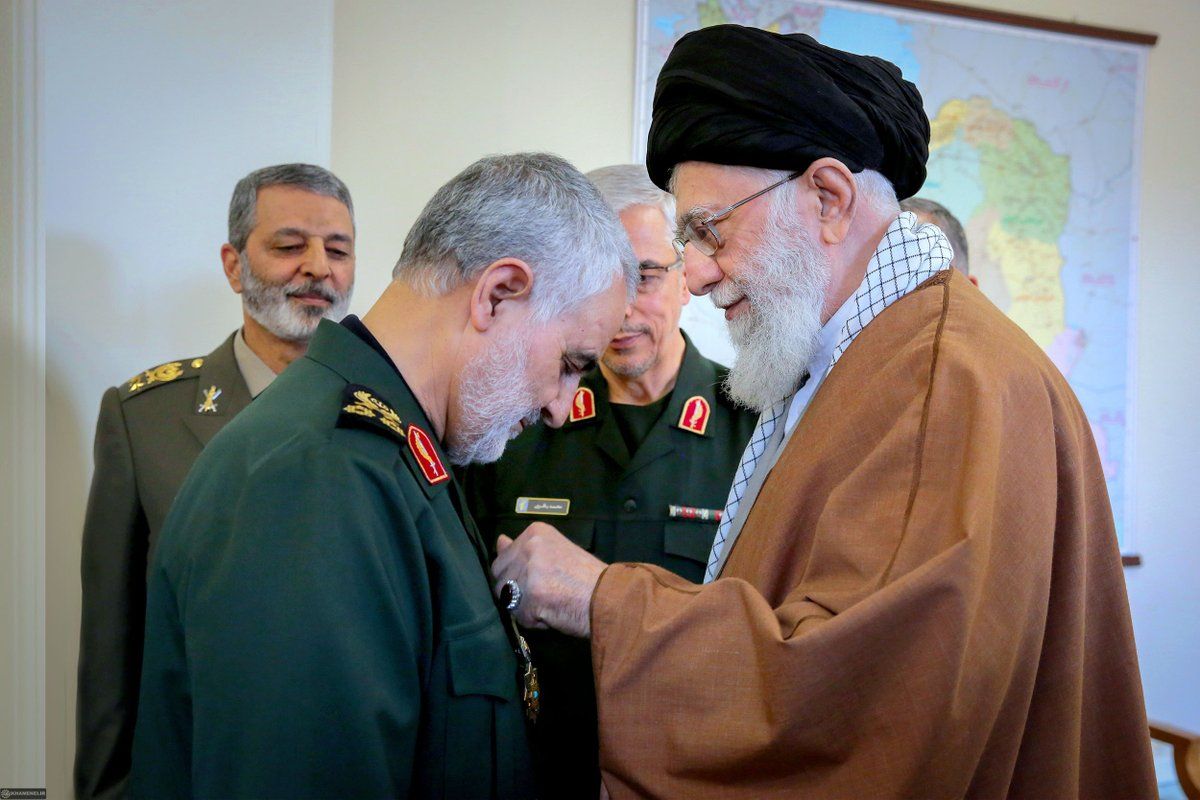 A top Iranian military figure known for his shadowy role in Iran's foreign intervention in Iraq and Syria has received his country's highest military honor at a ceremony Monday alongside supreme leader Ayatollah Ali Khamenei.
Major General Qassem Soleimani, the commander of the Revolutionary Guards' expeditionary Quds Force, became the first Iranian general to receive the Order of the Zulfiqar since the 1979 Islamic Revolution that overthrew a West-sponsored monarchy. With the U.S. attempting to contain Tehran's growing influence across the region, Soleimani has been a persistent, popular symbol of Iran's footprint abroad.
"He has time and time again exposed his life to the invasion of the enemy and he has done so in the way of God, for God and purely for the sake of God. And he has made a great endeavor," Khamenei said. "I hope that God the Exalted will reward and bless him, that He will help him live a blissful life and that he will make his end marked by martyrdom.
"Of course, not so soon," Khamenei added. "The Islamic Republic will be needing his services for many years to come, but I hope that his services will culminate with martyrdom, God willing. I hope that this [award] will be an auspicious one for you, God willing."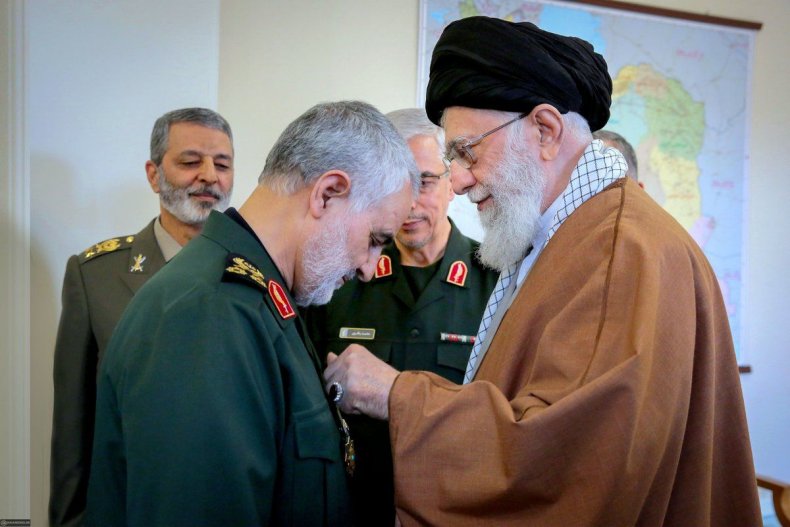 As head of the Quds Force, Soleimani has quietly led Iranian operations in Iraq and Syria, where Tehran has supported the two allied Arab governments in battling the Islamic State militant group (ISIS) and other Sunni Muslim insurgents. While Washington has also sponsored anti-ISIS efforts in these countries, the U.S. and Iran have accused one another of pursuing ulterior motives that ultimately destabilize the region.
The 2003 U.S. invasion of Iraq had the consequence of empowering fringe elements within both Sunni and Shiite Muslim circles as the new government embraced both U.S. and Iranian support in securing the country. A decade later, a group once known as Al-Qaeda in Iraq rebranded itself as ISIS and spread to Syria, where the U.S. sponsored opposition fighters following a 2011 rebel and jihadi uprising against Syrian President Bashar al-Assad, an ally of Iran and Russia.
Soleimani made infrequent public appearances during the Iran-backed campaigns in Iraq and Syria, but his presence was widely felt. Secretary of State Mike Pompeo himself penned a letter to the military leader, holding him responsible for any attacks on "U.S. interests" in Iraq, only to receive a cold shoulder response. Soleimani's new decoration was further evidence of the extensive role played by a man who vowed to lead Iranian military action against the U.S., if ordered, during a war of words between Iranian President Hassan Rouhani and President Donald Trump last summer.
Soleimani responded directly to Trump, stating: "If you begin the war, we will end the war."
Rouhani and close ally Iranian Foreign Minister Mohammad Javad Zarif have continued to support the nuclear deal they forged with the U.S. and other world powers in 2015, but the White House's exit last May over accusations that Tehran used sanctions relief to fund militant groups and ballistic missile programs has left new sanctions that have empowered Iranian hardliners like Khamenei and Soleimani. With ISIS now largely defeated in Iraq and Syria, the Trump administration has also turned up the pressure on Tehran at home and abroad, but recent events have demonstrated Iran's staying power across the Middle East.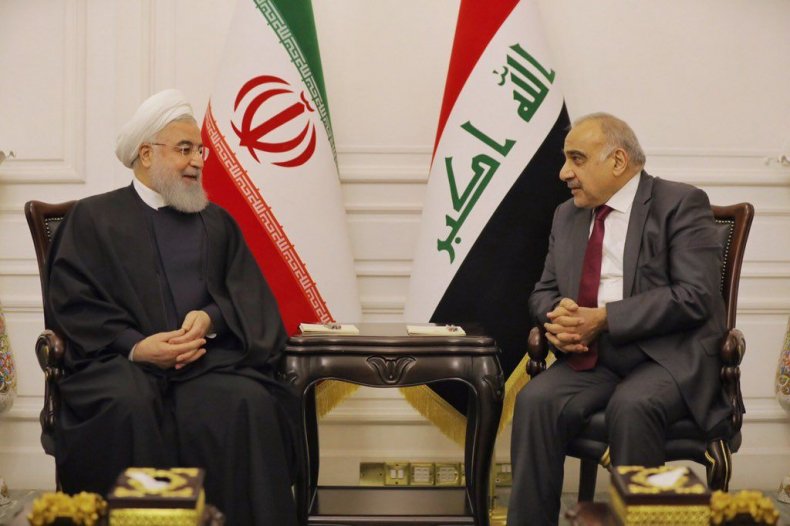 On the same day that Soleimani received his reward, Rouhani made a landmark visit to Baghdad, where he said Iran and Iraq had "the same goals and aspirations and common views on regional issues, and the two countries will certainly benefit from the extensive trade and economic cooperation of the two nations and the region," at a trade summit alongside Iraqi Prime Minister Adel Abdul-Mahdi. Rouhani discredited the U.S. role in fighting jihadis and called for new, specific economic agreements, including in the realms of transportation and education, in further speeches.
Abdul-Mahdi's office published a joint statement asserting that Iraq "has valued the position of the Islamic Republic of Iran in its assistance in the fight against terrorism, being the first to provide logistical and advisory support and to stand with it in its war against terrorism" and "their efforts to increase trade, investment, economic, technical, engineering and industrial exchanges in order to boost development in both countries and the region."
As Iraq and Iran signed some five memorandums of understanding, U.S. special representative on Iran Brian Hook told the U.S.-based, Arabic-language Alhurra that "President Rouhani coming to Iraq is not in the interest of the Iraqi people," warning that sanctions would apply to any business ventures between Baghdad and Tehran.
Iraqi Foreign Ministry spokesperson Bahram Qassemi shot back Tuesday, arguing that "the anger of this American official is not surprising, because it seems that, despite the billions of dollars spent in the Middle East, the U.S. has not been able to achieve a desirable position among the nations of the region, which is certainly due to its aggressive, militaristic and interventionist policies," according to the semi-official Tasnim News Agency. He said Iraq and Iran would continue their "strategic" relations "based on good neighborliness and full of friendship."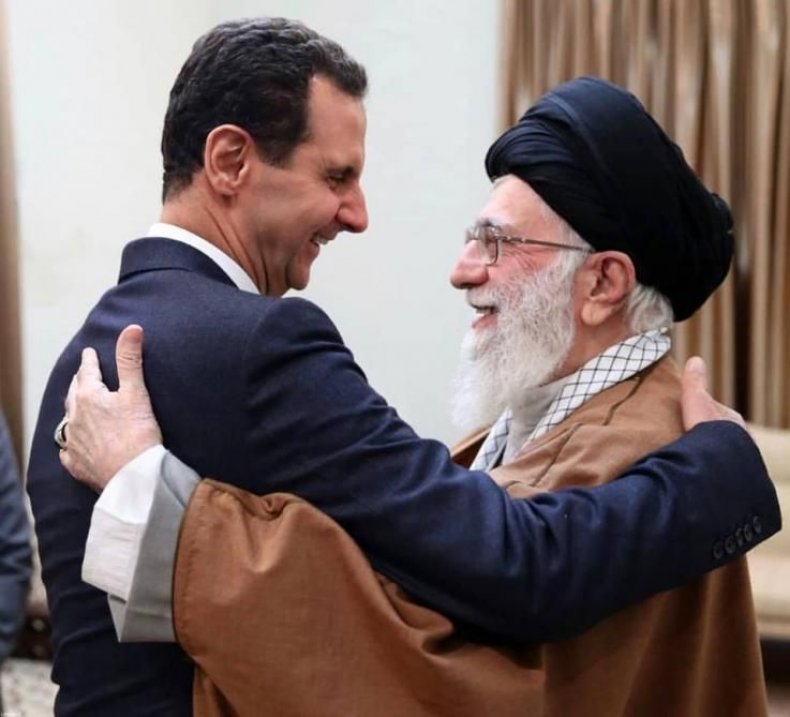 With the Iranian president in the Iraqi capital, a group of Syrian business leaders met Monday with the Iran Chamber of Cooperative in Tehran. The two sides signed some 18 economic deals, according to Tasnim, further combating an isolation campaign led by the U.S., Israel and Saudi Arabia.
Like Baghdad, Damascus has benefited from Tehran's backing in the fight against ISIS, but such support has proven even more vital to Assad, who Washington has continued to threaten with regime change over accusations of human rights abuses. It has also, however, brought with it renewed frictions with Israel, which has conducted hundreds or even thousands of strikes against forces accused of being under Iranian command.
Tehran's ambassador to Beirut Javad Torkabadi told the Lebanese Hezbollah-linked outlet Al-Ahed that Rouhani was likely to visit Damascus in the future. The move would follow Assad's unannounced trip to Iran last month, a move that set off a series of events that exposed the faultlines in Iran's domestic politics. Though Khamenei and Soleimani were among those present at the meeting, Zarif was reportedly uninvited and announced he would quit his post that same day in protest.
Rouhani ultimately rejected Zarif's resignation, but only after influential political voices—including Soleimani—called for his reinstatement. The top diplomat was then sent to Iraq ahead of Rouhani's visit, and told the local Al-Furat outlet that he had "received an invitation from Syrian President Bashar al-Assad, and decided to meet him" sometime soon in Syria, further cementing their ties.