Iran's Allies Want U.S. Out of Iraq Now, Threaten to Fight Back Against Israel from Lebanon After Strikes Across Region
Iran's regional partners have threatened to respond to suspected Israeli strikes across some four Middle Eastern countries by expelling U.S. forces from Iraq and striking Israel from Lebanon.
A number of regional actors have responded with outrage after a weekend in which Israel claimed two strikes in Syria and the Palestinian-administered Gaza Strip and was blamed for additional attacks in Lebanon and Iraq. In each case, the targets were forces supported by Iran, which Israel has accused of using its partnered movements to set up forward bases capable of targeting it from across the Middle East.
In Iraq, a convoy belonging to the Popular Mobilization Forces was struck in Al-Qaim, near the Syrian border, killing a field commander of the Iraqi state-sponsored, majority-Shiite Muslim militia also supported by Iran. Israel has neither confirmed or denied its involvement, but widespread suspicion as to its involvement has prompted the powerful Fatah Alliance to call Monday for a total withdrawal of Israel's closest ally, the U.S.
"While we reserve the right to respond to these Zionist attacks, we hold the international coalition, particularly the United States, fully responsible for this aggression, which we consider a declaration of war on Iraq and its people," a statement by the group read, according to the Associated Press.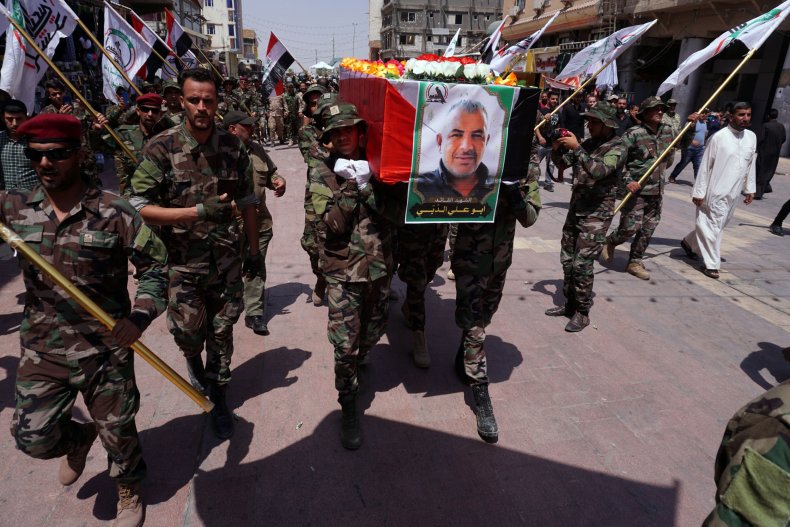 The strike followed a series of unclaimed explosions at munitions depots affiliated with the Popular Mobilization Forces across the country in recent months, prompting an official investigation to be ordered earlier this month by Iraqi Prime Minister Adel Abdu-Mahdi. The Iraqi leader has yet to outright blame Israel, but has repeatedly expressed his government's support for the Popular Mobilization Forces, which played a central role in battling the Islamic State militant group (ISIS).
The U.S., whose military invaded Iraq in 2003 and later battled ISIS as part of an international coalition in 2015, has denied any responsibility in Saturday's strikes or any other recent attacks against the Popular Mobilization Forces. In a statement published Monday, Pentagon spokesperson Jonathan R. Hoffman said any "statements to the contrary are false, misleading, and inflammatory."
"We support Iraqi sovereignty and have repeatedly spoken out against any potential actions by external actors inciting violence in Iraq. The government of Iraq has a right to control their own internal security and protect their democracy. They are conducting an investigation into the recent attacks accordingly," the statement read.
"As guests of Iraq, U.S. forces operate at the invitation of the Iraqi government and comply with all laws and directions," it added. "Furthermore, we are fully cooperating with the investigation."
The U.S. has, however, sought to curb Iran's influence across the region and lauded Israeli strikes Saturday in the southwestern Syrian village of Aqrabah, where Israel claimed to have stopped a "pending, large-scale attack of multiple killer drones on Israel" planned by Iran by killing two members of a Shiite Muslim militia. Following a conversation with Israeli Prime Minister Benjamin Netanyahu, Secretary of State Mike Pompeo said he expressed "support for Israel's right to defend itself from threats posed by the Iranian Revolutionary Guard Corps & to take action to prevent imminent attacks against Israeli assets."
Unlike in Iraq, the U.S.-led coalition operates in Syria without the permission of the national government, accused of war crimes in its conflict with a rebel and jihadi uprising once backed by the U.S. and its regional allies, including Israel, which has continued a years-long campaign of strikes against sites said to be associated with Iran. At a meeting Tuesday in Damascus, Syrian Deputy Foreign Minister Ayman Sousan condemned the presence of any foreign forces in his country, vowing they would be expelled.
The Syrian government has received support from Russia and Iran, along with Tehran-backed regional militias such as Lebanese Shiite Muslim Hezbollah movement and the Popular Front for the Liberation of Palestine – General Command. On Sunday, Hezbollah said it was Israel that plotted to use lethal drones after the group's media headquarters in the southern suburbs of Beirut was apparently targeted by two small explosive-laden unmanned aerial devices.
Later that same day, as Israel retaliated to rocket attacks from the Gaza Strip with strikes on positions of the Palestinian Sunni Islamist Hamas group, two more drone attacks apparently occurred at a base of the Popular Front for the Liberation of Palestine – General Command in the eastern Lebanese town of Qusaya. The group published footage Tuesday of its fighters reportedly confronting the attack with anti-aircraft fire.
Echoing the Iraqi Fatah Alliance's statements, Lebanese President Michel Aoun—whose largely Christian Free Patriotic Movement was allied with Hezbollah and other parties as part of the ruling March 8 bloc—called the alleged Israeli moves a "declaration of war." Prime Minister Saad al-Hariri, a member of the opposition mostly Sunni Future Movement in the March 14 bloc, took a call from Pompeo, but called the attacks an "aggression" that "threatened the sovereignty of Lebanon."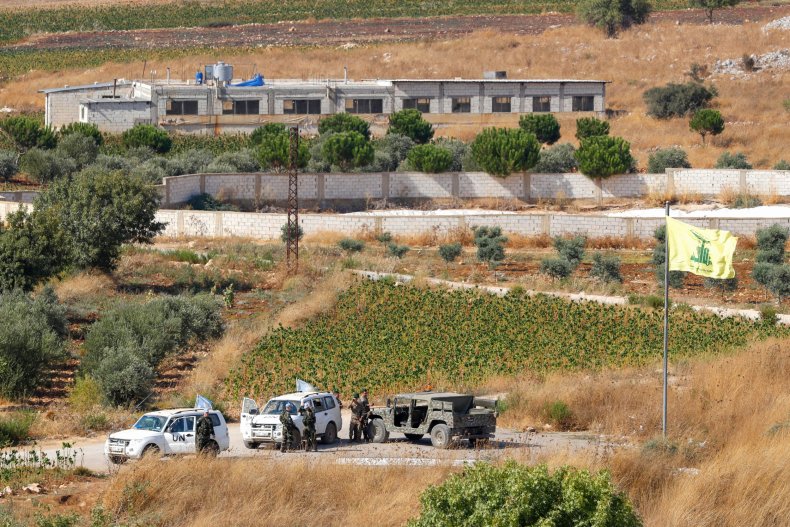 Hezbollah Secretary-General Hassan Nasrallah described the suspected Israeli drone attack in Beirut to be the "the first act of aggression" since their 2006 war. Nasrallah also condemned the alleged targeting of the Popular Mobilization Forces in Iraq and of Hezbollah in Syria, warning that "if Israel kills any of our brothers in Syria, we will respond to this killing in Lebanon."
Netanyahu responded Tuesday, saying: "I heard Nasrallah's remarks. I suggest that Nasrallah relax. He knows very well that the State of Israel knows how to defend itself and how to pay back its enemies." In a warning to Nasrallah, the Lebanese government and Iranian Revolutionary Guards Quds Force commander Qassem Soleimani, the Israeli leader said, "Be careful with your words and be even more careful with your actions."
Reuters that same day cited two unnamed sources close to Hezbollah as saying the group was planning a "calculated strike" against Israel in response to Sunday's drone incursion into Beirut. The reaction "is being arranged in a way which wouldn't lead to a war that neither Hezbollah nor Israel wants," Reuters quoted one source as saying. "The direction now is for a calculated strike, but how matters develop, that's another thing."
Mortar fire from Gaza on Israel continued through Tuesday, leading to another Israeli attack on what the armed forces said was "a Hamas military post." In a separate post, Israel's military laid out what it said was the chain of command of the thwarted drone attack, beginning with Soleimani and going down to "Commander of Iranian Forces in Syria" Mohammad Javad Jafari, "Shiite forces from different nations" and then "Regular military units" and "Terror squad" to the two slain Hezbollah members and two silhouettes marked with a question mark.