Turkey Threatens New Tensions With Russia and Iran in Syria As It Tries to Make a Deal with U.S.
Turkey has defied warnings from Russia, Iran and their local allies in Syria by seeking a deal with the United States and continuing to support insurgents as they clashed with government forces in the restive northwestern province of Idlib.
A demilitarized zone deal struck nearly a year ago by Turkish President Recep Tayyip Erdogan and Russian President Vladimir Putin sought to stave off a Syrian military advance against Idlib, a jihadi-dominated area also populated by up to two million civilians and scores of various rebel groups. But violence has flared here in recent weeks, further inflating the death toll of an eight-year civil war. As the fighting worsened, a Turkish convoy defied Syrian warnings and crossed the border before being hit by an airstrike that "caused three civilians to lose their lives and left 12 civilians wounded," according to the Turkish Defense Ministry.
"We strongly condemn this attack which contradicts the existing agreements, cooperation and dialogue with the Russian Federation. Without prejudice to our rights to self-defence, we expect the necessary measures to be taken to prevent recurrence of such incidents," the ministry said in a statement, arguing that Moscow had been informed prior to the convoy's departure.
The Syrian Foreign Ministry, however, claimed in an earlier statement Monday that the convoy was "loaded with ammunition and weapons" intended "to help the defeated terrorists of the Nusra Front," an al-Qaeda affiliate now known as Jabhat Fateh al-Sham, in the recently government-reclaimed city of Khan Sheikhoun. The ministry said it "holds the Turkish regime fully responsible for the repercussions of this flagrant violation of the sovereignty, unity and territorial integrity of the Syrian Arab Republic"—which Russia has supported politically since the conflict began in 2011 and through direct military intervention since 2015.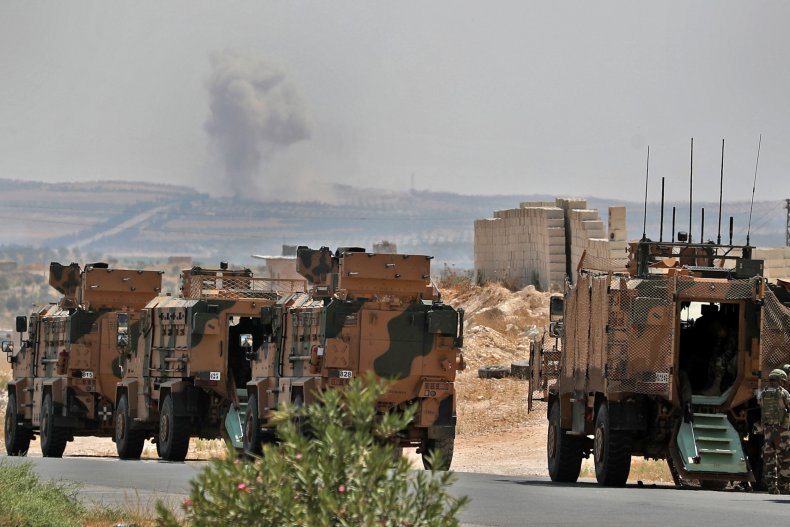 Turkey played an early role in the unrest that threatened Syrian President Bashar al-Assad, backing a largely Arab Sunni Muslim rebellion against the leader who stood accused of war crimes by the U.S. and a number of its regional allies. Iran, a close ally of Assad, began to mobilize regional, largely Shiite Muslim paramilitaries tasked with bolstering the embattled Syrian military.
The dynamics of the conflict were greatly shifted with Russia's entrance, compelling Turkey to join in trilateral talks with the two Assad allies as an increasingly Islamist opposition lost territory and international support from the U.S. and its regional allies. Around this same period, the Pentagon officially allied with a mostly Kurdish group known as the Syrian Democratic Forces. This organization is opposed by Turkey due to their close ties to the banned Kurdistan Workers' Party (PKK).
With the Islamist State militant group (ISIS) largely defeated thanks to rival Syrian pro-government and U.S.-led coalition campaigns, the competing geopolitical interests of Syria's international actors have especially come to dominate the war in Syria. Ankara has often found itself in the middle of Washington and Moscow's competing visions for the country, while at the same time trying to advance its own interests.
Erdogan's deal with Putin last year managed to temporarily halt a planned Syrian attack on Idlib, an operation that President Donald Trump threatened to halt by force, but continued militant activity within demilitarized areas and Syrian and Russian airstrikes on the province have slowly eroded hopes for a more permanent peace there. Some anti-government groups have also attempted to attack the Russia-administered Hamaymim airbase in Latakia from Idlib and Putin said Monday that he and his administration "support Syrian army efforts to carry out local operations to neutralize these terrorist threats."
"I would like to remind you that no one ever talked about terrorists having an opportunity to concentrate in the Idlib zone and to feel comfortable operating there," Putin said after receiving French President Emmanuel Macron in Moscow. "On the contrary, it was stressed that the fight against terrorists would continue."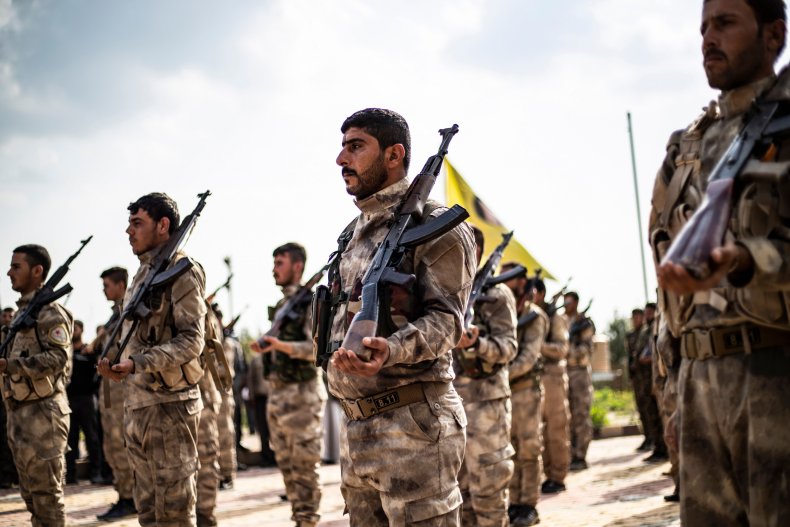 Elsewhere in northern Syria, Turkey was also struggling to assert itself in the face of another major power, the United States. Rebels once supported by the CIA and now sponsored by Turkey have occasionally clashed with the Pentagon-backed Syrian Democratic Forces, which were expelled early last year from the northern Aleppo district of Afrin and have faced attacks in the northeast as well, where U.S. troops operated.
Trump announced his plans to withdraw from the country in December, but ongoing fears about a clash between Turkey and Kurdish forces have left Washington and Ankara struggling to come up with a deal. Earlier this month, shortly after U.S.-Turkey ties took a major blow due to the latter's decision to go through with a purchase of Russia's S-400 surface-to-air missile systems, Defense Secretary Mark Esper traveled to Ankara in an attempt to establish a plan for so-called "safe zones" in northern Syria.
As Erdogan threatened to launch an invasion into Syria, Secretary of State Mike Pompeo said that the talks "led to important progress" in implementing a project he considered "a big step towards achieving peace & security." The plan, however, has been met with skepticism by Russia and have been rejected outright by Syria, which considers U.S. and Turkish presence illegitimate, and by Iran, whose Foreign Ministry spokesperson Abbas Mousavi called the move "provocative" and an "interference in Syria's internal affairs" on Sunday.
Meanwhile, Syrian Democratic Forces command Mazloum Kobane emphasized in an interview Thursday with the Syria-based Kurdish Hawar News Agency that no final agreement has been reached and "negotiations will continue" as the U.S. mediates between his group and the Turkish government. He also said that talks were ongoing with the Syrian government.