Syria's top diplomat thanked Russia, Iran and China for their support in the country's civil war, but warned Turkey and the United States should be among the first international powers to withdraw.
At a meeting alongside his Chinese counterpart Wang Yi, Syrian Foreign Minister Walid al-Muallem reiterated on Tuesday his stance that "all foreign troops must leave Syria," specifying that "it concerns, first and foremost, the U.S. and Turkish troops," according to the state-run Tass Russian News Agency. He then added: "At the same time, I would like to once again thank Russia and Iran for assisting us in the fight against terrorism."
While Moscow, Tehran and Ankara have all come together since early 2017 in hopes of ending the country's eight-year conflict, Russia and Iran have backed the government in operations and Turkey has supported the opposition, which once also claimed major backing from the U.S., Israel, Qatar and Saudi Arabia, among others.
Rebels and jihadis that once claimed most of Syria have since largely been contained to northwestern Idlib province, where Turkish observations posts have been caught up in an escalation of violence in recent weeks. Muallem told reporters that "we hope that our military and the Turkish military do not fight, this is our principled stance," according to Reuters. He added: "What we are fighting is terrorists, especially in Idlib, which is Syrian territory—part of our country."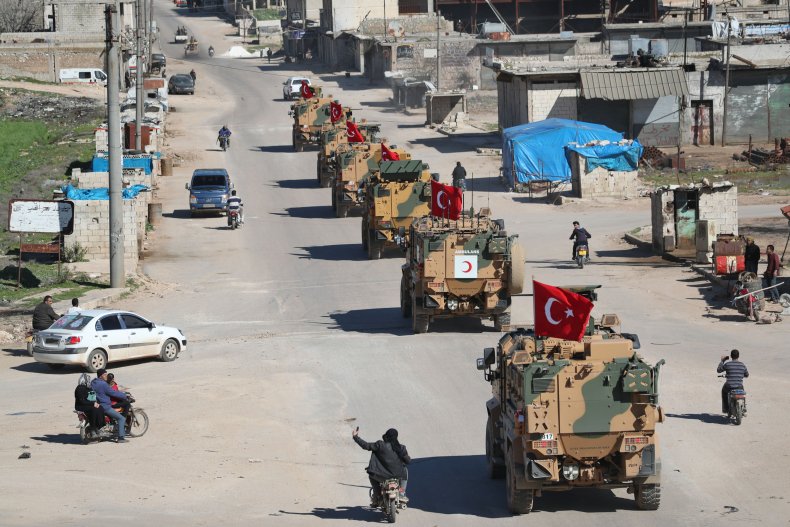 According to a readout shared by the Syrian Foreign Ministry, "Muallem said that Turkey occupies parts of Syrian territory and wondered what the Turks are doing in Syria. Are they present to protect the Al-Nusra Front, ISIS and the East Turkistan terrorist organizations?"
The latter group was comprised of members of a Muslim Chinese ethnic minority known as the Uighurs active in jihadi-dominated Idlib. Beijing has been accused of suppressing the group's cultural and religious identity at home and the U.S. has estimated that China has placed over one million Uighurs in "re-education" camps—though Chinese officials have denied any claims of wrongdoing.
In Syria, Beijing has also supported the government and has viewed the country as another vital node in Chinese President Xi Jinping's Belt and Road Initiative, a transcontinental and multi-billion dollar series of infrastructure projects. Muallem "also expressed Syria's thanks to China for its support of Syrian territorial integrity and the sovereignty of Syria," according to his ministry.
Wang called for a strengthening in bilateral ties and laid out three points for moving forward with a resolution in Syria—"speed up the political settlement," "anti-terrorism efforts should not be relaxed" and "steadily carry out economic reconstruction"—in a readout shared by the Chinese Foreign Ministry.
The U.S. and Turkey, however, have resisted efforts to normalize trade ties with Syria, accusing the country's government of human rights abuses. Washington has also explicitly named the removal of Syrian President Bashar al-Assad and the expulsion of Iranian forces in the country as necessary conditions for lifting sanctions that prevent the U.S. from funding the reconstruction of Syria. Though President Donald Trump announced in December that he would withdraw U.S. personnel from Syria, no comprehensive exit has been conducted.
As the U.S. began to switch its focus in Syria from backing insurgents to defeating ISIS, the Pentagon partnered with a mostly Kurdish group known as the Syrian Democratic Forces, which claim up to a third of the country. The group has entered into oft-stalled talks with the Syrian government, but some of its separatist Kurdish elements were considered terrorists by Turkey due to an ongoing insurgency at home.
Meanwhile, Turkish troops were caught up Thursday in shelling, compelling them to ask Russia for assistance. The two countries have attempted to establish a demilitarized zone around Idlib and its borders as part of a September ceasefire deal, but continued violence threatened to spark an all-out offensive against the province, said to now be home to up to 3 million people.
Despite Ankara and Moscow's differing views on Syria, Turkey has purchased Russia's advanced S-400 surface-to-air missile system, angering Washington, which has threatened to cancel the sale of F-35 fighter jets.