Iran Uses 'Suicide Drones' to Surveil U.S. Military Positions and Provoke Forces in Middle East
Long-simmering tensions between Washington and Tehran are escalating, with Iran's special foreign operations force using so-called "suicide drones" near U.S. military personnel in the Middle East in a series of intense provocations, Newsweek has learned.
U.S. forces are taking steps to protect themselves after witnessing an increase of flights of unmannedaerial vehicles or drones. Some are conducting operations involving "C4i," a term referring to command, control, communications, computers and intelligence, near American positions in the region, according to members of the U.S. military and intelligence community who spoke to Newsweek under condition of anonymity because they were not authorized to discuss matters publicly.
American officials told Newsweek such activity indicates that Iran-friendly regional militias acting at the behest of the Quds Force, the expeditionary arm of the elite Revolutionary Guard, were conducting reconnaissance potentially in preparation for future attacks using suicide drones. Such devices, tested in Iran since at least 2014, could carry explosive payloads across far distances and certain models could be equipped to conduct surveillance as well.
There was no indication of imminent threat of an attack posed by Iran or its allied militias.
CNN first reported Tuesday on Iran's apparent movement of personnel and equipment in the past month, activities that indicated a heightened threat in the region. Newsweek has confirmed that such a threat persists and Iran's actions are ongoing, with a senior Pentagon official saying that U.S. forces have adopted self-defense measures, but have done so discreetly to avoid provoking an escalation themselves.
Contacted by Newsweek, a spokesman from the National Security Council referred questions to the Department of Defense.
"We continue to closely monitor the activities of the regime in Iran, its military and proxies, and we are well postured to defend U.S. forces and interest as needed," said Navy Commander Sean Robertson, a Pentagon spokesperson.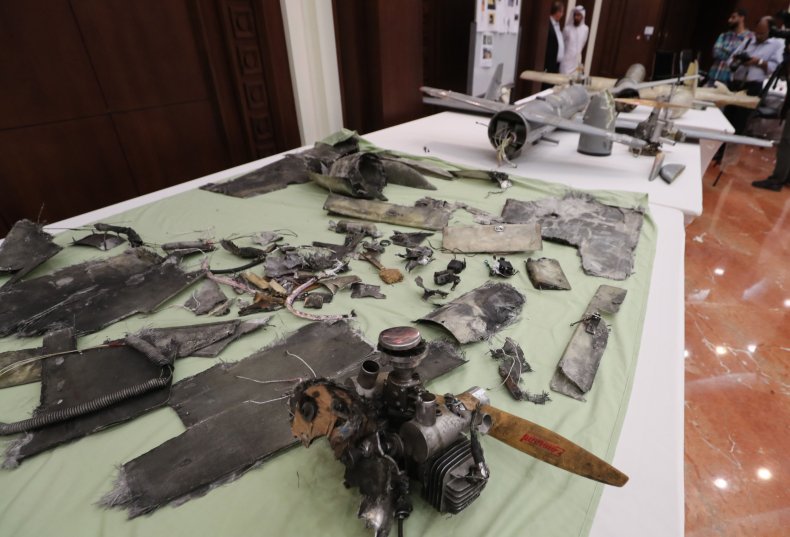 The White House has occasionally broadcast warnings of an increased risk posed by Iran to U.S. interests in the region since at least May, when then-national security adviser John Bolton announced the early deployment of a bomber task force and the USS Abraham Lincoln carrier strike group to the Persian Gulf. The warship formation entered the nearby Arabian Sea months ago but only earlier this month transited the Strait of Hormuz—the world's most critical maritime oil route.
The Strait of Hormuz has become a major flashpoint for U.S.-Iran tensions that have flared since President Donald Trump's decision last year to withdraw from a 2015 multilateral nuclear deal and impose sanctions on the Islamic Republic. The White House defended the move by accusing Tehran of supporting militant groups, pursuing missile development and secretly pursuing nuclear weapons, but fellow signatories China, France, Germany, Russia and the United Kingdom still support the agreement.
Shortly after the U.S. deployed additional military assets in response to what Bolton described as a "number of troubling and escalatory indications and warnings," the first of two unclaimed acts of sabotage struck oil tankers in the Gulf of Oman. The Trump administration blamed Iran's Revolutionary Guard for this attack, but even after a second set of attacks in June, Special Representative for Iran Brian Hook told lawmakers that the administration had not witnessed actions matching the previously reported "threat stream."
"What we have seen so far have not been on the scale we have expected but that does not mean Iran is not capable of doing those things," Hook told the House Committee on Foreign Affairs' Middle East, North Africa and Terrorism subcommittee in June.
The situation only deteriorated, however. Iran shot down a high-flying U.S. Navy spy drone in a move that brought Trump to the brink of ordering retaliatory airstrikes but was answered instead with U.S. claims of downing of Iranian drone near Navy vessels in the region a month later. Also in July, Iran responded to the U.K.'s seizure of one of its tankers by seizing a U.K. tanker near the Strait of Hormuz, though both vessels have since been released.
September saw another escalation. Saudi oil facilities were targeted in an apparent cruise missile and drone attack claimed by Yemen's Ansar Allah, or Houthi, movement but blamed by Washington and Riyadh on Tehran, their mutual adversary. The act, like the tanker attacks, was denied by Iran, but cast a shadow over prospects for a detente as the United Nations General Assembly convened in New York just days later.
The U.S. has since bolstered its naval coalition, the so-called International Maritime Security Construct, which now includes Australia, Bahrain, Saudi Arabia, the United Arab Emirates and the U.K. On the other hard, Iran sought to court regional states into what it termed the Coalition for Hope, or Hormuz Peace Endeavor, vowing mutual non-aggression and non-interference in one another's affairs.
Tensions between the U.S. and Iran across the Persian Gulf are nothing new. The two sides engaged in direct hostilities during what's come to be known as the "tanker wars" that coincided with the 1980s Iran-Iraq War, in which Washington backed Baghdad strongman Saddam Hussein.
When the U.S. overthrew the longtime Iraqi leader in 2003, the country's new government courted neighboring, fellow majority-Shiite Muslim Iran, which began mobilizing allied militias as it had done in Lebanon in the 1980s. Washington blames operatives backed by Tehran for—among many other things—the Beirut barracks bombing that killed 301 U.S. and French soldiers and the deaths of over 600 troops in Iraq from the U.S. invasion up until the withdrawal in 2011.
That year would see the U.S. expand its intervention in the region elsewhere, supporting insurgencies in Libya and in Syria, Iran's top Arab ally. The U.S. and Iran found themselves on opposing ends of Syria's civil war, but then somewhat united in new common foe, the Islamic State militant group (ISIS), which both Washington and Tehran helped quash across Iraq and Syria in recent years.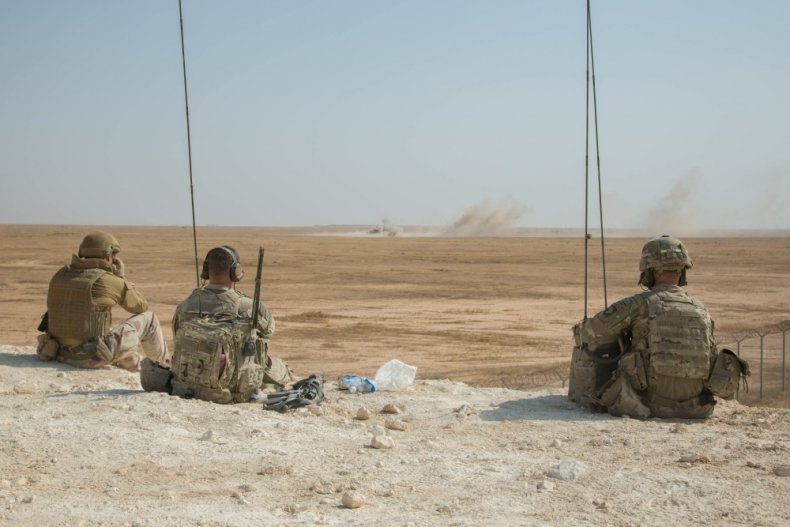 Old rivalry heats up
With the jihadi threat largely held at bay, however, a decades-long rivalry—rooted not only in the 1979 Islamic Revolution but of the 1953 CIA coup that would prop up Iran's ill-fated monarchy for over a quarter-century—has resumed. It's taken new form as a great deal of the Middle East became a potential battlefield. Not only has Iran enhanced its power projection across the region, so has its arch-foe and the U.S.' top regional partner, Israel.
In August, Israeli forces said they "prevented a pending, large-scale attack of multiple killer drones on Israel by striking Iranian Quds Force operatives and Shiite Militia targets in Syria." Other strikes reported within days in Lebanon and Iraq were also widely attributed to Israel, marking what has been seen as an expansion of the country's campaign against hostile forces aligned with Iran across the Middle East.
Iraq has also witnessed a spate of unclaimed rocket attacks targeting sites associated with the open-ended U.S. military presence in the country. A strike occurred Tuesday at the Ayn al-Asad Air Base, where Vice President Mike Pence visited just last week for Thanksgiving and where Trump himself spent the day after Christmas last year—two visits that stirred controversy among those appealing to the Iraqi government to establish a timeline for U.S. troops to exit.
Iran's own outside endeavors have helped it to helped to secure strategic interests, but supporting such networks also came at a cost in both human and financial capital. The country's economic outlook further deteriorated under the weight of strict U.S. sanctions and the government's recent decision to cut gas subsidies that, though intended to transition the country from its oil dependency and introduce a more welfare-based system, only fueled mass demonstrations that have grown increasingly violent in the past month.
These protests have not deterred Iran, which has continued to warn against external interference at home, while asserting itself abroad. Washington, meanwhile, has offered its support to Israel, as it has Saudi Arabia and other Sunni Muslim monarchies of the Arabian Peninsula where U.S. troops were stationed.
This Washington-Tehran power struggle, half-hidden behind a scrim of non-state actors and plausible deniability, has so far avoided turning into armed conflict, but now there is little space left for error and ample room for deadly miscalculation.