U.S. Military Base Hit By New Rocket Attack as Iraq Unrest Continues Without Prime Minister
A U.S. military base in western Iraq has been hit by a new rocket attack as the country's unrest persisted in the wake of the prime minister's resignation.
The Iraqi security forces' media cell reported Tuesday that "five rockets fell within the Ayn al-Asad Air Base in Anbar Province, without significant losses, and we will share with you the details later." The attack is only the latest in a string of unclaimed rocket strikes often targeting positions affiliated with the U.S. presence in the country.
The U.S. military first entered Iraq to beat back the invading forces of longtime leader Saddam Hussein from neighboring Kuwait in 1991 and to enforce a no-fly-zone. A decade later, in 2003, the U.S. led its own invasion, overthrowing Hussein and ultimately setting up a new government, which has gone on to foster ties with both the U.S. and its top regional foe, Iran.
Washington and Tehran both collaborated with Baghdad to defeat the Islamic State militant group (ISIS), but have since turned on one another as President Donald Trump's administration exited a 2015 nuclear deal, imposed sanctions on Tehran and sought to restrain its growing influence across the Middle East, leading to new bouts of unrest across the region.
Adding to tensions, the Iraqi people have taken to the streets in unprecedented demonstrations that have forced Prime Minister Adel Abdul-Mahdi to step down and have targeted the influence the U.S., Iran and others seeking to take advantage of the once-powerful Arab nation still in ruins after decades of conflict.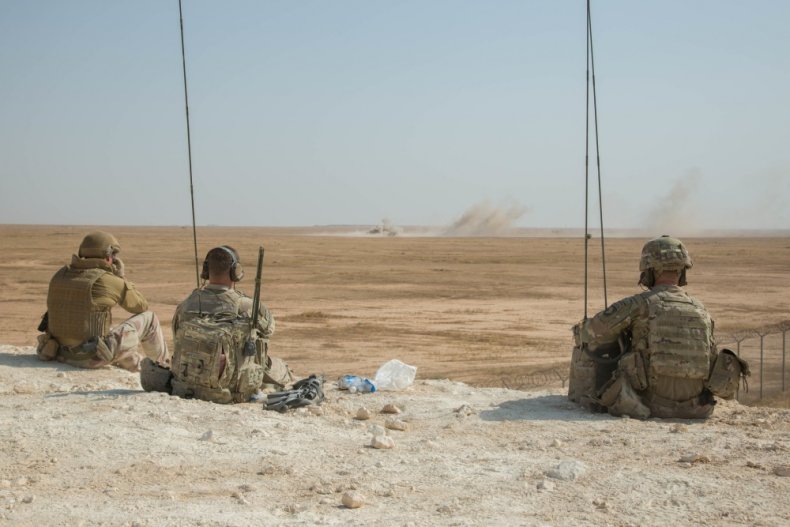 Two years after Iraq officially declared victory over ISIS, much of Iraq's infrastructure has yet to be repaired and corruption has run rampant in a sectarian political system many citizens feel was imposed by the U.S., which has at least 5,000 troops deployed throughout the country, and was later exploited by Iran, which has close ties to largely Shiite Muslim militias and political leaders. Adel Abdul-Mahdi, who succeeded former Prime Minister Haider al-Abadi last October, sought to balance the two.
Since nationwide demonstrations began in October, hundreds of Iraqis have been reported killed in clashes with security forces. Abdul-Mahdi had reportedly succumbed to the pressure of the deteriorating situation weeks ago but retained the support of both the U.S. and Iran.
At home, he found himself stuck between two top political figures and militia leaders. Influential cleric Muqtada al-Sadr broke last month broke with Abdul-Mahdi, urging him to resign, while rival Hadi al-Amiri reportedly called on him to stay in power.
Ultimately, Abdul-Mahdi offered his resignation Friday and, on Sunday, the parliament accepted the move.
A senior State Department official said Monday that the U.S. will "continue to engage with the Iraqi government," including Abdul-Mahdi and "a broad range of Iraqi political personalities." The official also commented on the U.S. and Iran's interests in the nation.
"I think it's Adil who says famously—the prime minister—'Iran is our neighbor, you are our friend, right?' I think we have been a reliable partner to Iraq. I expect that we will continue to be a reliable partner, helping to build their capacity to defend themselves and to exert their sovereignty, to help defeat ISIS and can you prevent a resurgence of ISIS in Iraqi territory," the official added. "So I would expect that we will continue to have that kind of relationship with the Iraqi government and also have economic investments in the country, etc. going forward."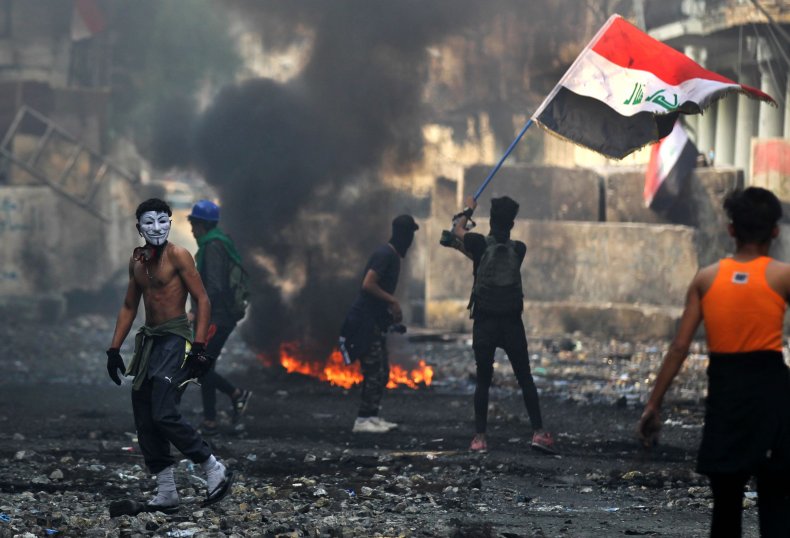 The official expressed support for Iraqis' "legitimate demands—reform, anti-corruption" and called for "an end to the violence." While protesters on the ground welcome Abdul-Mahdi's resignation, scenes of unrest have continued as rioters set fire Sunday to Iran's consulate in the city of Najaf for the second time in less than a week.
"Generally speaking—and specifically speaking—the United States believes [in] the inviolability of the diplomatic facilities," the official said.
Ayn al-Asad Base is one of a number of facilities jointly operated by Iraqi and U.S. military personnel. Vice President Mike Pence paid a Thanksgiving visit to the site just last week and President Donald Trump traveled there last year to celebrate the day after Christmas with U.S. soldiers.
Both high-profile visits stirred some resentment among Iraqis who felt the unannounced visits were a violation of the nation's sovereignty. The country has also expressed frustration over a recent string of unclaimed airstrikes against Iran-partnered Iraqi militias and widely attributed to Israel.