Donald Trump Calls Justin Trudeau 'Two-Faced' After Leaders Appeared to Mock Him in Hot Mic Video
President Donald Trump has called Canadian Prime Minister Justin Trudeau "two-faced" after footage emerged of him seemingly gossiping about the commander-in-chief with other world leaders on Tuesday night.
At a bilateral NATO summit meeting with German Chancellor Angela Merkel broadcast by NBC News on Wednesday, the president also said that Trudeau was "a very nice guy" but suggested he was not happy about being told to contribute more to the NATO budget.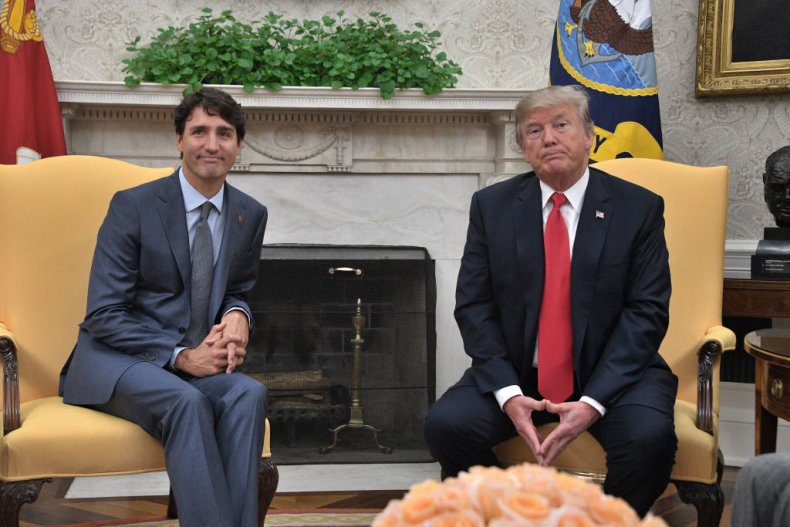 The president's comments come following a hot mic video in which Trudeau and several other world leaders appeared to be making fun of Trump.
Standing in a group with U.K. Prime Minister Boris Johnson, Princess Anne, French President Emmanuel Macron, and Dutch Prime Minister Mark Rutte during an event at Buckingham palace on Tuesday night, Trudeau appeared to mock the president.
After Johnson asked Macron "Is that why you were late," Trudeau entered the conversation, saying: "He was late because he takes a 40-minute press conference off the top."
There was no mention of Trump by name, but the president had recently spent around 50 minutes speaking to the press.
Trudeau then went on to tell the gathering of leaders at the palace that "you just watched his team's jaws drop to the floor," in what also appears to be a reference to President Trump.
Asked for his response to video of Trudeau talking about him behind his back at the royal reception in Buckingham Palace last night, Trump said: "Well he's two-faced. And honestly with Trudeau, he's a nice guy. I find him to be a very nice guy. But you know the truth is that I called him out on the fact that he's not paying two percent and I guess he's not very happy about it."
"He's not paying two percent and he should be paying two percent. It's Canada. They have money and they should be paying two percent," the president added.
Trump repeated that he had "called out" Trudeau on the matter and suggested he "wasn't very happy" about that.
Newsweek has contacted the White House and the office of Prime Minister Justin Trudeau for a response but did not receive an immediate reply.
Appearing at a NATO Engages event in London yesterday, the Canadian Prime Minister dodged questions about when Canada aimed to comply with the NATO military spending commitment of 2 percent GDP.
The country spends a little more than 1.3 percent of its GDP on its military, a Statista graphic shows below, while the United States spends more than 3.4 percent by comparison.
President Trump has previously raised irritations with NATO members failing to meet the two percent GDP spending commitment.