President Donald Trump name checked Georgia Governor Brian Kemp and Vice President Mike Pence while reiterating claims of voter fraud during remarks at a Dalton, Georgia campaign event supporting GOP Senate candidates Kelly Loeffler and David Perdue on Monday.
Loeffler and Perdue are running against Democrats Jon Ossoff and Reverend Raphael Warnock. Trump has harshly criticized Georgia's election process, baselessly claiming that vote spread allowed President-elect Joe Biden to win the state in November's presidential election. Georgia's special election, expected to take place on Tuesday, will decide which political party gains control of the U.S. Senate.
"There's no way we lost Georgia, there's no way," Trump said. "That was a rigged election and we're still fighting it and you'll see what's going to happen."
Trump, who has criticized Kemp in the past for refusing to overturn the election results, said that he would work to make sure Kemp was not reelected to office.
"I'll be here in about a year and a half campaigning against your governor," Trump said, "I guarantee you that." Trump also said he would campaign against Georgia Secretary of State Brad Raffensperger, whom Trump described as "crazy."
Newsweek reached out to Kemp's office for comment.
Some Republicans have expressed hopes that Vice President Mike Pence, who is expected to preside over the Congressional electoral vote count on Wednesday, would disallow electoral votes from states where the voting process has been challenged by Trump's campaign. Trump appeared to join with those GOP members during his remarks.
"I hope Mike Pence comes through for us, I have to tell you," Trump said. "I hope that our great vice president comes through for us. He's a great guy. Of course, if he doesn't come through I won't like him quite as much."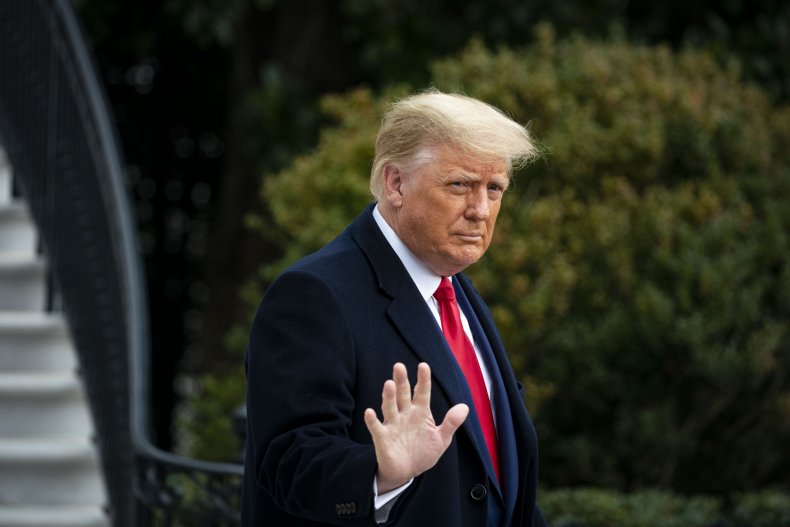 "No, Mike is a great guy," Trump continued. "He's a wonderful man and a smart man and a man that I like a lot. But he's gonna have a lot to say about and you know one thing with him, you're gonna get straight shots. He's gonna call it straight."
Republicans only need to win one seat in the Georgia election to have the majority in the Senate. Democrats would need to win both special elections in order to evenly divide the Senate between parties. However, Vice President-elect Kamala Harris would be expected to cast any tie-breaking votes after she takes office, giving Democrats the advantage.
Loeffler announced Monday that she would join in an attempt by some GOP lawmakers to challenge the results of the electoral college, which are slated to be counted on Wednesday during a Congressional session.
"The American people deserve a platform in Congress, permitted under the Constitution, to have election issues presented so that they can be addressed," Loeffler said in a Monday statement.
Perdue said on Sunday that he also would be in favor of challenging the Congressional count of electoral votes.
"I'm encouraging my colleagues to object," Perdue told Fox News on Sunday. "This is something that the American people demand right now."
Trump has been harshly critical of Georgia's election process. Trump has claimed that, despite the certified election results, he achieved victory in the state. Georgia officials performed three counts of the ballots, including a manual tally, before officially certifying Biden's election victory. On Sunday, The Washington Post reported that Trump asked Georgia Secretary of State Brad Raffensperger during a Saturday phone conversation to "find" more votes in order to reverse the state's election results.
"I only need 11,000 votes," Trump allegedly said during the conversation. "Fellas, I need 11,000 votes. Give me a break."
"President Trump, we've had several lawsuits, and we've had to respond in court to the lawsuits and the contentions," Raffensperger allegedly said. "We don't agree that you have won."
Georgia voting system implementation manager Gabriel Sterling encouraged Georgians to vote in the Senate election despite Trump's allegations of election manipulation during a Monday news conference.
"I'm not acknowledging that there was massive voter fraud because there wasn't," Sterling said. "But if you believe in your heart of hearts that there was, the best thing for you to do is turn out and vote and make it harder for them to steal."