Trump Hails Wisconsin 'Win' After Supreme Court Overturns State Lockdown: 'People Want to Get on With Their Lives'
President Donald Trump has hailed the Wisconsin Supreme Court decision to overturn coronavirus lockdown measures in the state as a "win."
Trump reacted this morning to the 4-3 ruling which saw restrictions end, with Governor Tony Evers' administration said to have overstepped its authority.
"The Great State of Wisconsin, home to Tom Tiffany's big Congressional Victory on Tuesday, was just given another win," he tweeted.
"Its Democrat Governor was forced by the courts to let the State Open. The people want to get on with their lives. The place is bustling!"
Trump had previously commended Republican Tiffany, who won a special election in Wisconsin's 7th district to replace GOP Rep. Sean Duffy.
Trump's comment came as he continues to press for states to reopen, stating his desire to get the economy up and running. However, he has spoken of his desire to do so safely, with measures such as social distancing kept in place.
Despite some White House guidance on lifting restrictions the administration does not have control of states' actions on doing so, with governors taking different stances.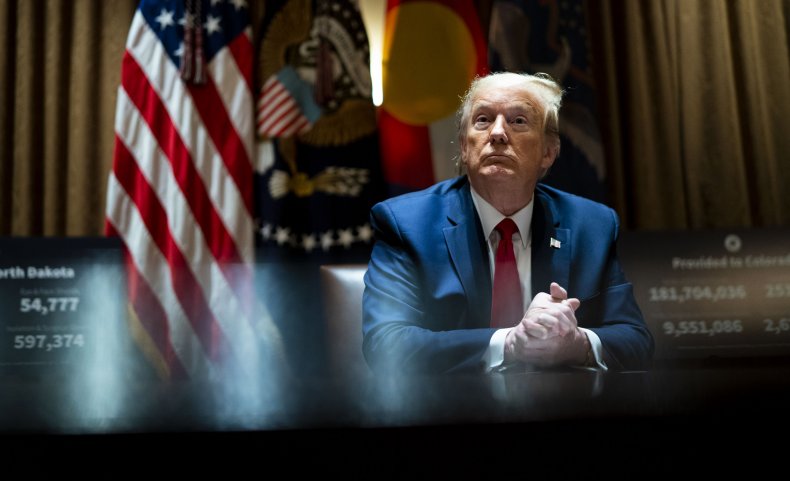 Evers along with Wisconsin Department of Health and Human Services Secretary Andrea Palm initially announced the stay-at-home directive, named Emergency Order 28, in March and it was set to expire towards the end of April. However, they pushed for this to be extended to May 26 and Republican lawmakers filed legal action against that.
They argued that because Palm was an Evers appointee, not an elected official, the extension was an administrative rule and required the approval of Wisconsin's legislation.
The measures were declared by four of the state's Supreme Court justices to be "unlawful, invalid, and unenforceable" and said to have "exceeded the statutory authority" of the state. Evers said the decision threw the state "into chaos."
"Up until now, Wisconsin was in a pretty good place in our battle against COVID-19. We had reached almost all our gating criteria. We had opened up 14,000 small businesses across the state, putting 90,000 folks back to work, and that was because of the good work of Wisconsinites across our state who banded together, stayed home, and stayed safe," he said in a statement following the judgement.
"Despite that good work, Republican legislators have convinced 4 justices to throw our state into chaos. We cannot let today's ruling undo all the work we have done and all the sacrifices Wisconsinites have made over these past few months."
Newsweek has contacted Evers and the White House for further comment.
The U.S. has seen more than 1.39 million cases with over 297,000 deaths, according to Johns Hopkins University figures. Its stats add that more than 240,000 people in the U.S. who contracted the virus have recovered.
The graphic below from Statista shows the number of confirmed COVID-19 cases at state level.