Trump Campaign T-shirts Condemned for Displaying 'Nazi-Inspired' Symbol
Social media users have condemned merchandise promoting President Donald Trump's re-election campaign, saying it is reminiscent of Nazi imagery.
Available for both men and women, a 100-percent cotton T-shirt retailing for $30 carries the words "America First" above an image of an eagle looking to its left with spread out wings and its talons holding a circular version of the American flag.
Available on Trump's re-election campaign website, the product description says that it is "proudly made in the USA" and appeals to would-be buyers to show their support for re-electing the incumbent president, with the message: "Let everyone know who you are voting for in 2020.
"We finally have a president that puts America first. America is strong again, safe again, great again," it adds.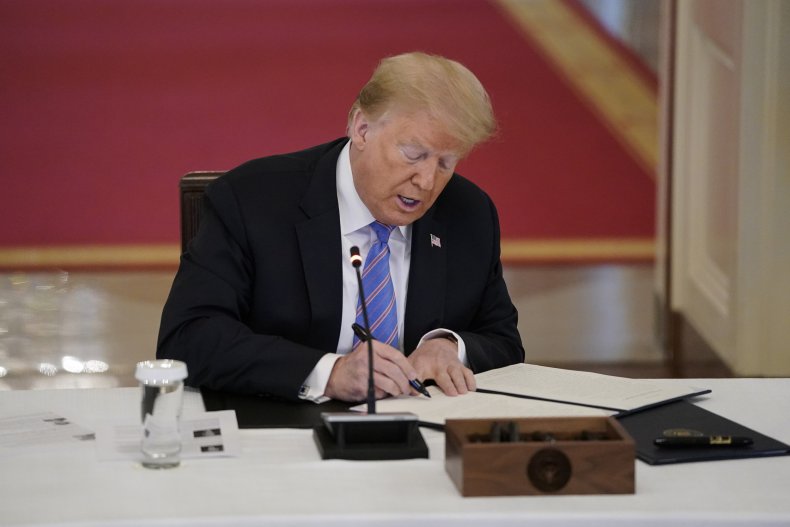 Twitter users say that the position of the eagle is uncomfortably close to the national insignia of Nazi Germany.
Adolf Hitler ordered a stylized eagle combined with the Nazi swastika to become the national emblem, which can be referred to as the Reichsadler or the Nazi eagle.
It features the bird looking to its right with its wings spread, and its talons holding a wreath with a Nazi swastika inside. After World War Two, the imagery was adopted by neo-Nazis and other white supremacists worldwide, according to the Anti Defamation League.
The eagle has been an American symbol for more than two centuries but the version designed in 1782 has an olive branch in its right talon representing peace and a scroll in its beak with the motto E Pluribus Unum, meaning "one out of many."
The group Bend the Arc: Jewish Action tweeted: "Trump & Pence are proudly displaying a Nazi-inspired shirt on their official campaign website. They are promoting genocidal imagery yet again—just days after President Trump retweeted a video of a supporter chanting 'white power.'"
PACE tweeted an image of the Trump logo with the Nazi imagery next to each other and wrote to his 24,000 followers: "Trump's new logo looks almost looks familiar. Where else have I seen that eagle style standing on a circle?" Among the almost 8,000 people who shared his tweet was the former director of the CIA, General Michael Hayden whose response was: "Holy sh*t."
The group of Republicans opposing Trump, The Lincoln Project, was equally succinct with its opinion of the T-Shirt, tweeting: "Come. On." Tom Nichols from the Lincoln project tweeted: "This is not some standard American eagle, this is a Trump graphics guy thinking he's being clever and trolling the world by saying "mayyyybe it's close."
John Arovosis tweeted to his 106,000 followers: "Trump's campaign website has a new t-shirt design. If it looks familiar to you, you're not alone."
Newsweek has contacted the Trump campaign and the Anti Defamation League for comment. In a statement to the Daily Caller, the Trump campaign dismissed the allegations as "moronic" and said there was a long American legacy of using the bald eagle to represent the country.
In June, Facebook removed Trump adverts that featured a Nazi symbol. Trump's campaign team said that the inverted red triangle, similar to the one the Nazis used to label opponents, was aimed at the far-left activist group antifa, which Trump has accused of starting riots at street protests that followed the death in police custody of George Floyd.