Video of former President Donald Trump backing the COVID shot in an interview with TV host Candace Owens, who has been repeatedly accused of peddling vaccine misinformation, has gone viral.
Owens has been criticized for her views on the vaccine, which include describing federal approval for children to get COVID vaccines as "sinister." She has also railed against mandates for vaccines and other COVID mitigation measures.
In an interview with the former president during an episode of Daily Wire show Candace, which aired Tuesday, the conservative TV host asked Trump about vaccine mandates.
Although he suggested that he shared Owens' views on vaccine mandates because "people have to have their freedom," he added that "at the same time, the vaccine is one of the greatest achievements of mankind."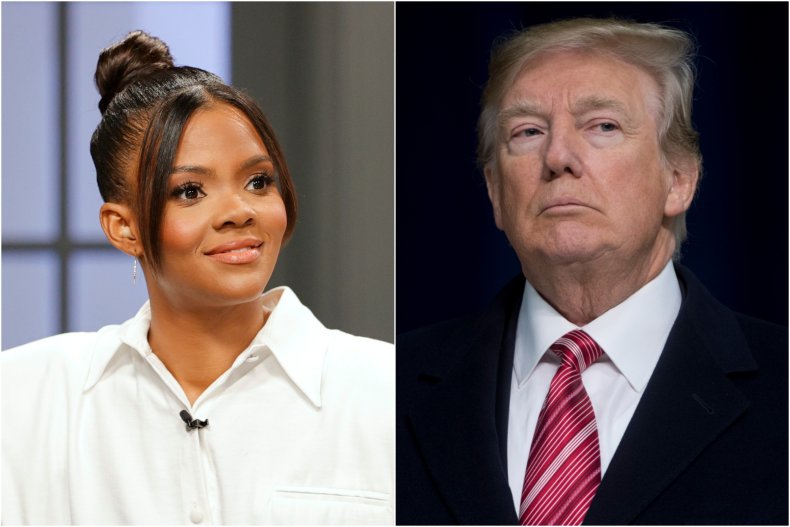 She said that the pandemic had claimed more lives "under Joe Biden, than under you and more people took the vaccine this year."
Owens continued: "So people are questioning how—" before Trump interrupted, saying: "oh no, the vaccines work, but some people aren't the ones taking it.
"The ones that get very sick and go to the hospital are the ones that don't take the vaccine. But it's still their choice. And if you take the vaccine, you're protected.
"Look, the results of the vaccine are very good, and if you do get it, it's a very minor form. People aren't dying when they take the vaccine."
Trump claimed credit for the vaccines, telling Owens "I came up with a vaccine, with three vaccines," adding that "all are very, very good."
As of Friday morning, the clip had been viewed more than 3.7 million times. In a rare sign of agreement with the former president, the White House backed Trump's comments.
"Just going to echo former President Trump here on the safety and efficacy of the vaccines. Merry Christmas eve [...]. go get boosted," tweeted White House press secretary Jen Psaki. Newsweek has contacted Owens for comment.
It was the second time in less than a week that Trump has promoted the shots. During his four-city history tour with former Fox News host Bill O'Reilly, people booed him in Dallas after he revealed he had received a booster shot.
It comes amid a political divide in the country over the vaccinations. A November poll conducted by the Kaiser Family Foundation found 60 percent of unvaccinated Americans were Republican or Republican-leaning Independents, while 17 percent supported the Democrats.