Donald Trump Finds China 'Far More Honorable' Than 'Opposition Party' Democrats
President Donald Trump has expressed his frustration with the Democratic leadership amid a government shutdown by claiming Chinese officials were easier to work with.
Speaking to reporters at the White House, Trump took aim Thursday specifically at Senate Minority Leader Chuck Schumer and House Speaker Nancy Pelosi, who have challenged the Republican leader's request for $5.7 billion to build a southern border wall to curb the flow of undocumented immigration into the country. Failed attempts to come up with a spending bill due to this issue have led to a now 19-day suspension of federal services at a time when the United States was also engaged in tough trade talks with China.
"I find China, frankly in many ways, to be far more honorable than cryin' Chuck and Nancy," Trump said. "I think that China is actually much easier to deal with than the opposition party."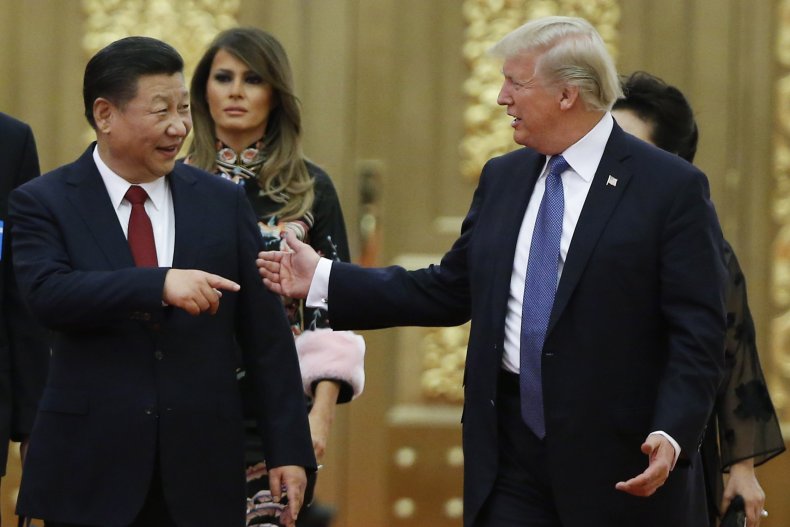 Earlier on Thursday, Trump denied claims that he slammed the table before storming off from another heated meeting in which he and the two top Democrats failed to reach any agreements on the border wall. Schumer claimed that the president "threw a temper tantrum" after Pelosi refused a 30-day ultimatum to give in to his demands, saying that Trump "slammed the table" and "just walked off."
"Cryin Chuck told his favorite lie when he used his standard sound bite that I 'slammed the table & walked out of the room. He had a temper tantrum.' Because I knew he would say that, and after Nancy said no to proper Border Security, I politely said bye-bye and left, no slamming!" Trump tweeted.
As this debate rages in Washington, another critical standoff has consumed the U.S. and its top economic competitor, China. Arguing that job security was intrinsically linked to national security, Trump has accused Beijing of unfair trade practices and instituted protective tariffs and aluminum last year, sparking retaliatory tit-for-tat economic restrictions that have cost both nations billions of dollars.
"Talks were going very well!" Trump tweeted Wednesday, though Chinese Foreign Ministry spokesperson Lu Kang would only confirm during a press conference that same day that "this round of trade talks between China and the U.S. has concluded" and "the outcomes of the talks will be out soon."
The president has previously brought China into the southern border wall debate, citing the ancient Great Wall of China—the oldest sections of which date back some 2,000 years—as an example for his own project, which he has at times jokingly dubbed the "Great Wall of Trump."