Updated | In mid-summer 2015, the Pentagon deployed a vast fleet to the Western Pacific with an invasion force of 33,000 troops. The little reported exercise was supported by warplanes and attack helicopters, along with 21 ships, including the aircraft carrier George Washington and three nuclear missile-bearing submarines.
It was only a game, the Navy said. But it looked very much like practice for the real thing on or near Chinese shores. On the night of July 4—Independence Day in the U.S.—Operation Talisman Saber kicked off with U.S. high-altitude paratroopers dropping from the sky near Fog Bay, in Australia's Northern Territory. Naval artillery boomed. Tanks rolled ashore. The invasion was on.
A U.S. Navy press release made it sound routine, an "exercise [that] illustrates the closeness of the Australian and U.S. alliance…" But Military Times, a close observer of the Defense Department, put its finger on what it was really about: "Talisman Sabre: Trying to Deter China," its headline said.
Documentary filmmaker John Pilger frames the exercise even more tightly. Talisman Saber, he says in his provocative new film, The Coming War on China, was a rehearsal for "blocking sea lanes in the Straits of Malacca and cutting off China's access to oil, gas and other raw materials from the Middle East and Africa." So far, the film has only been available online at ITV, by DVD, and on RT, Russia's propaganda outfit.
That last detail, and the film's title—a "war on," not "with" China—tells you all you need to know about the viewpoint of Pilger, 77, a veteran left-wing Australian television journalist. But that hardly diminishes the contribution he's making by putting a corrective lens on the rapidly escalating war of words between Beijing and the incoming Donald Trump administration.
China reacted with mounting fury in December after the president-elect suggested he might revisit the issue of Taiwan's independence as an opening gambit in trade negotiations with Beijing. "The calculating businessman might feel shrewd about seizing China's fate by the throat through the Taiwan question," responded China's state-run Global Times newspaper, a mouthpiece for hard-right nationalists. "However, the truth is this inexperienced president-elect probably has no knowledge of what he's talking about." If Trump tries to change Taiwan's status, China, might well "offer support, even military assistance to U.S. foes," it said.
On December 16 Beijing announced it was carrying out its first-ever live-fire drills with an aircraft carrier and fighters in waters close to Korea, and said it had installed weapons on disputed South China Sea islands that it could use as a "slingshot" to repel threats. The next day, reports surfaced that a Chinese ship had seized a U.S. Navy underwater drone there.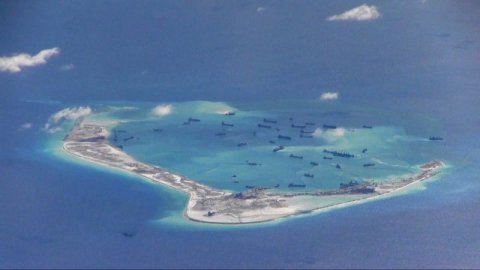 After a strenuous protest from Washington, China said it would return the drone, according to Pentagon Press Secretary Peter Cook, but he didn't say when or how it would be handed over.
Trump's fans in Washington's right-wing think tanks, however, have scoffed at Beijing's threats and cheered what they saw as an overdue "punch in the face" to China, as a soon-to-be-retired intelligence officer put it to a Newsweek reporter at a December holiday party. If China responded militarily, a Heritage Foundation official said, "We could cream them."
Pilger might agree. "Today," he notes in his film's opening moments, "more than 400 American military bases encircle China with missiles, bombers, warships and, above all, nuclear weapons. From Australia north through the Pacific to Japan, Korea and across Eurasia to Afghanistan and India, the bases form, as one U.S. strategist puts it, 'the perfect noose.'"
The view from China is threatening. "If you stood on the tallest building in Beijing and looked out of the Pacific Ocean," James Bradley, author of The China Mirage:The Hidden History of American Disaster in Asia, tells Pilger, "you'd see American warships, you'd see Guam is about to sink because there are so many missiles pointed at China. You'd look up at Korea and see American armaments pointing at China, you'd see Japan, which is basically...a glove over the American fist. I think if I was Chinese I'd have...to worry about American aggressiveness." And prepare for war itself. Over the past decade China has poured untold billions into developing so-called "carrier killer" missiles and air defenses.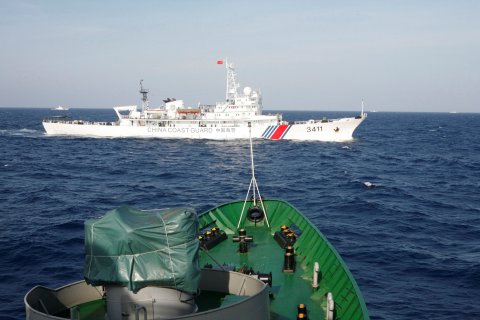 The problem with The Coming War on China is that it's not so much about a future conflict as it is a dramatic rehash of America's march to military supremacy in the Pacific, including updates on local resistance to U.S. bases. While it offers a salutary alternative to the often frantic media reports about China's militarization of islets in the South China Sea, it only vaguely recognizes that Beijing may be overreaching. Now the "unthinkable," a military clash between the two, has suddenly became all too thinkable—even inevitable, in some circles. When President-elect Trump triggered Beijing's wrath by taking a telephone call from Taiwan's pro-independence leader in early December—threatening four decades of diplomatic stability—the two countries inched closer to the type of incident that could lead to a dangerous string of tit-for-tat reprisals. Trump's further disparagement of China in the following days only ratcheted up the potential for a face-saving showdown.
While Chinese President Xi Jinping has plenty of power in the Politburo to deal with Trump on several contentious matters, starting with trade, he has none on Taiwan's status, analysts firmly believe. Beijing's bedrock policy on Taiwan, reiterated for decades in official documents and private conversations with foreign visitors, is that the island has been a renegade province ever since U.S.-backed nationalist forces retreated there in 1949. With the triumph of its revolution in 1950, the Chinese Communist Party ended more than a century of repeated humiliations at the hands of foreign invaders—except for "breakaway" Taiwan. And it will not countenance any efforts by Trump to declare Taiwan free, says Fu Ying, a former Chinese ambassador to Britain and now spokeswoman for the National People's Congress. "History matters," she told a group of visiting reporters, including Newsweek's Jonathan Broder, in June. "We've lost enough."
Xi will not risk being seen as "soft" on Taiwan, Wang Dong, a professor of international relations at Peking University, tells Newsweek. "If the upcoming Trump administration pursues policies that tramp on China's core interests—sovereignty and territorial integrity—then they shouldn't expect anything short of a forceful response."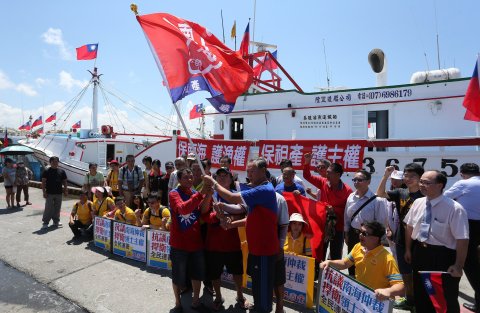 Admiral Harry Harris, America's top military commander in the Pacific, has made increasingly bellicose comments on China's moves in the South China Sea. After challenging China with a so-called freedom-of-navigation exercise that dispatched a U.S. guided missile ship through Chinese-claimed waters last year, he declared, "You will see more of these."
"Everything that is new and cool is going to the Pacific," he added, citing the deployment of F-35s, guided missile destroyers, a second aircraft carrier and surveillance aircraft to the region. But analysts have noted that Harris's exercises have been something less than advertised: the ships actually passed through the Chinese-claimed waters under conditions of "innocent passage," with their aggressive radar turned off. Chinese fighters shadowed the vessels but otherwise didn't interfere. Still, Beijing signalled it was getting fed up with the U.S. Navy patrols, calling them "willful trespassing." Such a formulation seemed to imply that it might soon confront U.S. warships or military aircraft entering the contested zone. Obama officials in Washington sought to turn down the rhetorical heat, even as Trump was turning it up in his campaign.
John Bolton, a possible pick for deputy secretary of state, said on December 9 that Trump might well push back China's effort "to make the South China Sea into a Chinese province." A first step could be to dispatch a more muscular Navy patrol through the disputed waters—with its war-fighting radar on. That would "be a serious provocation," Dong tells Newsweek, "and China will definitely respond forcefully, which, of course, will then greatly increase the risk of military standoff or even confrontation."
On December 8, China moved beyond words in an apparent response to team Trump's bellicosity, sending a pair of nuclear-capable bombers, at times with fighter escorts, on a deep patrol along the so-called "nine-dash line," which China claims defines its territory in the South China Sea. "The dramatic show of force was meant to send a message to the new administration," officials told Fox News. "Over the summer, Chinese bombers flew over the South China Sea and the contested islands, but they did not fly nearly as far as this one," one of them said.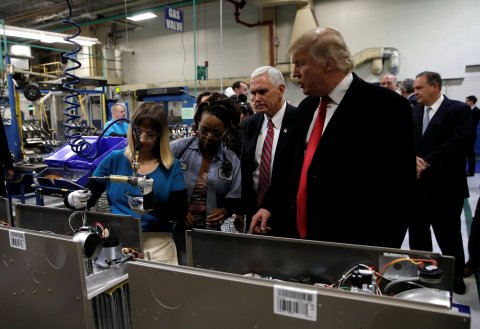 One longtime China-watcher thinks Xi will face pressure from his hawks to take more radical action, perhaps even some sort of pre-emptive move on Taiwan, says Bill Bishop, editor of the influential Sinocism newsletter. "I have not heard anything specific, but would be a logical view of some [in Beijing], especially if they are convinced that Trump will end the strategic ambiguity over whether the U.S. will defend Taiwan," Bishop tells Newsweek. "Given the political and social changes/trends in Taiwan," he said by email, "peaceful reunification is a fantasy, and will only become more so" as time passes. "If I were a hawk, I would certainly argue that there's no time like the last few weeks of an Obama administration to settle it once and for all," adds Bishop, who has lived and worked off and on in China since 1989.
There's little chance of that, other China watchers say. Beijing's best options are financial, not military. China's richest man, Wang Jianlin, warned on December 10 that Trump was risking 20,000 American jobs and $10 billion in Chinese investments "should things be handled poorly." Then in a possible preview days later, Beijing announced that was investigating GM's joint venture with Shanghai-based SAIC "for possible antitrust violations—and could even impose a huge fine," according to NBC.
A large-scale military clash between the U.S. in China is not just improbable but insane, says Eric Li, a prominent Stanford- and Berkeley-educated political scientist and venture capitalist in Shanghai. "There never have been two countries more interdependent on each other..." he tells Pilger. "China is the largest trading nation in the world and in history." Not only that, they are "linked to the entire world." All that, "speak[s] to peace," he says.
If war comes, Pilger won't be surprised, even if he thinks it will be Washington's fault. But he does offer a hopeful note. "We don't have to accept the word of those who conjure up threats and false enemies that justify the business and profit of war," he says as the film ends. All we have to do, is "recognize there is another superpower."
The Obama administration seems to get that, but will Trump's? As one of his China advisers told a radio audience last week, "if China doesn't like it, screw 'em."
Read more from Newsweek.com:
- Why China should beware a Trump presidency
- China gloats as Trump dumps the Pacific trade deal
- Will China follow Japan into economic stagnation?
Correction: An earlier version of this story suggested that Bill Bishop has lived and worked continuously in China since 1989. He has spent parts of those years in the U.S.​ This story has also been updated with news of China's seizure of a U.S. Navy underwater drone in the South China Sea. This story was again updated on Dec. 17 with the Pentagon's announcement that the drone would be returned.