Donald Trump Christmas Eve Tweets Attack Mitch McConnell, Stimulus, Twitter
President Donald Trump attacked Sen. Mitch McConnell and Twitter as he continued to rail against the results of the 2020 presidential election in tweets on Christmas Eve. Among retweeting Team Trump videos and claims of election fraud that were quickly flagged by Twitter, the president also defended one of his Fox News allies.
Trump spent Thursday golfing after travelling to Florida for the holidays, shortly after threatening to tank the much-delayed bipartisan COVID-19 relief deal passed through Congress on Monday.
Following months of negotiations, lawmakers compromised on a deal worth $900 billion that included $600 stimulus checks—but the president surprised both Republicans and Democrats when he suddenly demanded the bill be amended to include $2,000 stimulus checks in a video posted on Tuesday.
The proposal was blocked by House Republicans after House Speaker Nancy Pelosi put it forward in a session on Christmas Eve.
As well as denying aid to millions of Americans suffering during the coronavirus pandemic, Trump's hint that he won't sign the legislation also risks a federal government shutdown next week since it was tied to $1.4 trillion spending bill to fund the government through the fiscal year.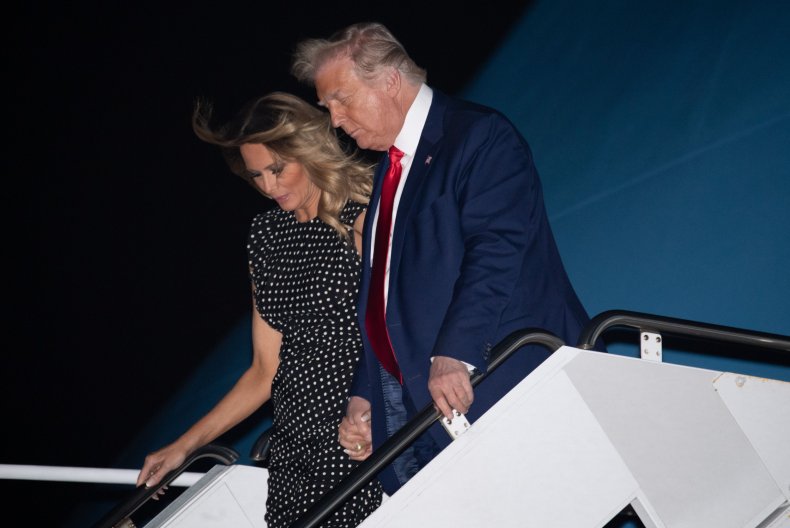 Despite the turmoil, Trump went ahead with his winter vacation—and his Christmas Eve tweets indicated that his last-minute interjection may be intended to punish Republican lawmakers for not backing him in his efforts to subvert the election results.
"At a meeting in Florida today, everyone was asking why aren't the Republicans up in arms & fighting over the fact that the Democrats stole the rigged presidential election?" Trump tweeted after a visit to his Palm Beach golf club.
He name-checked McConnell, the Senate majority leader, in another tweet.
"I saved at least 8 Republican Senators, including Mitch, from losing in the last Rigged (for President) Election. Now they (almost all) sit back and watch me fight against a crooked and vicious foe, the Radical Left Democrats. I will NEVER FORGET!" Trump wrote.
Trump's baseless claims about election fraud were promptly flagged by Twitter as "disputed," sparking a furious tweet about the social media platform.
"Twitter is going wild with their flags, trying hard to suppress even the truth," the president wrote. "Just shows how dangerous they are, purposely stifling free speech. Very dangerous for our Country. Does Congress know that this is how Communism starts? Cancel Culture at its worst."
Earlier, Trump retweeted one of his own tweets from 2014 in what appeared to be a dig at the government stimulus package.
"I hope we never find life on other planets because there's no doubt that the U.S. Government will start sending them money!" the June 4, 2014 tweet said.
In his video denouncing the stimulus package and spending bill as a "disgrace," Trump characterized the amount earmarked for foreign aid as "wasteful and unnecessary."
Trump also defended Maria Bartiromo after a Los Angeles Times piece questioned the Fox News host's coverage of Trump's election fraud claims.
"Maria's show and ratings are better than ever. They are trying to shame her into not telling the truth. Her audience would be gone, and she is far too smart for that," Trump wrote in response to a tweet.