Republicans Block $2,000 Checks Despite Trump's Demand for More Stimulus Money
House Republicans blocked an attempt by their Democratic colleagues on Thursday to unanimously pass another round of direct payments worth $2,000, despite the demand coming from President Donald Trump over his threat to tank a $900 billion stimulus package approved earlier this week that only includes $600 checks.
House Majority Leader Steny Hoyer's (D-Md.) unanimous consent request was denied due to procedural rules that required agreement from House Minority Leader Kevin McCarthy (R-Calif.) to consider the bill, which he refused to allow.
The block by Republicans was expected. However, it further underscored how at odds GOP lawmakers and the outgoing president are about stimulus spending, along with casting further doubt about the fate of the relief package.
The nearly trillion-dollar legislation is in danger, despite being overwhelmingly approved on Monday, as Trump signaled before jetting off to his Mar-a-Lago resort in West Palm Beach, Florida, for Christmas vacation that he will not sign the bill as is. It also includes crucial funding to keep the government open past next Monday.
"The president... doesn't give a damn about people," Rep. Debbie Dingell (D-Mich.) told reporters. "He threw more fear—he threw kerosene on a fire and is now threatening to veto this bill."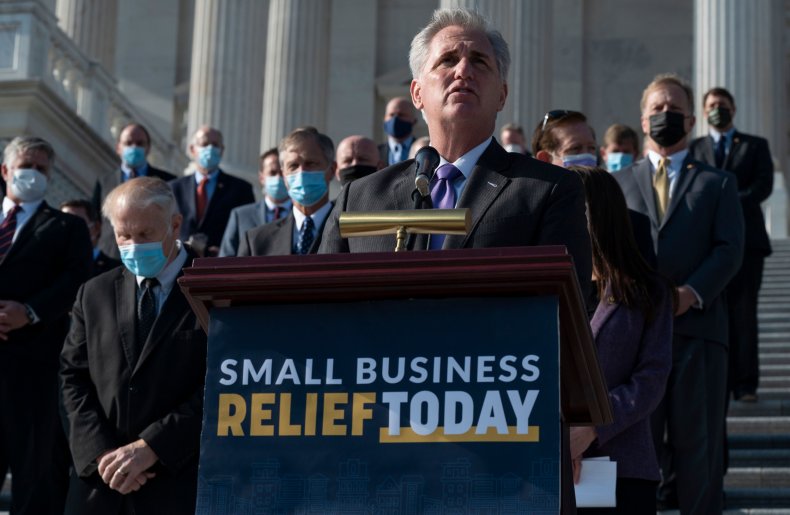 Trump's administration helped negotiate the final coronavirus package that took some eight months to accomplish. Still, that has not prevented the president from jeopardizing the deal—passed with a veto-proof majority in both chambers of Congress and on his desk awaiting his signature—that would provide relief to millions of struggling families during the holidays.
As was demonstrated by Democrats' UC request, the party has tried to capitalize on Trump's sudden desire for more robust direct payments, a position Democrats have maintained since the Spring.
Republicans hope Trump ultimately decides to sign the stimulus-budget package into law so Congress can move on. Senate GOP leadership has indicated $2,000 checks wouldn't be supported by enough of its members and is thus unlikely to consider it.
"The best way out of this is for the president to sign the bill," Sen. Roy Blunt (R-Mo.), a leadership member, told reporters. "And I still hope that's what he decides to do."
House Speaker Nancy Pelosi (D-Calif.) suggested that the only remedy to secure the $2,000 checks for individuals and $4,000 for a couple would be for Trump to make a direct pitch to his own party. In negotiations, payments were pared back to $600 in response to opposition from Republicans to the $1,200 checks that Democrats wanted.
"Today, on Christmas Eve morning, House Republicans cruelly deprived the American people of the $2,000 that the President agreed to support," Pelosi said in a statement. "If the president is serious about the $2,000 direct payments, he must call on House Republicans to end their obstruction."
The House will reconvene and take a recorded vote on Monday on the standalone measure to increase the stimulus checks from $600 to $2,000, further forcing congressional Republicans to go on the record and buck their party leader.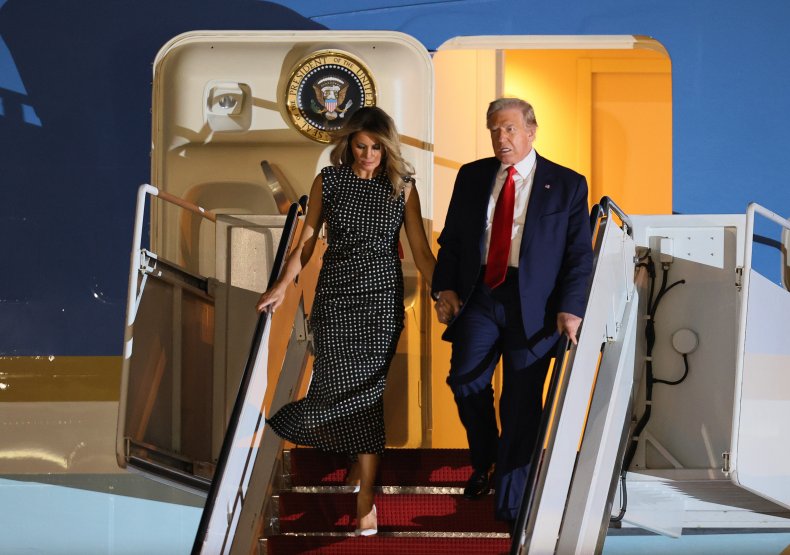 "To vote against this bill," Pelosi added, "is to deny the financial hardship that families face and to deny them the relief they need."
Trump first abruptly suggested he would sign the stimulus in a video posted to Twitter on Tuesday, a day after Congress passed the legislation. He said $600 was "ridiculously low."
The president also performed a 180 degree spin on himself by demanding that foreign aid be stripped from the budget, which was passed in the same bill as the stimulus to fund the government. The foreign spending matched Trump's own requests laid out in his budget proposal from earlier this year.
"Perhaps the only mistake," Leader Hoyer said to reporters, "was believing the president and [Treasury Secretary Steven Mnuchin] when we were told that the bill we passed would be signed by the president of the United States."
A unanimous consent request from Rep. Rob Wittman (R-Va.) Thursday for Republican legislation that would address the foreign aid was also denied due to the lack of bipartisan procedural agreement among House leaders.
Senator Blunt, who was deeply involved in the crafting the stimulus-budget package, signaled it would be a slippery slope to reopen talks about the appropriations process.
"I think there's been some apparent misunderstanding about what's in the regular appropriating bill and what's in the COVID relief bill, and generally, the regular appropriating bill includes things the administration asked for," Blunt said. "It took us a long time to get to where we are. I think reopening that bill would be a mistake."