Donald Trump Likes to Show White House Guests Where Bill Clinton and Monica Lewinsky Began Their Affair, Book, Report Claims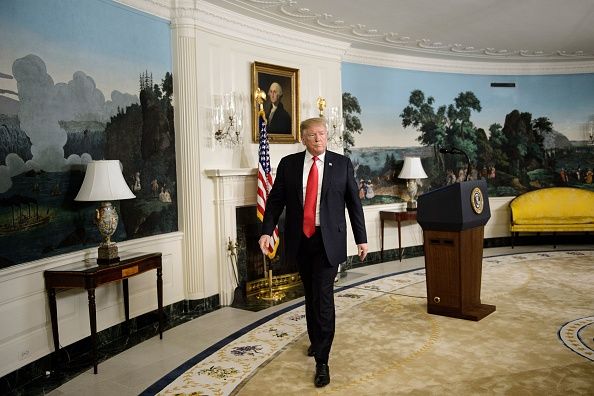 When giving tours of the White House, according to a new book, President Donald Trump loves to show guests a room directly off the Oval Office where former President Bill Clinton and Monica Lewinsky were said to have begun their affair.
"We've remodeled it since then," Trump once said while showing around a visitor in December. In another tour of the room in 2017, the president allegedly started telling a television anchor, "I'm told this is where Bill and Monica…" but then stopped himself from going into more detail.
Those instances are revealed in a book by former White House communications aide Cliff Sims, titled Team of Vipers: My 500 Extraordinary Days in the Trump White House. The book will hit stands this week, and a number of excerpts given to the media depict the Trump White House as "absolutely out of control."
In released excerpts, Sims has described White House counselor Kellyanne Conway as a "cartoon villain brought to life" and notorious leaker of West Wing information. In another portion, Sims describes former Chief of Staff John Kelly as having a "country first, president second" approach and once shocking the staff with a "hostile" speech to Trump.
According to a report published on Monday by The Washington Post, three other people who took a tour with the president corroborated Sims's story, saying that Trump made similar remarks about Clinton and Lewinsky. Aides told the newspaper that those portions of the tour often led to "lengthy, sometimes crass conversations."
Trump greatly enjoys giving tours of the White House to his guests, according to the Post. During the partial government shutdown, which stretched a record 35 days, the president invited many visitors to the West Wing.
On January 14, Trump invited the Clemson Tigers football team to the White House following their national championship win. Due to the shutdown, those who would have handled the event's catering were furloughed, resulting in the president buying fast food for the players. His McDonald's, Burger King and pizza offerings were mocked on the internet.
White House press secretary Sarah Huckabee Sanders said the president was happy to do tours and "is proud of the White House and its rich history."
According to Sims's book, Trump often brags to his guests about how many televisions there are in the West Wing. The president also reportedly boasts of the system that allows him to shift between channels, referring to it as "Super TiVo."
"I think it's one of the greatest inventions," Trump said, according to Sims. The former aide also wrote that the president was smirking while making the remark, "as if to acknowledge his reputation as a television addict."