Donald Trump reportedly complained that the coverage of Senator John McCain's death was "over-the-top" and that it distracted from his recent trade deal with Mexico.
The reported comments came as the president lowered the flags again at the White House in honor of the late Arizona congressman. They were initially lowered on Saturday but had been returned to full height by Monday morning.
Staff at the White House claim they had to urge Trump for two days to put out a kind word about McCain, who passed away on Saturday after a year-long battle with brain cancer, according to a report by The Wall Street Journal.
When the president did put out a statement on Monday it read that despite their political differences he still respected McCain's "service to our country and, in his honor, have signed a proclamation to fly the flag of the United States at half-staff until the day of his interment."
In the statement, the president also announced that he would not be attending any of the funeral services for McCain, instead sending White House Chief of Staff John Kelly, national security adviser John Bolton and Defense Secretary Jim Mattis to the memorials.
A senior official in the administration told the Journal that it was "99 percent" Sarah Huckabee Sanders who was responsible for getting the president to agree to putting out the statement on McCain.
White House officials shared with the Journal that Trump viewed the media coverage of McCain's death as "over-the-top" and something that resembled the death of a president more so than a senator.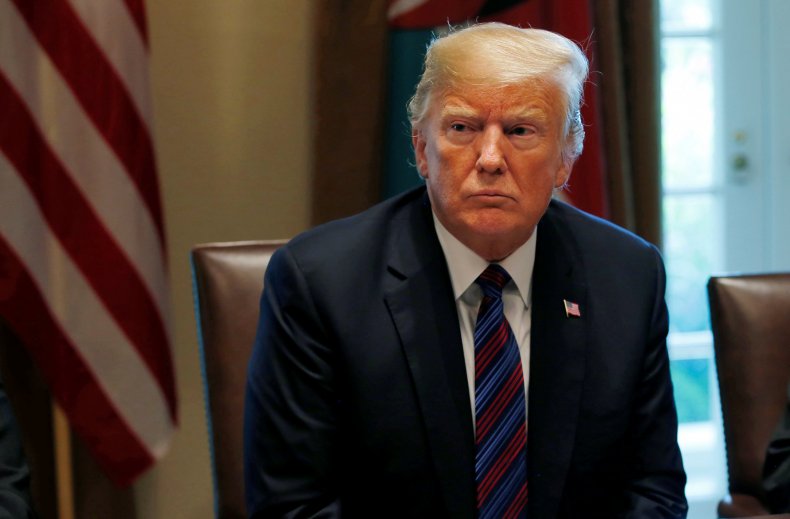 They also claimed that the coverage of McCain and the president's lack of remarks distracted from any news coverage of Trump's recent trade deal with Mexico. In the deal, which was made on Monday, the two countries made revisions to key aspects of the North American Free Trade Agreement. The trade pact arrived after months of controversy after Trump began placing tariffs on North American allies like Mexico and Canada.
McCain's death came just a day after his family released a statement announcing that the senator was choosing to stop medical treatment for glioblastoma, an aggressive form of brain cancer he was diagnosed with in July of 2017.
Before serving for over three decades in Congress, McCain was a Navy pilot during the Vietnam War. He was captured and held as a prisoner of war for five years.
The president and McCain had a rocky relationship. Back on the campaign trail in 2015, Trump once said that McCain was "not a war hero" because he was captured.
Then, after the Arizona senator voted no twice on Republican efforts to repeal and replace Obamacare, Trump endlessly attacked McCain at rallies and speeches across the country. Most recently, Trump took a jab at McCain during a rally in West Virginia on the same day that both Paul Manafort and Michael Cohen were found guilty of federal crimes.
"I will tell you, it is being chipped away," Trump said of Obamacare during his speech, then turning on McCain for blocking its repeal completely. "You know, we had it beaten, but one man—I'm sure nobody knows who I'm talking about—voted no, shockingly. Really surprising to a lot of people, because he campaigned on repeal and replace, but we've really knocked it out, including the individual mandate."
Trump was slammed for his response to McCain's passing by lawmakers and veteran groups, some of which called the president's actions "outrageous."