Megyn Kelly has accused former President Donald Trump of making Dr. Anthony Fauci "a star" during an interview.
Kelly interviewed Trump, who is running to regain the White House while facing charges in four criminal cases, for the first time in seven years for her SiriusXM podcast The Megyn Kelly Show. It will air at 12 p.m. ET on Thursday.
According to a short clip circulating on social media ahead of the interview's release, Kelly questioned Trump about why he did not remove Fauci as his administration tackled the COVID-19 pandemic.
She said he first said that it was because Fauci "had been there for a long time," quoting Trump saying removing him would have created a "firestorm." Then she noted that Trump has started saying it was because Fauci was a civil servant so he couldn't fire him.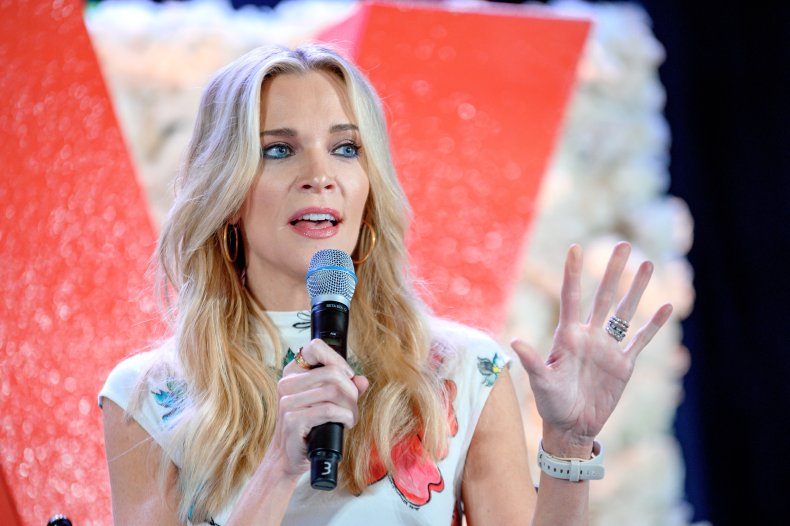 "The truth is though, not only did you not fire Fauci, who is loathed by many, many, millions of Republicans in particular, but also some Democrats... you made him a star," she said.
"You made him a star. This is the criticism of you. That you made him the face of the White House coronavirus task force—"
"You think so?" Trump interjected.
Kelly said that Fauci was at "every" White House press conference during the COVID-19 pandemic.
"You actually gave him a presidential commendation before you left office. Wouldn't you like a do-over on that?" she said.
"Uhhhhh, I don't know who gave him the commendation," Trump said. "I really don't know who gave him the commendation."
Newsweek has contacted the Trump campaign and Fauci for comment via email.
The day before he left office in January 2021, Trump issued commendations to Fauci and dozens of others who worked on the Operation Warp Speed initiative to quickly find a coronavirus vaccine and treatments for the disease.
Fauci retired in December, after a five-decade career in public service and 38 years as director of the National Institute of Allergy and Infectious Diseases.
He advised seven presidents from Ronald Reagan to Joe Biden about a long list of outbreaks as the nation's top infectious diseases expert. But it wasn't until COVID-19 gripped the world in 2020 and he began providing regular updates at White House briefings and in media interviews that he became an unlikely celebrity.
The National Bobblehead Hall of Fame and Museum made a Fauci bobblehead in 2020 that became the bestselling bobblehead in the museum's history.
Fauci also found himself having to contradict Trump's efforts to downplay the severity of COVID-19 and promote unproven treatments, leading to attacks by Trump and his allies. He remains a frequent target of the far-right, but a trusted source for millions.
Kelly announced she would interview Trump in a post on X, formerly Twitter, last week.
"It will be my first interview with the former president in seven years, and there is so much to get to," she said in a video posted on the platform.
"I'm really looking forward to this. It's going to be great. It's going to be spicy, and it's going to be tough, but it's going to be good and hopefully we're both going to enjoy it."
Kelly last interviewed Trump for a Fox News primetime special in 2016.
She notably questioned Trump during a 2015 Republican debate about his history of misogynistic comments toward women. The line of questioning prompted attacks from Trump, who told CNN that "you could see there was blood coming out of her eyes. Blood coming out of her wherever."
Kelly in 2019 described the period when she was being attacked by Trump and his supporters as a "scary time."
But earlier this year, she said she and Trump are on great terms.
She said they met one-on-one during a Turning Point USA conference. "It was, frankly great to see him," she said. "All that nonsense between us is under the bridge."