Trump Administration's Coronavirus Response is 'Worsening Market Fears' Says Expert
Upbeat announcements by the administration of President Donald Trump which downplay the financial impact of coronavirus are actually hurting market confidence, an expert has warned.
The White House is facing increasing scrutiny over its response to the coronavirus panic which is sending markets into free fall.
Stocks suffered their worst weekly loss since the financial crisis of 2008, with the Dow Jones closing on Friday down 357 points, or 1.4 percent, while the Standard & Poor's 500 index fell by 0.8 percent, according to The Washington Post. This week of continued stock market falls could end a record bull market about to mark its eleventh anniversary next week.
Trump claims that Democratic opponents are exaggerating the gloom and not giving the White House its due for the efficacy of its response, saying, "while they were working on impeachment, we were working on doing this."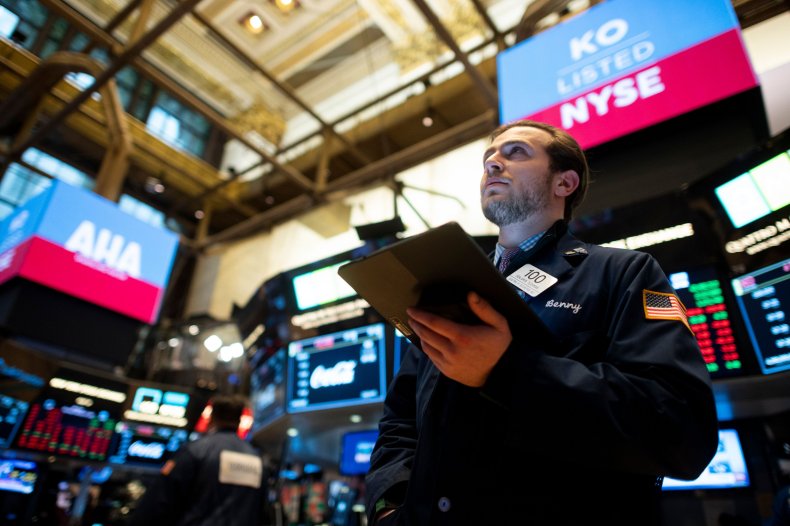 "They're doing everything they can to instill fear in people, and I think it's ridiculous, and I think they're very disreputable," Trump told reporters at the White House, according to the Associated Press.
Trump's economic adviser Larry Kudlow said on Friday that the markets would recover and that, "I just don't think anybody ought to panic right now."
But Gregory Daco, who is chief U.S. Economist for the forecasting and quantitative analysis firm Oxford Economics, said that instead of calming markets, the statements by Trump and his team, are having the opposite effect.
He told Newsweek, "I think if anything, his actions and words and tweets are showing a lack of understanding of the risk and the market fears.
"The markets are not fearing contagion or mortality rates...they are fearing a lock-down effect in which authorities in the U.S. could decide to close schools, cancel events, prevent travel, ask people not to work or work from home—that is what the markets fear today."
"To hear the president pushing to close the border or to completely isolate the U.S.—that is what the markets are fearful of.
"To take the virus as a political opportunity to say the Democrats are talking about the impeachment and mixing everything together, shows a complete lack of understanding of what the markets are fearing and what most people are fearing."
"The administration's communications are worsening market fears rather than helping alleviate them," he added, saying that there needed to be a concerted effort of communication with the Centers for Disease Control [CDC] that showed an understanding of just how the virus spreading.
Also needed, in his view, are fiscal measures like emergency aid, deploying capital for small and medium size businesses and a Federal Reserve rate cut, because "the Fed looks completely out of sync with what is happening on the markets," he added.
On Friday, Federal Reserve Chair Jerome Powell issued an unusual statement which said it would "act as appropriate" to protect the U.S. economy from the impact of coronavirus, in a move which as The Post noted, suggested a future interest rate cut, which encourages investors.
Over 83,000 cases of coronavirus has been confirmed in 50 countries, with 63 in the U.S. being treated for the illness as of Thursday, most of whom having been evacuated from Asia.
Newsweek has contacted the White House for comment.