Trump's Coronavirus European Flight Freeze Will Create 'Grave Uncertainty' for Americans in EU, Expert Warns
President Donald Trump's 30-day freeze on foreigners traveling from certain European countries to the U.S. has thrown transatlantic affairs into turmoil, with European Union officials condemning the move and noting they were given no forewarning.
Trump accused European nations of not doing enough to stop the spread of the COVID-19 strain—which he called a "foreign virus"—and claimed that European travelers had spread the epidemic in the U.S.
The ban will apply to foreign nationals that have been in the 26-nation Schengen area of Europe in the 14 days before arriving in the U.S., but will not include Americans or U.K. citizens, even though the country has hundreds of confirmed coronavirus cases.
European Council President Charles Michel and European Commission President Ursula von der Leyen issued a sharp joint statement Thursday noting that the bloc "disapproves of the fact that the U.S. decision to impose a travel ban was taken unilaterally and without consultation."
They also dismissed Trump's claim that Europe had failed in the face of the pandemic, noting that the body "is taking strong action to limit the spread of the virus." The statement added: "The coronavirus is a global crisis, not limited to any continent and it requires cooperation rather than unilateral action."
Trump has made no secret of his disdain for the EU, which he has described as a "foe" and a project designed to take advantage of the U.S. Julianne Smith, a former national security adviser to Vice President Joe Biden, told Newsweek that Trump's coronavirus address is in keeping with his dismissive approach to the bloc.
"In some ways Europeans have become accustomed to not being consulted," she explained. Nonetheless, she said the European perception has generally been that in a time of real crisis the administration would still look to collaborate with allies.
"But alas, what we saw last night was the president intent on issuing another ban, essentially for political gain, it enables him to say that this is a foreign threat."
Right-wing figures have come under fire for describing COVID-19 as a Chinese or foreign disease. Though it originated in the Chinese city of Wuhan the virus has spread worldwide, including by those who have caught and transmitted it without leaving their home nations.
Smith said America's European allies are "shocked and frustrated" at another Trump slight, describing herself as "flabbergasted."
"There's so much we could be learning right now from Italy's experience, from Taiwan, from what South Korea has done, real valuable lessons out there," she added. "And instead of seizing on those opportunities, he's essentially cutting off the world and giving Americans this false sense of security."
The president has been criticized for downplaying the scope of the pandemic even as it spread across the nation, as shown by the below Statista infographic. The U.S. now has 1,323 confirmed cases with 38 deaths, according to Johns Hopkins University. Eight people are confirmed to have recovered.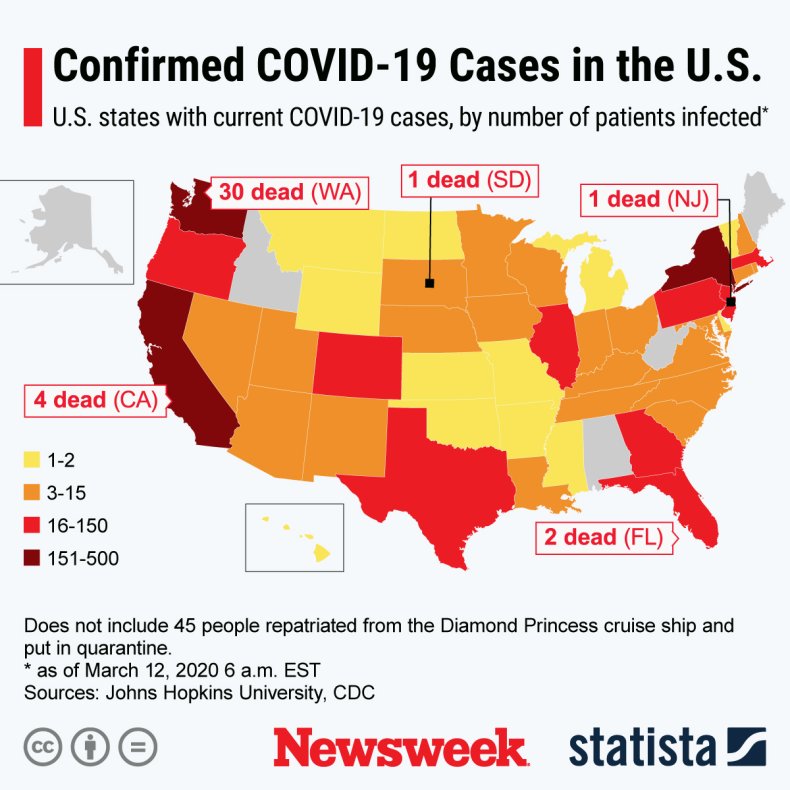 The president initially dismissed coronavirus concerns as a Democratic "hoax" and claimed—with no apparent evidence—that a vaccine would soon be ready and that the number of cases would be low.
Leslie Vinjamuri, the director of the U.S. and Americas program at Chatham House, said the coronavirus outbreak is Trump's first real crisis, one that is "intimate and personal" to Americans and Europeans.
Though obvious there was no coordination with the Europeans, Vinjamuri questioned whether the relevant American bodies—such as Congress—even knew about the plan. The White House declined Newsweek's request for on-the-record comment and the State Department did not reply when contacted.
Vinjamuri also noted that Trump's address will create "grave uncertainty" for Americans abroad. The president initially failed to clarify that Americans can still travel, and with the freeze coming into effect on Friday the news has reportedly led to chaotic scenes at a Paris airport. "If you're American in Europe, you're booking a flight now," Vinjamuri said.
Trump's response is not evidence-based, Vinjamuri said. "It plays into his desire to be seen to be very presidential, it certainly plays into his anti-EU position that he's struck, really from the beginning of his administration."
She also noted the implicit call for nations to focus on border security "regardless of whether that makes sense." Vinjamuri added: "The virus is already inside the United States. It needs to be mitigated...It's not a border question anymore."
Trump's advisors—including the coronavirus task force led by Vice President Mike Pence—have apparently been unable to constrain the president's instincts. Smith said it is "deeply frustrating and shocking" that the entire administration appears unable to guide his conduct.
"Europe is where we find our closest allies and most capable allies," Smith explained. "This should be a time that brings us all together, and this is another example of the president going it alone. This time, instead of just hurt feelings, it could have consequences for people's lives."