Trump's Coronavirus Europe Travel Ban: 5 Things You Need to Know
President Donald Trump announced a temporary suspension of travel from Europe to the U.S. although some of the finer details of his proclamation are yet to be finalized.
In a televised address from the Oval Office on Wednesday, the president said, "We will be suspending all travel from Europe, except the United Kingdom, for the next 30 days."
Soon after, the Department of Homeland Security clarified there would be exemptions, which included a number of European countries as well as those who were permanent U.S. residents.
Here is what we know so far:
When does the ban come into force and how long does it last?
The restrictions start at 11.59 p.m. (ET) March 13 and will last for 30 days. However the ban will not apply to those on a flight scheduled to arrive in the U.S. that departed before 11:59 p.m. Friday.
Which countries are affected by Trump's ban?
Acting secretary of Homeland Security, Chad Wolf, said in a statement that the ban applies to countries in the 26-nation Schengen area.
These countries are; Austria, Belgium, Czech Republic, Denmark, Estonia, Finland, France, Germany, Greece, Hungary, Iceland, Italy, Latvia, Liechtenstein, Lithuania, Luxembourg, Malta, Netherlands, Norway, Poland, Portugal, Slovakia, Slovenia, Spain, Sweden, and Switzerland.
The U.K and the Republic of Ireland, which are not in this passport-free zone, are exempt.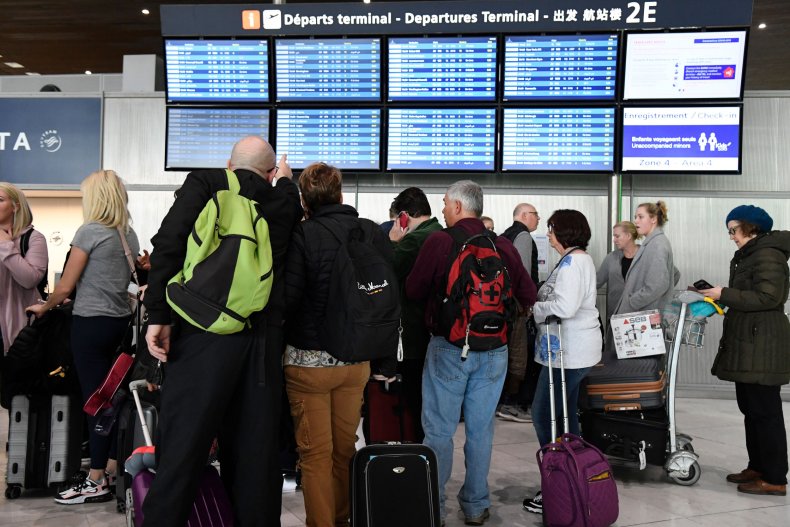 Who will be affected?
The ban suspends the entry of "most foreign nationals" who had been in a Schengen country at any time in the 14 days before they arrived in the U.S. However there is a long list of exemptions including foreigners who have permanent U.S. residency and those returning home who are U.S. citizens.
It also will not apply to foreigners married to U.S. citizens or legal permanent residents. Parents and guardians of U.S. citizens or legal permanent residents who are aged under 21 are also exempt.
There are other exemptions which include crews of ships and planes, foreign government officials and their immediate families and foreign nationals working for the U.S. armed forces, or whose entry "is deemed in the national interest".
How will the ban work?
How U.S. authorities will implement the ban at the point of entry has not been clarified yet. Wolf said in his statement that more details will be released before Friday.
"In the next 48 hours, in the interest of public health, I intend to issue a supplemental Notice of Arrivals Restriction requiring U.S. passengers that have been in the Schengen Area to travel through select airports where the U.S. Government has implemented enhanced screening procedures," Wolf said.
On Thursday, Vice President Mike Pence, who is leading the administration's coronavirus effort, said in television interviews that every American and legal resident returning from Europe in the next 30 days will be channelled into 13 airports and told to self-quarantine for 14 days, USA Today reported.
Will trade and the U.S. economy be affected?
Trump caused confusion when he said in his Oval Office address that the prohibitions "will not only apply to the tremendous amount of trade and cargo, but various other things as we get approval."
The White House corrected that by saying the restrictions "only applies to human beings, not goods and cargo." Trump also tweeted the clarification that "trade will in no way be affected by the 30-day restriction on travel from Europe. The restriction stops people, not goods."
However Alicia Garcia-Herrero, chief economist for Asia-Pacific at investment bank Natixis, told Newsweek that U.S. multinationals operating in Europe and vice versa will suffer because their executives will not be able to travel.
Newsweek has contacted the White House for comment. The graphic below, provided by Statista, illustrates the spread of the COVID-19 across the world as of March 12.