Will Trade Be Affected by the Coronavirus Travel Ban? Trump Forced to Clarify That Restrictions Will Not Apply to Cargo
President Donald Trump had to clear up confusion following his address from the Oval Office where he announced an emergency travel ban, only to clarify later that it did not include cargo and trade.
In the prime time address on Wednesday, Trump announced a suspension of all travel from Europe to the U.S. for 30 days. He said, "These prohibitions will not only apply to the tremendous amount of trade and cargo, but various other things as we get approval. Anything coming from Europe to the United States is what we are discussing."
The Department of Homeland Security clarified that the U.K and Ireland would be exempt from the ban which would only apply to those countries in the Schengen economic and travel zone.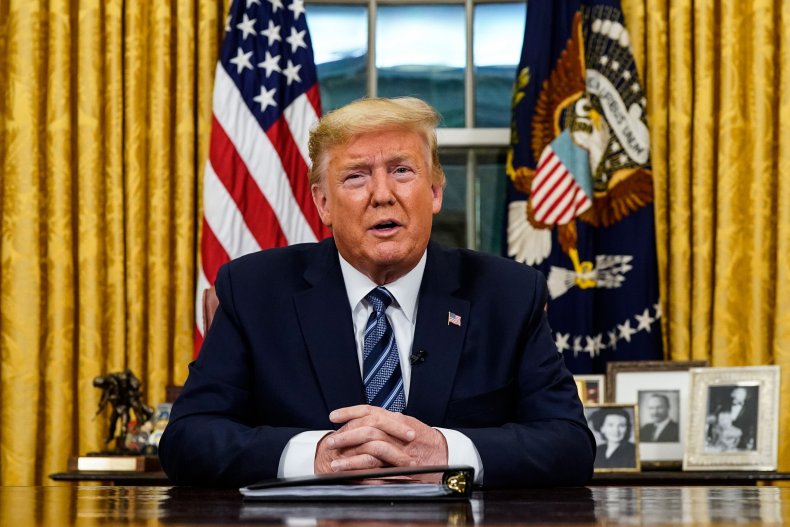 Trump also said he would ask Congress to help with payroll tax relief and would ask the Small Business Administration to "provide capital and liquidity" to small businesses.
In the aftermath of Trump's comments, U.S. stock futures fell sharply with Dow Jones Industrial Average futures trading more than 600 points lower, according to CNBC, which reported that losses were also affected by the World Health Organization's declaration that the coronavirus was now a pandemic.
But Trump later wrote on Twitter that the ban did not include trade. "Please remember, very important for all countries & businesses to know that trade will in no way be affected by the 30-day restriction on travel from Europe. The restriction stops people, not goods," he said.
While the markets have been rattled by coronavirus, experts have sounded the alarm on its long-term impact on trade.
Deputy director of the Brussels-based economic think tank Bruegel, Maria Demertzis, told Newsweek that "there is clearly politics" in Trump's announcement, and that "if you think about Europe, nobody has closed borders there and for the U.S. to shut the borders is very extreme in my view and it's trying to send a message."
"If China had an impact on U.S. trade, European restrictions will have a bigger impact because Europe and the U.S. are much bigger trade partners," she said.
She said that the shut down in Italy and coronavirus measures in other European countries could have a knock-on effect in the U.S. in the coming months.
"We haven't got to this point, but if Europe stops producing then Europe cannot sell intermediate goods to the U.S.—we are not there yet, but we cannot exclude this from happening."
Meanwhile, Alicia Garcia-Herrero, chief economist for Asia-Pacific at investment bank Natixis, told Newsweek the coronavirus will not only impact American trade with Europe, but also direct foreign investment in the U.S.
"U.S. multinationals operating in Europe and European multinationals operating in the U.S. will suffer since their executives will not be able to travel. It is big shock for the EU but also for the U.S."
"The fact that Trump is starting to exclude some European countries," she said referring to Ireland and the U.K., "means that his advisers are telling him he went too far and he might rethink the measure.
"Business travel has an important impact on growth," she added. Newsweek has contacted the White House for comment. The graph below shows the spread of coronavirus as of March 11.