Donald Trump Is a Criminal, Say Nearly Two-Thirds of Voters in New Poll
Nearly two-thirds of voters think the president of the United States is a criminal, according to a new poll released on Tuesday.
A new survey from Quinnipiac University asked: "Do you think that President Trump committed any crimes before he was president, or don't you think so?"
Sixty-four percent responded that yes, they thought Trump had committed crimes, while just 24 percent said they thought he had not. Thirteen percent either didn't know or didn't answer. Further, when asked if they thought President Donald Trump committed any crimes since taking office, 45 percent said they thought he had, while 43 percent said they thought he had not.
In general, folks didn't seem to trust Trump. On the other hand, respondents said they trusted Michael Cohen—Trump's former lawyer going to prison for lying to Congress, among other crimes—more than the president, by a 50 percent to 35 percent margin.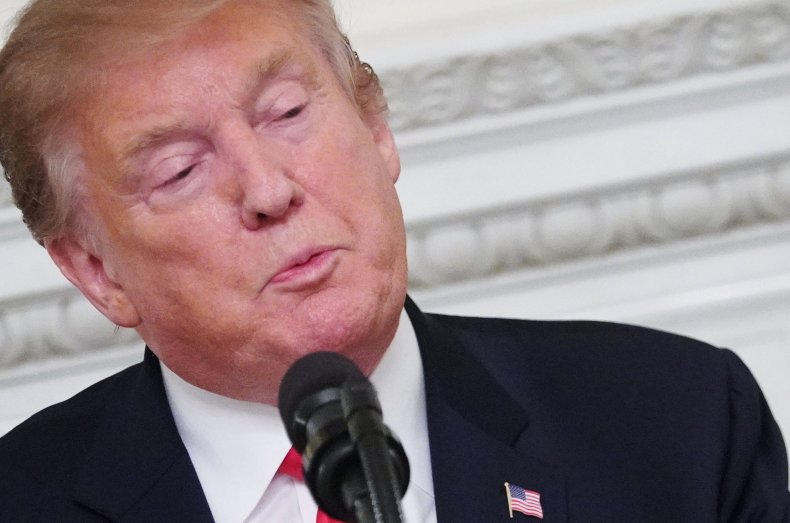 "The answers to two survey questions deliver a double-barreled gut punch to the honesty question. When two-thirds of voters think you have committed a crime in your past life, and almost half of voters say it's a toss-up over whether you committed a crime while in the Oval Office, confidence in your overall integrity is very shaky," Tim Malloy, assistant director of Quinnipiac University, said in a statement. "Add to that, Michael Cohen, a known liar headed to the big house, has more credibility than the leader of the free world."
Trump is, of course, the subject of multiple investigations. The probe from special counsel Robert Mueller has indicted or resulted in guilty pleas for 34 people. Trump associates George Papadopoulos, Paul Manafort, Michael Flynn, Rick Gates and Cohen have all entered pleaded guilty to various crimes.
The Quinnipiac survey polled 1,120 voters from March 1 through March 4. It had a margin of error of plus or minus 3.4 percentage points.
The Quinnipiac University Poll found Trump's job approval rating was just 38 percent. That was a bit lower compared to the FiveThirtyEight tracker, which had him at about 42 percent on Tuesday, and a Gallup Poll survey that had Trump at 43 percent approval.