Donald Trump Defends Allies Who Testified Against Him in Hourlong Speech
Some of former President Donald Trump's inner circle may have willingly testified in front of the House committee investigating the January 6 Capitol riot, but Trump doesn't appear to have any ill will against them.
Trump instead defended some of his allies on Friday, claiming that the House panel had purposely edited short clips of testimony from those such as Representative Jim Jordan, daughter Ivanka Trump and former adviser Jared Kushner in order to "destroy" them.
"The committee is taking the testimony of witnesses, who defended me for eight hours, chopping it up and truncating sound bites to make it sound like what they said was absolutely terrible," Trump told the crowd at Friday's Faith & Freedom Coalition's Road to Majority Policy Conference in Nashville. "The committee refuses to play any of the tape of people saying the good things to things that we want to hear. It's a one way street."
His remarks come one day after the House committee held its third hearing to present findings from the panel's nearly yearlong investigation.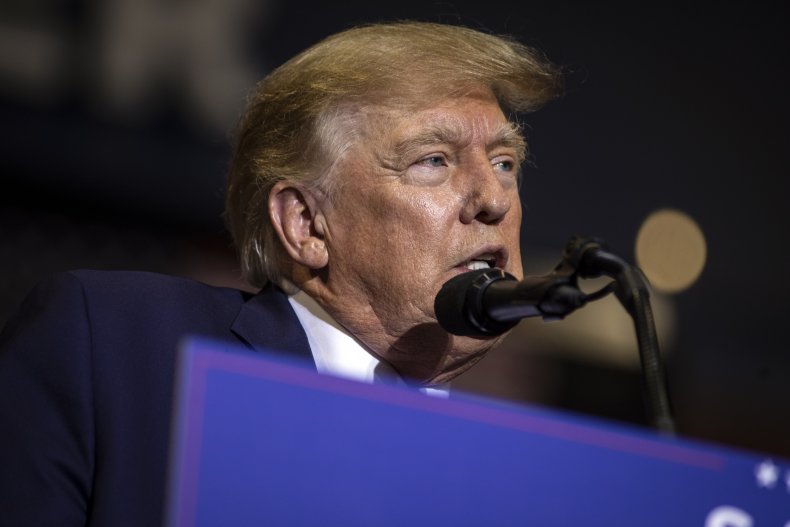 Trump, who was the keynote speaker at the three-day event, also alleged that the video evidence being presented in the panel's public hearings was "deceptively edited, misleadingly cut and even doctored," adding that Jordan told him so.
"They're taking six-, eight- and nine-hour depositions and they're putting up five-second clips, making everybody look... trying to destroy them, and out of nine hours they'll put up a five-second clip where they got a little tired," the former president said. "They're ripped completely out of context—these statements—in many cases, to create an impression that's the exact opposite of the truth."
Over the course of the January 6 committee's three hearings, the panel has presented never-before-seen video of former Trump officials, ranging from his eldest daughter to Trump spokesman Jason Miller to former Attorney General Bill Barr, who have all testified that they didn't believe Trump's claim that the election was stolen.
Asked by the committee if she believed Barr's conclusion that there was no widespread fraud in the 2020 election, Ivanka was heard testifying in a clip played during last week's hearing that "it affected my perspective. I respect Attorney General Barr so I accepted what he said."
Video played this week showed Barr calling Trump's claims "bulls**t" and Miller saying that the campaign data person told Trump in "pretty blunt terms, that he was going to lose."
On Thursday, members turned their focus onto former Vice President Mike Pence, who would not help Trump overturn the results of the 2020 election, and the violent threats Pence faced for certifying the electoral college votes.
The committee outlined how Trump attorney John Eastman put forward a legal theory that Pence could unilaterally block the certification—a plan that members said Trump knew was illegal but told his supporters Pence had the power to execute.
"One guy got up and said that he heard me calling Mike Pence a 'wimp,'" Trump said in his Friday speech.
"But I never called Mike Pence a 'wimp.' I never called him a wimp," he added. "Mike Pence had a chance to be great. We had a chance to be, frankly, historic, but just like Bill Barr and the rest of these weak people, Mike, and I say it sadly because I like him, but Mike did not have the courage to act."
Newsweek reached out to the Select Committee to Investigate the January 6th Attack on the U.S. Capitol.