Donald Trump Admits, 'I Didn't Need to' Declare a National Emergency, Says He'd Just 'Rather Do It Much Faster'
While speaking to the press as he declared a national emergency on the southern border Friday, President Donald Trump admitted he didn't actually need to do it.
After Congress refused to hand over the more than $5 billion he desired, Trump announced the national emergency in an effort to secure funding for the border wall he had promised over and over again on the campaign trail. A bipartisan spending bill had approved nearly $1.4 billion for border spending, which Trump only approved—avoiding another government shutdown weeks after the longest-ever in U.S. history—because he planned to declare a national emergency.
"I was successful, in that sense, but I want to do it faster," he said. "I could do the wall over a longer period of time. I didn't need to do this, but I'd rather do it much faster."
Almost immediately there was speculation that this line from Trump—admitting he did not need to declare the emergency—would be used to trip him up in court, since it's a relatively safe assumption that the move from the president will be challenged.
"[Keep] talking mr president," tweeted Omar C. Jadwat, director of the ACLU Immigrants' Rights Project, directly after tweeting the quote about Trump not needing to make the declaration.
"'I didn't need to do this' is kind of the ballgame [in my opinion]," tweeted the Huffington Post's Matt Fuller.
George Conway—husband of White House counselor Kellyanne Conway and frequent Trump critic—posted: "This quote should be the first sentence of the first paragraph of every complaint filed this afternoon."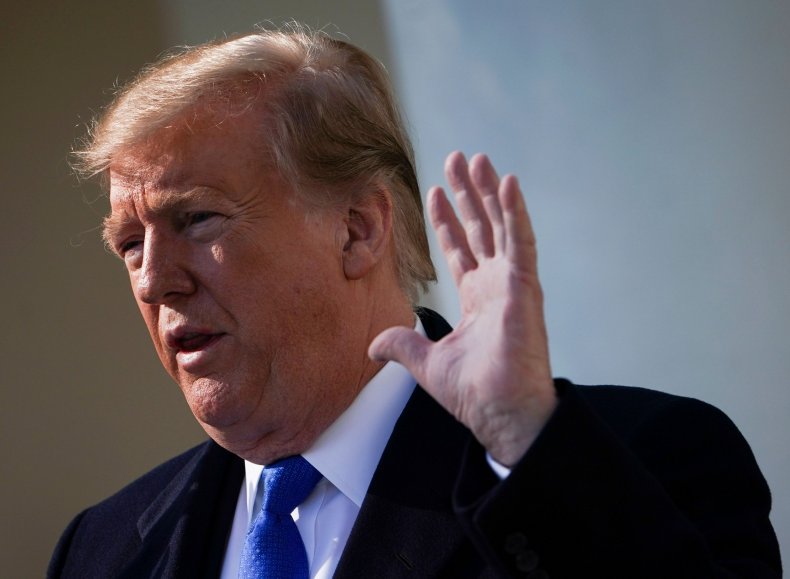 Trump made a wide-ranging speech on Friday while announcing he intended to declare the national emergency.
"I am going to be signing a national emergency. And it's been signed many times before. It's been signed by other presidents. There's rarely been a problem," Trump said. "They sign it, nobody cares. I guess they weren't very exciting. We're talking about an invasion of our country with drugs and human traffickers."
In the effort to build his wall, the emergency plan from Trump is reportedly set to take some $600 million from the Treasury Department, $2.5 billion from the Department of Defense's drug interdiction program and $3.5 billion from military construction funds.
House Speaker Nancy Pelosi and Senate Minority Leader Chuck Schumer said in a statement that "Congress will defend our constitutional authorities in the Congress, in the Courts, and in the public, using every remedy available."