Donald Trump Declares National Emergency Citing 'Invasion' of U.S. in Rambling Speech Full of False Claims
President Donald Trump declared a national emergency on Friday in an attempt to use his executive authority to redistribute billions of dollars from various government departments to fund the building of a wall along the southern border, a move that will almost certainly be challenged by Democrats, some Republicans and the courts.
The declaration, accompanied by a rambling speech that often veered off topic and included several incorrect statements, came little more than 12 hours after Congress passed a compromise budget billl to avert another partial government shutdown. Among other border security measures, it included $1.375 billion for border fencing, which was less than a fourth of the $5.7 billion Trump had demanded for a barrier.
"I am going to be signing a national emergency. And it's been signed many times before. It's been signed by other presidents. There's rarely been a problem," Trump said in the White House Rose Garden. "They sign it, nobody cares. I guess they weren't very exciting. We're talking about an invasion of our country with drugs and human traffickers."
The graphic below, provided by Statista, illustrates the number of active U.S. national emergencies by category and the presidents who issued them.
Defying documented evidence, Trump repeated his false claim about how the majority of illegal drugs enter the country, saying it's "just a lie" that they come through legal ports of entry. He also incorrectly claimed that U.S. drug dealers only "get a thing called how about a fine" and that undocumented immigrants commited more violent crimes than U.S.-born citizens. Studies have shown that both undocumented and documented immigrants are less likely to commit violent crimes than Americans who were born here. Trump suggested illegal immigration was higher than in America's past, which is also false.
The president's national emergency will take $600 million from the Treasury Department's drug forfeiture fund, $2.5 billion from the Defense Department's drug interdiction efforts and roughly $3.5 billion from Department of Defense military construction, according to the White House. Coupled with Congress's $1.375 billion border security deal, Trump will have about $8 billion for more than 200 miles of border wall. The deal struck by Congress funded only 55 miles, with fencing.
No matter what the amount, Trump said, "it's going to build a lot of wall."
Senator Brian Schatz, the top Democrat on a military construction appropriations subcommittee, said in a statement, "We certainly cannot allow him to rob our military of $3.5 billion for critical construction projects that serve our troops, support our allies and deter our adversaries—all to build a wall that will do nothing to protect America."
House Speaker Nancy Pelosi and Senate Minority Leader Chuck Schumer issued a joint statement, immediately threatening legal action, which Trump said he expected. "The Congress will defend our constitutional authorities in the Congress, in the courts, and in the public, using every remedy available," the Democrats said.
The graph below by Statista illustrates existing and proposed structures on the southern border.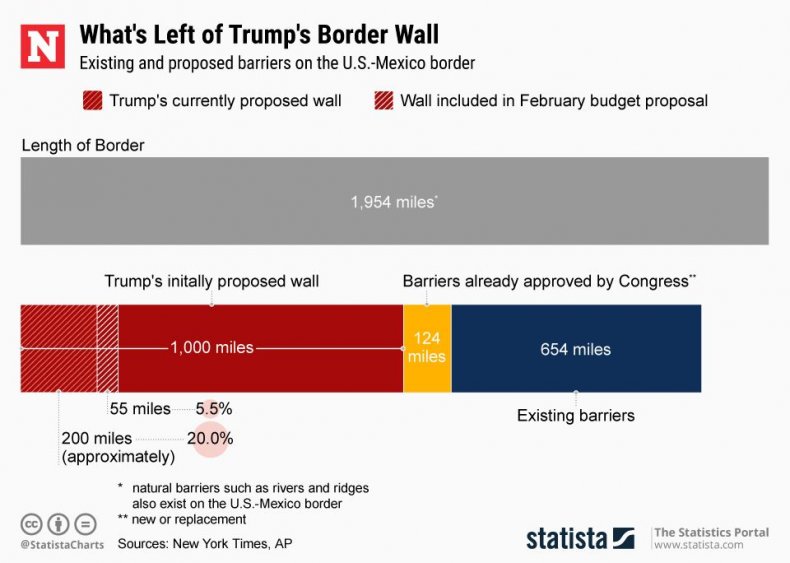 The House and Senate still managed to pass the bipartisan budget deal, the culmination of three weeks of negotiations by Republican and Democratic congressional leaders.
Lawmakers on the Hill were quick to oppose Trump's unilateral plans, with Senate Democrats warning he better "talk to a good lawyer" while Republicans expressed dismay.
"I had said my concerns about an emergency declaration were the precedents it could establish," said Senator John Cornyn, a Texas Republican and Trump ally. "I also thought it would not be a practical solution because there'd be a lawsuit filed immediately, and the money would presumably be balled up in that litigation, and I thought there were other, better alternatives."
Other Republicans went a step further to rebuke the president, questioning the constitutionality of bypassing Congress to reallocate money that Congress had approved for other purposes, not for the building of a wall.
"We have a crisis at our southern border," GOP Senator Marco Rubio said in a statement. "But no crisis justifies violating the Constitution... I am skeptical it will be something I can support."
House Democrats can combat Trump's national emergency through a joint resolution to terminate the declaration under the National Emergencies Act of 1976. Once passed by the House, which the Democrats control, the Senate would be required to vote on it within 18 days. The president could of course veto it, and Congress would need to muster a two-thirds majority to override Trump's veto.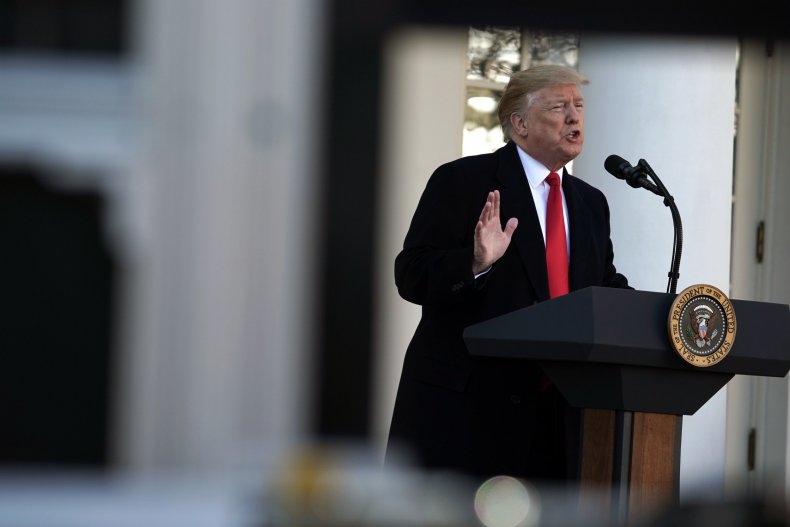 "The [Senate] majority leader has no authority to bottle it up," Bruce Ackerman, professor of law and political science at Yale University, told Newsweek. "This is a very special provision placed into the emergency act which was basically reacting in response to President Nixon."
Assuming the president's declaration makes its way to the courts, legal experts said it would raise questions about why Trump waited so long to declare this "crisis" a national emergency, if it truly is a "crisis," as the president calls it. The president himself admitted during his emergency declaration Friday that he "didn't need to do this, but I'd rather do it much faster."
"The court would need to decide the deeper question: Can the president do this solo and in the face of a congressional rebuke?" Toni Massaro, a law professor at the University of Arizona, told Newsweek. "The border controversy is long-standing, and the factual predicate for the claim that we need a wall at once is hard to credit as an 'emergency' in the same way that an outbreak of disease or the bombing of Pearl Harbor might be."