Donald Trump Doesn't 'Believe' His Administration's Climate Change Warnings, Continuing History of Global Warming Denial
President Donald Trump continued his long legacy of climate-change denial on Monday by casting doubt on a report released by his own administration that warned of dire economic consequences associated with impending climate change.
The report, released on Black Friday, warned that climate change could cost the U.S. economy hundreds of billions of dollars by the end of the century and shrink GDP by some 10 percent.
Asked by reporters on Monday about these economic warnings, Trump responded, "I don't believe it."
"No, no, I don't believe it," he continued. "And here's the other thing, you're going to have to China and Japan and all of Asia and all of these other countries—you know, it addresses our country. Right now we're at the cleanest we've ever been. And it's very important to me. But if we're clean but every other place on Earth is dirty, that's not so good."
Casting doubt on climate change is anything but out of the ordinary for Trump. He has long called it a hoax and claimed it was a moneymaking endeavor.
"The concept of global warming was created by and for the Chinese in order to make U.S. manufacturing non-competitive," Trump famously tweeted in 2012, for instance.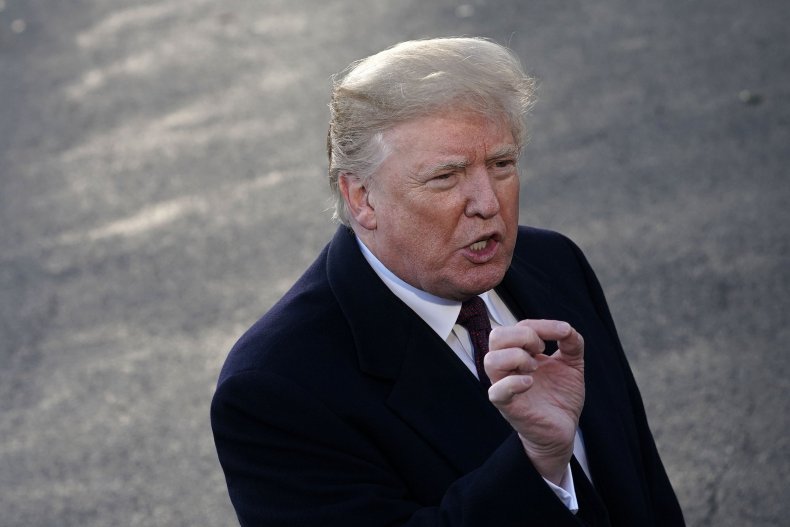 Just last week, Trump tweeted: "Brutal and Extended Cold Blast could shatter ALL RECORDS - Whatever happened to Global Warming?"
Of course, as NASA's website helpfully points out, short-term weather events and the overall climate are different things. And the vast, vast majority of experts agree that climate change is real and caused by human activity—and that we're careening toward a dangerous point of no return that'll bring massive damages (if we're not already past that point).
"This demonstrates once again that Donald Trump is not an individual to be taken seriously on any topic, let alone matters as serious as climate change," Michael Mann, a climate scientist at Pennsylvania State University, said to HuffPost last week about the president's "cold blast" tweet. "He is a clown—a dangerous clown."