Donald Trump, Elon Musk Feud: What the Two Have Said About Each Other
Donald Trump and Elon Musk have continued their war of words, with the former president suggesting the Tesla and SpaceX CEO would "drop to his knees" if he asked.
Trump appeared to be reacting to a series of tweets Musk posted on Monday suggesting that the 76-year-old should end his political career and not run for the presidency in 2024 because he is too old.
"I don't hate the man, but it's time for Trump to hang up his hat & sail into the sunset," Musk tweeted. "Dems should also call off the attack—don't make it so that Trump's only way to survive is to regain the Presidency."
"Do we really want a bull in a china shop situation every single day!? Also, I think the legal maximum age for start of Presidential term should be 69," Musk said in a follow up tweet.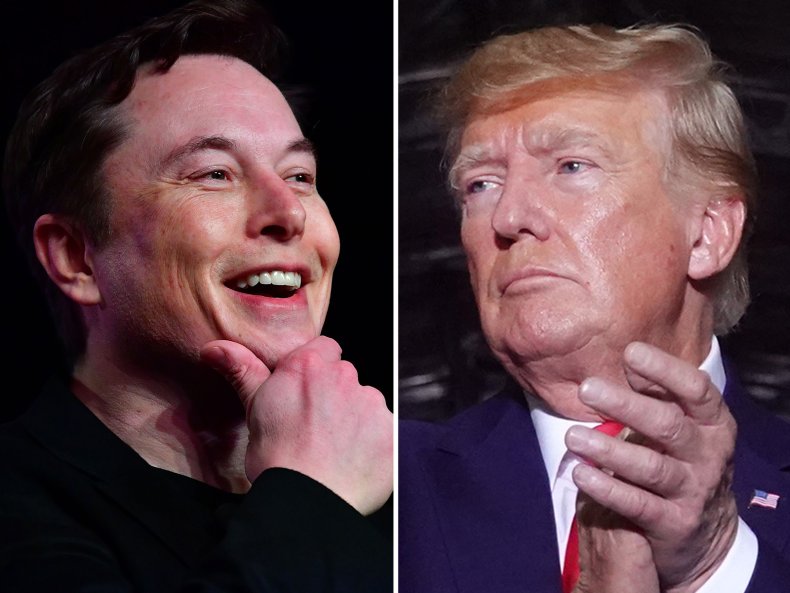 In response, Trump recalled on Truth Social the times when Musk would visit him in office during his presidency.
"When Elon Musk came to the White House asking me for help on all of his many subsidized projects, whether it's electric cars that don't drive long enough, driverless cars that crash, or rocketships to nowhere, without which subsidies he'd be worthless and telling me how he was a big Trump fan and Republican, I could have said, 'drop to your knees and beg,' and he would have done it," Trump wrote.
Trump then mocked Musk over the lawsuit he faces from Twitter after pulling out of his $44 billion takeover bid for the social media site.
"Now Elon should focus on getting himself out of the Twitter mess because he could owe $44 billion for something that's perhaps worthless. Also, lots of competition for electric cars!," Trump said.
In response to the attacks, Musk tweeted "Lmaooo" before sharing a gif referencing the "old man yells at clouds" meme from The Simpsons.
Trump's post is the latest line of attack he has aimed at the tech billionaire since his bid to takeover Twitter fell through.
In a July 8 post on Truth Social—the social media site Trump set up after he was banned from Twitter in the wake of the January 6, 2021 attack—the former president appeared gleeful that the takeover was not going ahead.
"THE TWITTER DEAL IS DEAD, LONG LIVE THE 'TRUTH,'" Trump wrote.
At a rally in Anchorage, Alaska the next night, Trump mocked the failed bid while calling Musk a "bulls**t artist."
"Elon is not going to buy Twitter. Where did you hear that before? From me," Trump told the crowds. "He's got himself a mess. You know, he said the other day, 'I've never voted for a Republican.' I said I didn't know that. So he's another bulls**t artist, but he's not going to be buying it."
In his series of tweets on Monday, Musk denied Trump's claims that he said that he voted for him in the last election, tweeting "not true" under a clip of the remarks posted by the Bongino Report account.
As well as the "sail into the sunset" remark, Musk suggested in another tweet that Trump is too old to for the next presidency and rejected a suggestion that Florida Governor Ron DeSantis should be Trump's running mate in the next election before challenging for president himself in 2028.
"Trump would be 82 at end of term, which is too old to be chief executive of anything, let alone the United States of America," Musk tweeted. "If DeSantis runs against Biden in 2024, then DeSantis will easily win—he doesn't even need to campaign."
This is not the first time Musk has criticized Trump. On the eve of the 2016 election, Musk told CNBC that Trump wasn't the "right guy" for the White House.
Despite this, just one month later, Musk joined Trump's "Strategic and Policy" advisory team for his incoming administration before leaving in June 2017 in protest of Trump pulling out of the Paris climate agreement.
Trump and Musk's relationship hasn't always been hostile. In a January 2020 interview with Squawk Box, Trump likened Musk to Thomas Edison and described him as "one of our great geniuses."
A few months later in May 2020, Musk tweeted "thank you!" to Trump after the then-president supported the CEO's plans to reopen Tesla's car factory in California despite COVID-19 restrictions being in place.