Is Elon Musk a Trump Supporter? What Tesla CEO Has Said About Former POTUS
The question of just what Elon Musk thinks of Donald Trump will be raised yet again after the Tesla and SpaceX CEO offered to buy Twitter for $43 billion.
Musk, who recently became Twitter's biggest shareholders but turned down an offer to join the social media company's board, revealed the offer amounting to $54.20 per share in a regulatory filing on Wednesday.
After the billionaire became Twitter's largest shareholder with a 9.2 percent stake in the company, a number of conservative figures urged Musk to reinstate Trump to the platform, from which the former president was banned over fears he could incite more violence in the wake of the January 6 attack on the Capitol.
For years, Musk, a registered independent voter who previously described his views as moderate, has claimed that he tries not to get too involved in politics, despite spending millions lobbying both main political parties.
Now Musk is attempting a new takeover of Twitter, the question of whether the world's richest man supports Trump could yet be fully addressed. Below, Newsweek details what Musk has said about Trump over the years, as well as other times he has weighed in on the world of politics.
Is Elon Musk a Trump Supporter?
In November 2016, on the eve of the election in which Trump beat Hilary Clinton, Musk declared that he doesn't believe that the Republican is the right person for the White House.
"I feel a bit stronger that he is probably not the right guy," Musk told CNBC. "He doesn't seem to have the sort of character that reflects well on the United States."
However, just one month later Musk agreed to join Trump's "Strategic and Policy" advisory team for his incoming administration, a group that also included Uber CEO Travis Kalanick and PepsiCo CEO Indra Nooyi.
In January 2017, Musk criticized Trump's travel ban on countries with predominantly Muslim populations, describing it as "not the best way to address the country's challenges."
"Many people negatively affected by this policy are strong supporters of the US. They've done right, not wrong & don't deserve to be rejected," Musk wrote in a tweet.
The following month, also on Twitter, Musk dismissed criticism about his working with Trump, saying: "People should push to have as many moderates advising the President as possible. Blind hate is never the right answer."
In June 2017, Musk announced that he would be leaving Trump's business advisory council in protest of the president's pulling the U.S. out of the Paris climate agreement. "Climate change is real. Leaving Paris is not good for America or the world," Musk tweeted.
In May 2020, Musk tweeted "thank you!" after Trump supported the CEO's controversial plans to reopen Tesla's car factory in California in violation of the restrictions in place amid the COVID-19 pandemic. Musk had previously called stay-at-home orders "fascist" during a Tesla earnings call. He has since moved Tesla's headquarters from California to Texas.
In September 2021, Texas Governor Greg Abbott said Musk wanted to get out of California because it was too liberal, while claiming that the Tesla CEO "consistently tells me that he likes the social policies in the state of Texas."
Abbott made the claim as Texas was introducing the controversial abortion bill that bans the procedure in almost all circumstances after around six weeks.
While responding to the comments, Musk tweeted to CNBC reporter Michael Sheetz: "In general, I believe government should rarely impose its will upon the people, and, when doing so, should aspire to maximize their cumulative happiness."
"That said, I would prefer to stay out of politics," he said.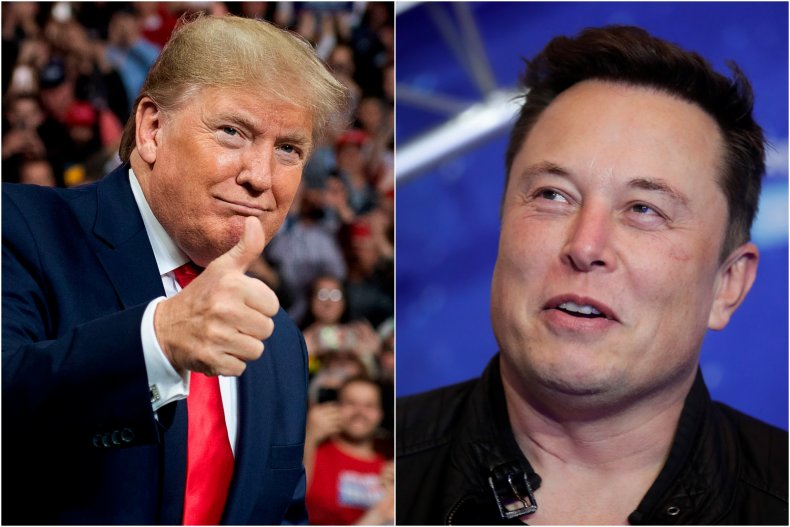 The one time Musk has given an outright backing of a presidential candidate was in August 2019, when he threw his support behind Democratic presidential candidate Andrew Yang.
Explaining in a tweet why he supported the Democrat, Musk said universal basic income, an idea Yang backed, was "obviously needed."
In September 2020, when the two election candidates were whittled down to Trump and Biden, Musk said he was waiting to see how the upcoming presidential debates turned out before deciding who to vote for.
"I think that's probably the thing that will decide things for America. I think people just want to see if Biden's got it together," Musk told the Sway podcast.