Donald Trump's Texas Endorsement Failure Is Bad Omen for Virginia GOP's Glenn Youngkin
Susan Wright's defeat in Texas has thrown into question the power of Donald Trump's backing—an ominous sign for others he has supported with post-presidency endorsements.
Wright, the widow of the late Rep. Ron Wright, was defeated by GOP rival Jake Ellzey in a special congressional election runoff—despite Trump having backed Wright early and recording a robocall in a bid to boost her closer to election day.
The early failure of a Trump-backed candidate sounds a gloomy note for others he has endorsed in upcoming races. And next of those up for election is Glenn Youngkin, the GOP gubernatorial candidate in Virginia.
Youngkin is running against Democratic candidate Terry McAuliffe—who formerly served as governor from 2014 to 2018 and has in turn been endorsed by President Joe Biden—with incumbent Gov. Ralph Northam, also a Democrat, unable to run due to term limits.
Polling puts McAuliffe ahead in the race, but by a narrow margin of single-digit percentage points.
While Trump remains a dominant political voice and maintains sway over the Republican Party, he also continues to be a divisive figure both within and outside the GOP.
The so-called GOP civil war rages on, though it is a battle heavily lopsided in Trump's favor. More broadly, Trump's adversaries continue to campaign fiercely against the former president and those still loyal to him.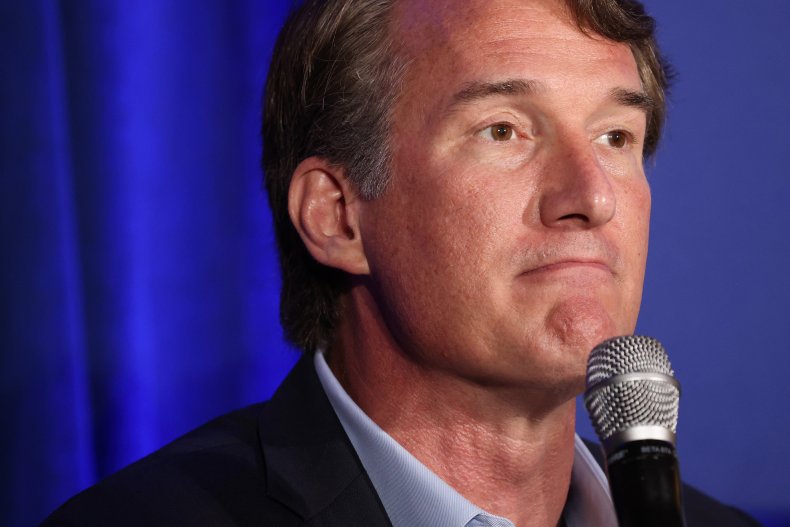 Trump's endorsement might help Youngkin to clinch a mass of Republican voters, yet it also has a clear ability to alienate others, including anti-Trump conservatives and crucial independent voters who tend to be more moderate.
"Trump is deeply unpopular where Youngkin needs the votes," Chris Saxman, a former Republican state senator who blogs about Virginia politics, told CNN in July following praise of Youngkin from Trump.
Saxman added: "The base will love it and Glenn needs to get them fired up, since this is a base election, but the downside for him is that this might help McAuliffe with his base even more."
The potential toxicity of Trump appears not to have been lost on McAuliffe, who told CNN he welcomed the former president's involvement.
"I would pay for the fuel to get Donald Trump here," he said, upon winning the Democratic primary in June. "Absolutely, I will gas up the plane."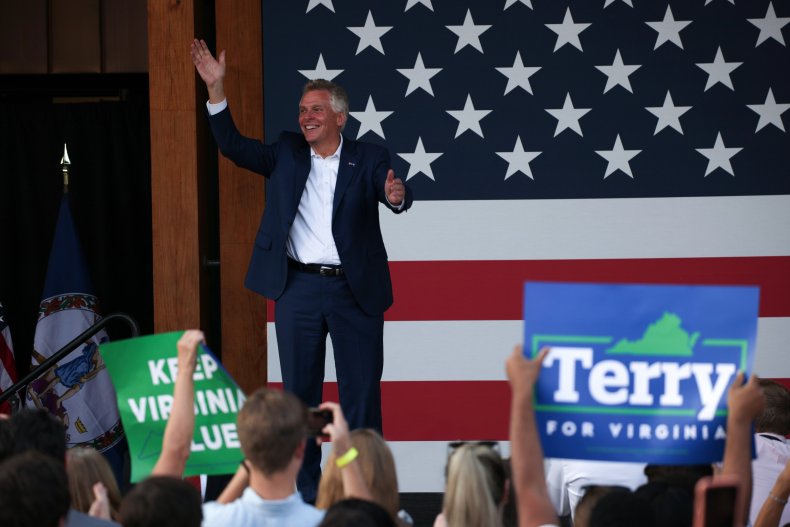 Trump first detailed his endorsement for Youngkin in May: "Glenn is pro-business, pro-second Amendment, pro-veterans, pro-America, he knows how to make Virginia's economy rip-roaring, and he has my complete and total endorsement."
He reiterated this in a July statement: "Wow, the numbers are really looking good for Glenn Youngkin in his race against Terry McAuliffe for Governor of Virginia. Glenn has been an incredible success and will truly Make Virginia Great Again."
The latter part of the message bound Youngkin's campaign to Trump, with an homage to the former president's own "Make America Great Again" slogan.
A Trafalgar Group poll conducted July 8 to 10 put McAuliffe ahead of Youngkin, with 46.8 percent of respondents stating they would back him over 45 percent for the Republican. The poll was conducted among 1,104 respondents and had a margin of error of plus or minus 2.87 percentage points.
An American Principles Project (APP)/SPRY Strategies poll conducted July 6 to 9 also put the Democratic candidate ahead, with a 5 percentage point lead of 46 percent to 41 percent. The question was put to a random sample of 600 likely voters and results have a margin of error of plus or minus 4 percentage points.
Wright's defeat—in a runoff election and facing another Republican candidate—came in a unique set of circumstances.
But her loss makes it clear that Trump's support is no guarantee of victory even against other Republicans—adding further intrigue to potential in-party battles going into the 2022 primaries.
Trump has backed 25 political candidates since leaving the White House, according to a tally by Ballotpedia.
Newsweek has contacted the office of the former president, Youngkin's campaign, and McAuliffe's campaign for comment.