'Esperanto' Trends as Trump Misspells Name of His Own Defense Secretary Mark Esper
In an error-ridden Sunday morning tweet, President Donald Trump attributed a statement about the U.S.-Turkey ceasefire to his Secretary of Defense, Mark Esper. But in a mistake that quickly sparked a trending hashtag, he called the top military official "Mark Esperanto."
The tweet was shared thousands of times before being deleted and appeared to directly contradict the plans to shift troops from Syria into western Iraq—not back to the U.S.
Trump wrote: "Mark Esperanto, Secretary of Defense, 'The ceasefire is holding up very nicely. There are some minor skirmishes that have ended quickly. New areas being resettled with the Kurds.' USA soldiers are not in combat or ceasefire zones. We have secured the Oil. Bringing soldiers home!"
Esper announced today that troops currently being moved will "help defend Iraq" and "perform a counter-ISIS mission as we sort through the next steps," the Associated Press reported. Trump later shared a second tweet without the naming error, pledging he was "ending endless wars!" It was not immediately clear what oil he was referring too.
Trump's second attempt removed the line about troops coming home.
Before it was scrubbed from the Twitter account, but screen-shotted countless times no doubt, the tweet was widely lambasted by political commentators and turned into a slew of memes.
"So much wrong in this tweet," wrote Washington Post columnist Josh Rogin in response to the president's update, shared more than 1,000 times. "US troops are not coming home, they are going to Iraq. We don't have the oil. And the Defense Secretary's name is not 'Esperanto.'"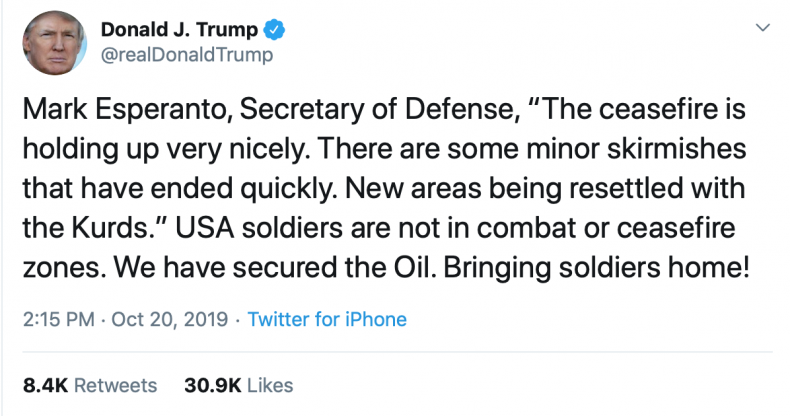 CNN's chief media correspondent Brian Stelter also wrote: "Someone's phone converted Esper into Esperanto. The result is the president misspelling the name of his own defense secretary. Shouldn't these tweets be, you know, proofread?" Bloomberg editor Tim O'Brien shared a long list of the many times Trump has called people wrong names in the past, including Tim Apple and Ron Ryan.
Idrees Ali, a Reuters correspondent who is currently traveling with the defense secretary, noted he could not recall Esper saying the comment that the president had tweeted.
Despite a White House announcement of a "historic" ceasefire agreement, witnesses say violent clashes continue on the border between Turkey and Syria, CNN reported.
As reported today, the head of Kurdish forces in Syria, General Mazlum Kobane, told NBC News the U.S. would be responsible for future clashes, saying: "This agreement will kill millions of Kurds and the expulsion from their land of millions of Kurds. It will be the biggest ethnic cleansing operation of the 21st century and its happening right in front of the American army's eyes."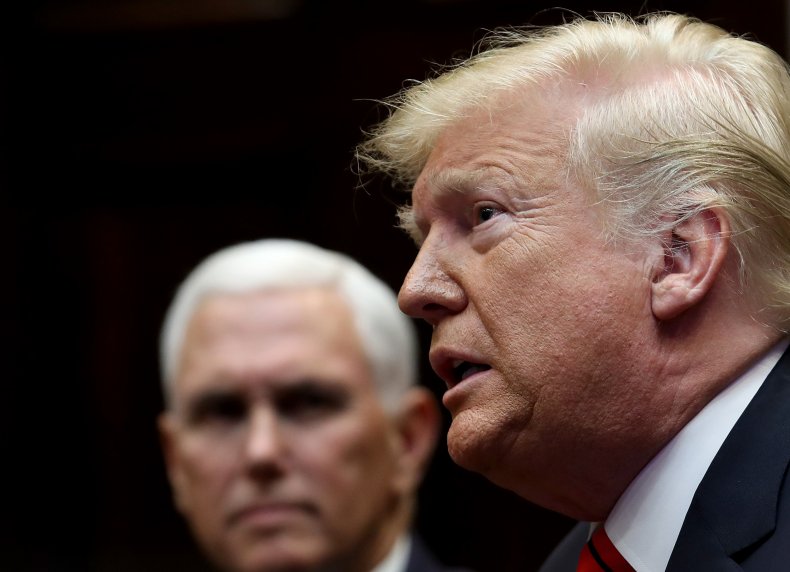 It's not the first time Trump sparked confusion with tweets about oil. As noted by Bloomberg, analysts were puzzled by an October 18 assertion the U.S. had "secured the Oil."
Mark Esper became defense secretary on July 23 this year after serving more than 20 years in the U.S. Army on active duty, his bio says. Esper graduated from the U.S. Military Academy in 1986 and has advanced degrees from Harvard University and George Washington University.