A Kurdish commander has warned that the Turkish offensive launched in northern Syria and an agreement with the U.S. to end hostilities would lead to "ethnic cleansing" for which the U.S. bears "full responsibility".
Turkey's offensive, launched after President Donald Trump said he would pull out U.S. troops, has prompted hundreds of thousands to flee their homes.
During a five-day ceasefire, an agreement brokered by the U.S, saw Turkey agree to permanently halt the offensive if Syrian Kurdish militias, known as the Syrian Democratic Forces (SDF), withdrew from northern Syria.
The Washington Post noted that it was a "stunning victory" for Turkish President Recep Tayyip Erdogan because it meant Washington now accepted the safe zone they had been arguing about for years and it also made U.S. the guarantor of the Kurdish fighters' withdrawal.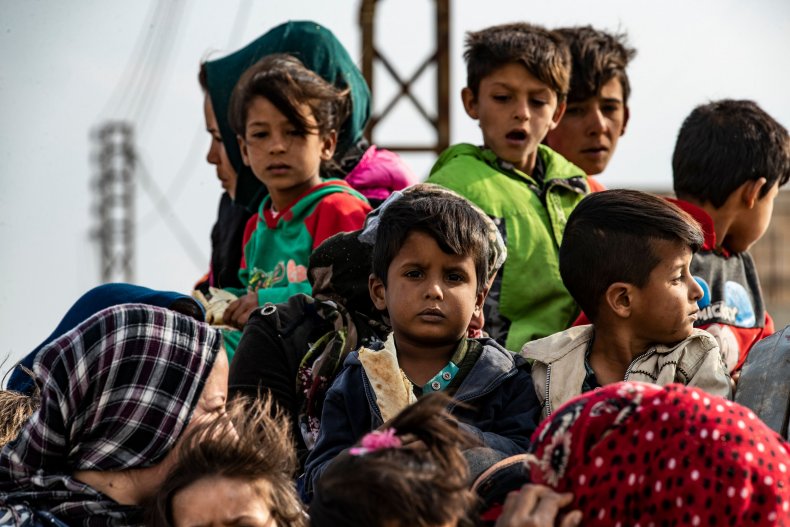 The head of Kurdish forces in Syria General Mazlum Kobane has said that Turkey's intentions are more sinister and the U.S. is to blame for any bloodshed.
He told NBC: "This agreement will kill millions of Kurds and the expulsion from their land of millions of Kurds. It will be the biggest ethnic cleansing operation of the 21st century and its happening right in front of the American army's eyes."
Both sides have accused the other of breaking the five-day ceasefire and Erdogan was bullish on Saturday when he said "we will start where we left off and continue to crush the terrorists' heads," according to the BBC.
Turkey says that Kurdish forces are terrorists and wants to create a "safe zone" buffer inside Syria. Turkey wants to resettle up to two million Syrian refugees inside that zone, although critics have warned this could trigger the ethnic cleansing of the local Kurdish population, the BBC reported.
Meanwhile, Amnesty International has reported it has "damning evidence" of war crimes by Turkey and other violations by their side.
"Amnesty evidence shows how Turkish forces have displayed a shameful disregard for civilian life, including through summary killings and unlawful attacks that have killed and injured civilians," it said.
Kobane told NBC: "America has full responsibility for what is happening now because we trusted them for five years in the continuing war against Isis. But now, there is ethnic cleansing. If they wanted, they would stop it."
The Washington Post noted that there is no clarity as to whether Turkey and the U.S. had agreed how exactly how big the safe zone would be, although it is believed to be around 20 miles south of the Turkish border.