As Donald Trump Exits The White House, His Future Is an Open Question
President Donald Trump's term will officially end at noon on January 20 when President-elect Joe Biden takes the oath of office. Trump will leave the White House but his future is uncertain.
Former presidents often have predictable retirements—a presidential library, a charitable foundation, publishing memoirs, making after-dinner speeches. The 45th president faces a range of different options, not all of them good.
Almost as soon as it was clear Biden had won the 2020 election, speculation began about Trump running again in 2024. He's raised at least $207 million since the election, though the exact amount won't be known until FEC filings on January 31.
This would potentially give a third Trump campaign a significant boost, but there are major barriers to another run at the White House.
No defeated president has won re-election since Grover Cleveland in 1892. He is the only president to ever serve two non-consecutive terms.
Though Trump's popularity in the Republican Party means he could potentially win the 2024 nomination, the deadly riot at the Capitol on January 6 has complicated matters.
The president has an average approval rating of 38.3 percent, according to poll tracker FiveThirtyEight, while 58.1 percent disapprove of him. If his numbers are similar in four years, he could choose not to run again rather than face a second defeat.
Trump now faces a second impeachment trial in the Senate with a real possibility that this time he could be convicted. Conviction could see him legally barred from standing for president again, closing off a route the president might favor.
The graphic below, provided by Statista, illustrates the impeachment process.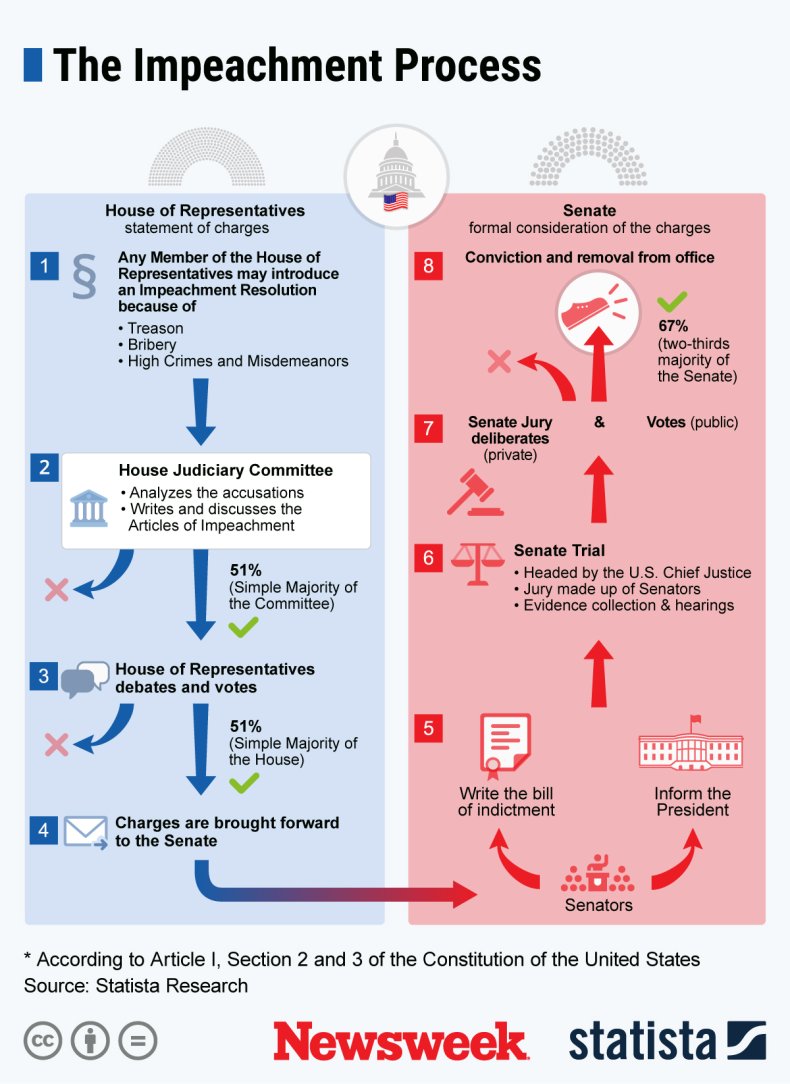 However, even if he can't run again or doesn't plan to, Trump could remain a powerful force in the GOP. A majority of House Republicans voted to object to the 2020 election results after Trump spent months making unsubstantiated claims that the election was "stolen."
This loyalty, combined with his ability to raise tens of millions for the party, could see him become a kingmaker for any future presidential hopefuls. He could also take aim at Republicans who criticize him, as he often did while in office.
Trump's political future might be irrelevant if he finds himself facing a jail term. Once out of office, Trump could be exposed to a number of federal and state charges.
From possible obstruction of justice in Special Counsel Robert Mueller's Russia probe, to his taxes, business dealings in New York and a phone call to Georgia Secretary of State Brad Raffensperger asking to "find" votes, Trump's potential legal woes have mounted.
He may also be deposed in New York as two women are suing him for defamation after he said their allegations of sexual assault were lies. Looming over everything is his potential liability in the Capitol riot, which has led to speculation that he may try to pardon himself. Even if this is constitutional, it would not shield him from state charges.
Manhattan District Attorney Cyrus Vance and New York Attorney General Letitia James are both investigating the president in probes that could lead to criminal charges.
And in Scotland, there have been renewed calls to issue an Unexplained Wealth Order against Trump to investigate how he acquired his multi-million dollar Turnberry property, which was reportedly paid for in cash. This could potentially bring criminal charges in a jurisdiction outside of the U.S., though the Scottish government has expressed reluctance.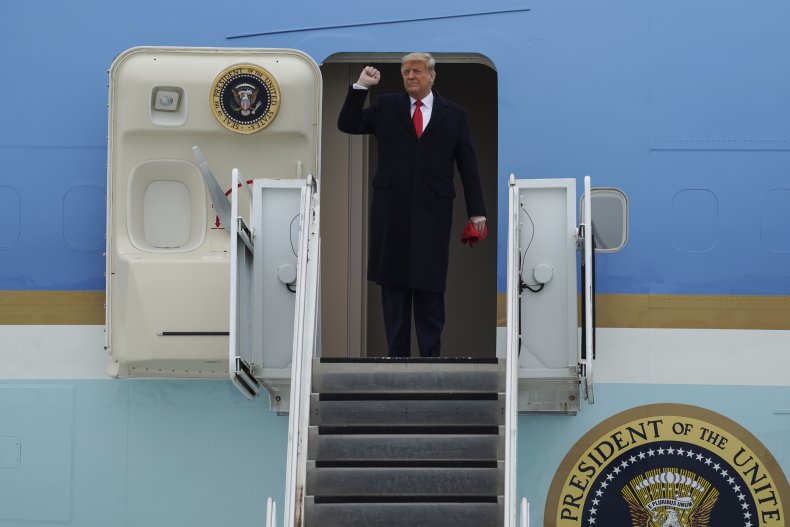 Trump's other businesses have recently lost out on deals in the wake of the Capitol riot. The 2022 U.S. PGA Championship will no longer be held at the president's New Jersey golf club, in a move that reportedly stung the president.
New York Mayor Bill de Blasio announced last week that the city was terminating contracts with the Trump Organization worth around $17 million per year, while Deutsche Bank will no longer do business with Trump. Signature Bank similarly cut ties.
Deutsche Bank was the last major bank willing to work with Trump and holds around $340 million in outstanding loans to the Trump Organization. Overall, the Trump Organization owes around $1 billion.
Trump has personal liability for much of the debt and though it could be paid off through sale of Trump Organization assets, this too could prove difficult and raises questions about the future of the company.
One avenue Trump could explore is media, especially if his more traditional business ventures face difficulty. There has been widespread speculation that he could set up a conservative news network to rival Fox News.
This would take significant time and investment and it could be hamstrung by Trump's suspension from Twitter and other social media. Following the Capitol riot, any "Trump TV" station might struggle to convince cable operators to carry the new network or to win much-needed advertisers. He may have to settle for guest appearances on Fox News, Newsmax and OANN, though the latter two reach a much smaller audience.
And what about a return to the show that made Trump a household name, NBC's The Apprentice?There have been periodic reports that Trump is interested in reviving the show, which earned him $427 million, according to The New York Times.
However, it's difficult to see NBC, or any major cable network, handing Trump a lucrative contract following the last four years and recent events at the Capitol. It's uncertain if he could revive the format elsewhere.
Many former presidents negotiate favorable book deals, netting tens of millions, but Trump has been widely mocked for his unwillingness to read and his many typos on social media. Any memoir would likely need a ghostwriter and it's unclear if any major publisher would buy the rights.
Trump has more immediate concerns than writing a book or securing a return to TV. An impeachment trial and possible criminal charges lie ahead and the Trump Organization's future is a major cause for concern. Trump's future may be the most uncertain of any former president in recent history but he's unlikely to disappear from the headlines on Wednesday.
The Trump campaign and the White House have been asked for comment on this article.