Donald Trump's Facebook Gains Almost 150,000 New Likes Since He Was Blocked 'Indefinitely'
Donald Trump's Facebook page has continued to attract tens of thousands of likes over the past week despite being blocked from posting.
Between January 7—when the president's account was locked indefinitely by the social network—and January 13, Trump's page amassed 142,170 new likes according to daily statistics compiled by the U.S. analytics company Social Blade.
At the time of writing on Thursday, the president's Facebook page had attracted an additional 6,363 likes, bringing the combined total to 148,533.
The last post on Trump's page is dated January 6, the day that a mob of his supporters stormed into the U.S. Capitol Building in Washington, D.C., in a siege that resulted in five deaths, including a police officer, and sparked a historic second impeachment.
Social Blade's metrics suggest the number of Facebook accounts "talking about" Trump has plunged by hundreds of thousands every day since the deadly insurrection.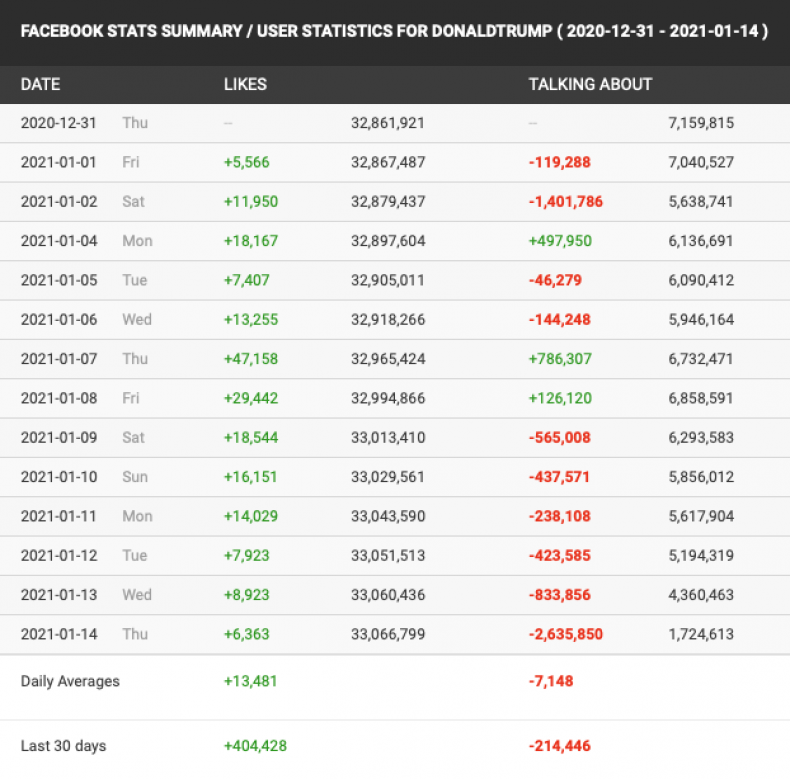 As social networks and tech platforms scrambled to restrict the president's accounts to prevent further incitement of violence last week, Facebook initially removed multiple posts from the president and put a "feature block" on his page for 24 hours.
CEO Mark Zuckerberg confirmed on January 7 that the president's Instagram and Facebook accounts would be blocked "indefinitely and for at least the next two weeks until the peaceful transition of power is complete." President-elect Joe Biden's inauguration is set for January 20.
The billionaire tech boss said in a post on his personal Facebook account that the risks of continuing to let the president use his service were "simply too great."
He wrote: "Over the last several years, we have allowed President Trump to use our platform consistent with our own rules, at times removing content or labeling his posts when they violate our policies. We did this because we believe that the public has a right to the broadest possible access to political speech, even controversial speech.
"But the current context is now fundamentally different, involving use of our platform to incite violent insurrection against a democratically elected government."
Facebook's chief operating officer, Sheryl Sandberg, said on Monday the social network has "no plans" to lift its block and "the president is not above" the sites's policies.
In the wake of the Capitol riot, President Trump has found himself restricted or banned from a slew of additional platforms, including both Twitter and YouTube.
YouTube said Wednesday that new videos had violated policies and the account could not post content for a minimum of 7 days due to a content strike. Social Blade statistics showed Trump's YouTube profile gained 100,000 new subscribers since January 6.
Under the website's tiered enforcement system, a second strike would typically result in a two-week suspension, and a third would usually result in a channel termination.