Donald Trump's Tax Records: A Tale of Business Failures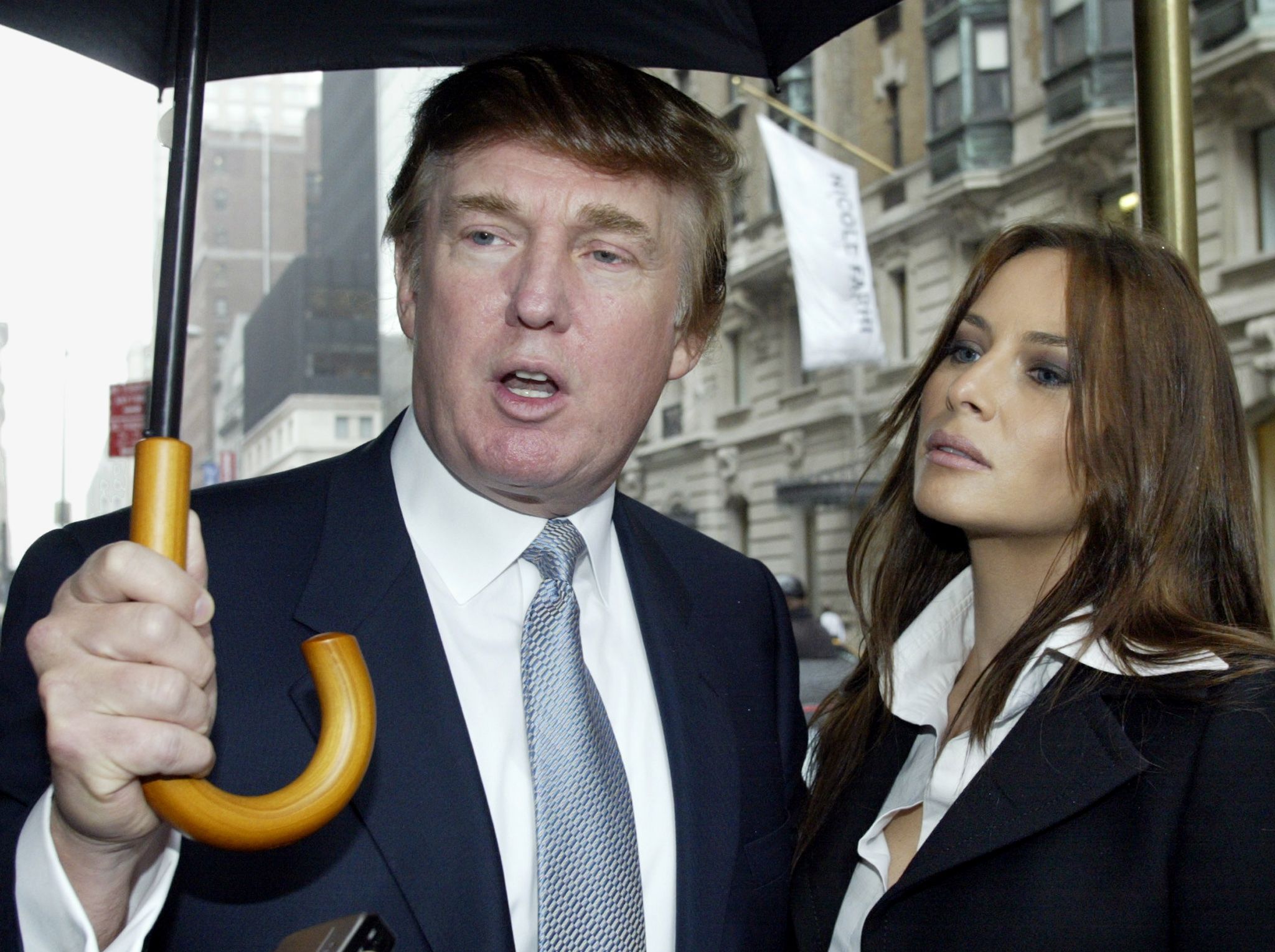 It wasn't just 1995.
Five years of tax information from the 1970s that Donald Trump provided to the New Jersey Department of Law and Public Safety show mismanagement and losses that could have pushed him into personal bankruptcy—but for the largesse of his Dad.
The recent report in The New York Times that a loss of almost $1 billion in 1995 may have allowed Donald Trump to avoid federal income taxes for almost 20 years set off attacks by Democrats and pushbacks by Republicans over his business acumen and ability to identify with Americans who pony up cash to the government every April 15.
Given that deducting a loss against income in future tax years is both common and legal, Hillary Clinton and her allies have focused primarily on the almost incomprehensible financial thrashing Trump took in that year: The primary qualification offered by the Republican nominee for why he should be president is because of his success in business, and such a gargantuan flop showed he was a bumbler, not a successful entrepreneur.
But the real estate developer and his supporters have flipped the argument: Not only has Trump been open about the catastrophic consequences of his failed foray into the casino business that contributed mightily to the 1995 disaster, but he has written a book about it and even used it as a talking point in the opening scene of his reality television show, The Apprentice. "It wasn't always so easy," he said on the first episode of the show, broadcast in 2008. "About 13 years ago, I was seriously in trouble. I was billions of dollars in debt. But I fought back, and I won big league." The point: Trump's ability to recover from the 1995 financial wipeout showed he could accomplish anything in business, including recovering from a near-crippling setback, because of his skills.
That would be an inspirational and potentially effective comeback if not for one problem: Trump flopped long before his casino bankruptcies, causing huge losses that wiped out his tax obligations. And the primary way he avoided bankruptcy those times was not through any personal skill, but because of an accident of birth—his wealthy father, who set him up in business, bailed Trump out.
All of the tax information that has been publicly revealed—The Washington Post published figures for 1978 and 1979 in May, Politico reported in June he had paid no taxes in 1991 and 1993, The New York Times published 1995 information last week and further information from the 1970s show the same thing: Trump paying little or no taxes because of poor financial performance and huge mistakes he made in his business. Trump has steadfastly refused to release any tax returns on his own, but the headline numbers for the eight years of financial returns that have now been disclosed demonstrate that Trump's self-celebrated business genius is a pose.
The latest information from Trump's taxes are contained in the decades-old, little-read files of the Division of Gaming Enforcement for the New Jersey Department of Law and Public Safety. New Jersey officials compiled the records in 1980 and 1981 as a result of Trump's quiet first effort to break into the casino business, several years before actually joining the gaming industry. Through Trump Plaza Corporation, a holding company incorporated in New Jersey the previous year, Trump applied for a casino license, setting off a state investigation of his background and his businesses.
The application came on almost the exact same day as the opening of the development Trump portrayed as his biggest success—the rebuilding of the Commodore Hotel in Midtown Manhattan into the Grand Hyatt New York. But Trump's success in that deal—as well as every project that preceded it—came because he was born with a silver shovel in his mouth. His father, a major New York developer named Fred Trump, had personally guaranteed the construction loan from his banker at Chase Manhattan so that his son could do the project. Through that same banker, Fred Trump also arranged for Donald Trump to obtain a personal line of credit of $35 million at Chase Manhattan. In one more bit of evidence that the wealthy are not like you and me, the bank gave Trump the loan without even requiring a written agreement.
But Trump was unable to control his spending. He loaded himself up with debt from the credit line in an apparent belief that he could make enough money through other deals and investments to cover the interest payments. This was the same logic that led him to assume billions of dollars in borrowings during the late 1980s for the casinos, the almost incomprehensible business decision that led to their bankruptcies that played out for more than a decade.
In 1978, the same year that Fred Trump set up the credit line for his son at Chase Manhattan, Trump's personal finances collapsed. By then, he had borrowed $38 million from his line of credit—the bank adjusted the available amount up by $3 million when Trump exceeded his credit limit.
Losses came across the board. A number of Trump's New York rental properties—on Third Avenue, Fifth Avenue, East 56th Street, East 57th Street, East 61st Street and East 67th Street—all were financial flops; Trump was forced to pay his own money for the operations of the properties because rental income failed to cover the cost. Partnership investments—Park Briar Associates, Regency Lexington Partners and 220 Prospect Street Company—contributed even more red ink. The interest owed to Chase Manhattan on Trump's massive use of his credit line topped off the dismal financial performance.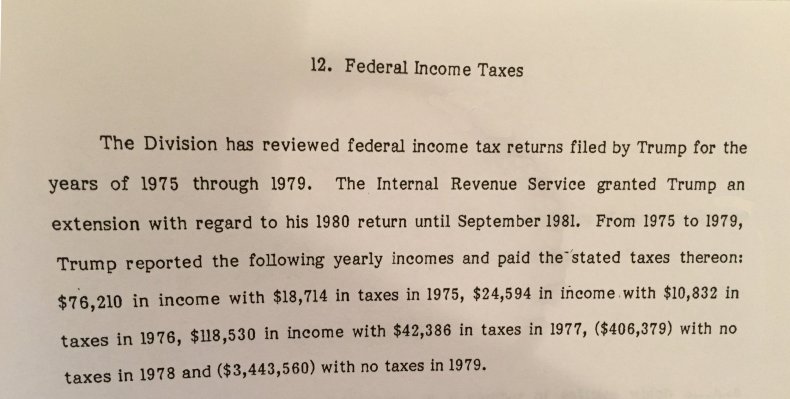 Unsurprisingly, given Trump's bad business decisions, Donald's taxes for 1978 showed personal losses of $406,379—that's $1.5 million in present-day dollars—according to the information filed to the casino regulator. (The filing does not show full tax returns, but does include figures for personal income/loss and the amount of tax paid.) Things grew worse in 1979, when he reported an income of negative $3.4 million, or $11.2 million in constant dollars. Trump did not have millions of dollars set aside to deal with these financial catastrophes. His banking records showed he had an average annual balance in his Chase Manhattan savings account of $378,000—a large amount to be sure, but not even enough to cover his 1978 losses. His checking account at the same bank had an average annual balance of $22,500; in accounts at two other banks, Trump had total savings of $14,000. Other than family trusts, that was it.
Moreover, the tax records show that, even in the years leading up to Trump's first big losses, Trump's personal income failed to rise above the level of comparatively minuscule. He reported $76,210 in income to the Internal Revenue Service for 1975; $24,594 in 1976; and $118,530 in 1977. In other words, his losses in 1978 totaled almost twice his combined income from 1975 through 1977. His 1979 losses were 15 times his combined income for those three years.
No one could withstand these types of losses given the comparatively paltry amount of money available to offset them. So Trump took the same route he did for the rest of that decade and in decades to come: He borrowed more to keep himself afloat. Apparently, no bank would lend him additional amounts, so he turned to his father to rescue him. On September 24, 1980, Fred Trump arranged for a series of loans totaling $7.5 million to his son, which Donald Trump used to pay down some of the debt on his personal credit line. That same day, one of the Trump family's companies, Trump Village Construction Corporation, lent Donald Trump an additional $976,238. All of the loans could be paid back at any time, and Donald Trump was not liable for any of the interest payments on them. Again, the rich are different.
The bottom line—no pun intended—is this: Trump is not a self-made man. He is a self-made disaster who only avoided personal bankruptcy thanks to his father being there to clean up his messes. In other words, if Trump really was the businessman he pretends to be—an executive who made it on his own through sheer grit and determination, rather than through his family's ability to bail him out—today he would not be the Republican nominee for president, but instead just another forgotten footnote in the annals of New York real estate development.