Donald Trump Is First President Since Jimmy Carter Not to Enter U.S. Troops Into New Conflict
Ahead of a hastier than expected drawdown of U.S. troops in the Middle East before he leaves office, Donald Trump's military record stands apart from other modern American presidents.
Only days after being appointed acting defense secretary, Christopher Miller announced the U.S. would reduce its troop numbers to 2,500 in both Afghanistan and Iraq by January 15. This was followed by national security adviser Robert O'Brien saying how Trump wanted "to put a stop to America's endless wars."
While such a rapid withdrawal has sparked concern among Senate Republicans, such as Senate Majority Leader Mitch McConnell, who said it would be a "mistake," such a move could be a fitting end to the tenure of a president whose perceived belligerence has not extended to the battlefield.
During the Republican National Convention (RNC) Rep. Matt Gaetz (R-FL) praised Trump as being the first president since Ronald Reagan "not to start a new war." Is this true?
Formal declarations of war that confer additional presidential powers are rare and have happened only five times in U.S. history, the most recent being the Second World War. The others are the War of 1812, the Mexican-American War, the Spanish-American War, and of course, World War One.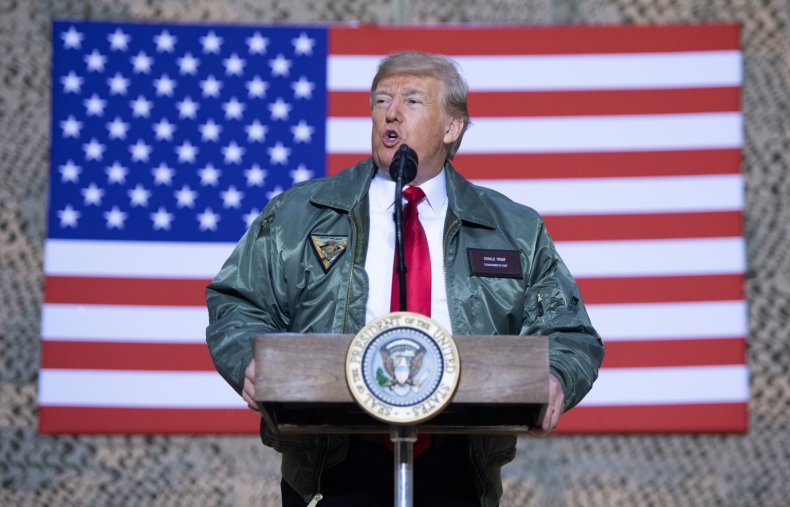 Most conflicts the U.S. gets involved in fall under the guise of "authorizations of military force" given from Congress to the president.
Congress authorizations were given to President George W. Bush in 2001 for the War on Terror and the Iraq War in 2003 and for his father, George H.W. Bush in 1991 for the Gulf War.
Republican president Ronald Reagan, who was in the White House between 1981 to 1989, got Congress approval in 1983 to send forces to Lebanon to reduce the threat of civil war.
Other presidents have got involved in foreign conflicts. Barack Obama brought the U.S. into the Libyan Civil War in 2011. Before him, Democratic president Bill Clinton got authorization from the United Nations and funding from Congress, to bring 20,000 American troops into the Bosnian War in 1995.
Gaetz's boast about Trump being the least bellicose since Reagan may actually undersell him given Reagan's intervention in Lebanon.
This is because as a fellow one-term president, Trump could have something else in common with Jimmy Carter, who Reagan beat in the 1980 election.
Carter said one of his greatest achievements was not involving the U.S. in a military conflict, telling The Guardian in 2011: "We never went to war. We never dropped a bomb. We never fired a bullet."
Trump certainly cannot make that claim. Among his military orders during his tenure were strikes on Syria in 2017 and 2018 in retaliation for a suspected chemical weapons attack by the regime of President Bashar al-Assad.
However, the planned U.S. troop withdrawal in January 2021 from Iraq and Afghanistan might just be an appropriate foreign policy denouement for Trump.
"The significance is twofold. First, it gives more credence to the idea that Trump is that most unusual of presidents who actually fulfilled many of his campaign election pledges," said Alan Mendoza, CEO of the London-based Henry Jackson Society think tank.
"Secondly, it was the natural expression of a U.S. desire to take a breather from the intensity of the conflicts of the previous decade. Afghanistan and Iraq left wounds that Trump attempted to salve," he told Newsweek.
Thomas Gift director of the Centre on US Politics at University College London told Newsweek: "Trump hasn't faced a similar monumental national security event that's compelled him to shift focus and become a 'wartime president.' As a result, Trump's brand of belligerent isolationism has led him to avoid foreign wars."
The graphic below from Statista shows where American troops are based in the Middle East.